The acronyms read like a helping of toxic alphabet soup: PFOA, PFOS, PFNA, PFHpA.
They number in the thousands — each representing a different compound with the same chemical foundation as those contaminating the aquifer beneath Security, Widefield and Fountain.
But as the number of those chemicals known to researchers grows, a central question about the federal government's plans for protecting residents from those chemicals remains unresolved.
Will the EPA widen its approach and focus on the thousands of perfluorinated compounds as a group? Or will federal regulators continue addressing only one or two at a time — part of a lengthy process that experts and clean water advocates say could last for decades, if not longer?
At meetings last week in Colorado Springs, advocates gave the EPA an earful about the agency playing "whack-a-mole" with the chemical — chasing down each variation for its own set of regulations.
"The solution is to regulate perfluorinated compounds as a family to protect our families," the Sierra Club's Fran Silva-Blayney told EPA bosses at their Wednesday gathering in town.
Perfluorinated compounds entered the local lexicon in 2016, when testing revealed that drinking water for thousands of households in southern El Paso County exceeded an EPA health advisory for the chemicals due to contamination in the Widefield aquifer. Millions of other Americans were affected, too.
Testing later identified a likely source for the local contamination: firefighting foam used for decades at Peterson Air Force Base that spread into the aquifer after it was sprayed on the ground in training exercises.
Since then, two other communities in Colorado have discovered the compounds in their drinking water. One site, in western Boulder County, appears to have been fouled by the same toxic firefighting foam, according to the Colorado Department of Public Health and Environment.
Requests to approach all the perfluorinated chemicals as a group — and to regulate them with enforceable drinking water standards — were among the most prevalent voiced to the EPA regulators who visited Colorado Springs on Tuesday and Wednesday during the third stop of a nationwide listening tour.
They echoed similar requests made during the agency's previous two stops in New Hampshire and Pennsylvania, said William Cibulas Jr., acting director of the Agency for Toxic Substances and Disease Registry's division of toxicology and human health services.
"You see what the people want — the people want (a drinking water standard) that covers the whole family. They don't want just individual chemical by chemical," Cibulas said. "And that makes sense, and it's a recommendation the EPA's going to have to take seriously."
For years, the EPA has chosen a narrower route — issuing a health advisory for the two best-known types of chemicals on that list, but withholding judgment on thousands of others. Both chemicals — perfluorooctane sulfonate, or PFOS, and perfluorooctanoic acid, or PFOA — were found in the Widefield aquifer.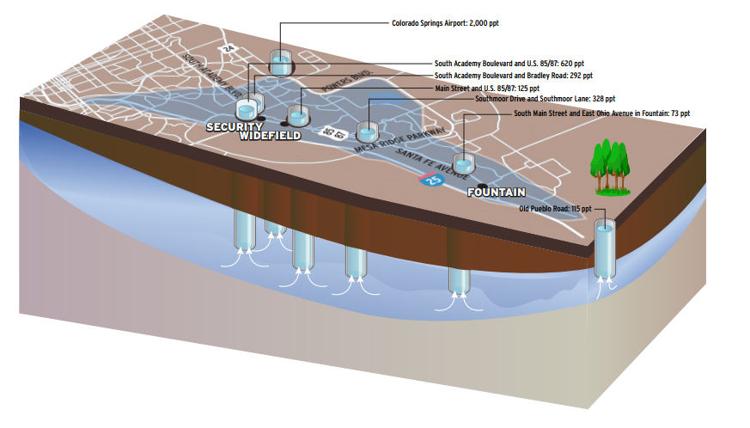 In recent months, the EPA has doubled down on that course — voicing a desire to possibly stiffen regulations on those same two chemicals, while possibly developing baseline toxicity values for two others.
At a meeting Wednesday, residents and clean water advocates said that the agency can't afford to continue addressing the chemicals one by one.
"We demand you fix this," Liz Rosenbaum of the Fountain Valley Clean Water Coalition said during the standing room only meeting Wednesday in Colorado Springs.
The EPA, though, is not close to "fixing" the perfluorinated contamination, and its initial approach likely won't be evident for months.
Jennifer McLain, the EPA's deputy director of groundwater and drinking water, said the agency was trying to take a broad-based approach to oversight of the chemicals. Still, details aren't expected until the agency's release of a management plan for the toxic chemicals, which is due by the end of the year.
"It's not possible to do everything chemical by chemical, but it is also important to study some of these important chemicals one by one," McLain said. "It's something that we see as being necessary for the future of our understating — is to have an understanding of how these chemicals behave in classes, as well as getting a deep understanding of some of the specific chemicals we're finding in the environment."
The number of such chemicals — also known as per- and polyfluoroalkyl substances, or PFAS — is unknown, said Christopher Higgins, a Colorado School of Mines chemist who has studied the chemicals. Some scientists have estimated as many as 3,000 or 5,000 exist.
They're all man-made. But the vast number of products that they have been used in — and the complex chemistry used in making them — have complicated researchers' efforts to make a final count.
And some of the chemicals change in the environment — often into versions federal officials say appear most threatening to human health.
"I'm realistic, in that I don't think we're ever going to have an exact number of how many of these chemicals one might find — either in various types of products or out in the environment — because of that complexity," Higgins said.
The American Chemistry Council, which represents chemical manufacturers, opposes a group-based approach to regulation. The chemicals' properties vary widely, along with their uses and benefits, said Jon Corley, a spokesman for the organization. He argued that not all such chemicals require "risk-based regulation," and that lumping them together would ignore their vast differences.
"We don't think that would be based on good science," Corley said.
Still, some experts say anything less than addressing the chemicals as a group will only prolong the risks Americans face. At a time when thousands of other such chemicals are known to exist, the rationale for keeping a narrow focus is questionable at best, they say.
"They're all chemically so much alike that you'd expect one to act like the other in a biological setting," said Dr. Paul Brooks, a West Virginia physician who led the nation's only large-scale study of a community whose water was contaminated by the chemicals.
Even studying the chemicals one by one requires huge cost and effort, though, Brooks said. He referenced his study more than a decade ago as an example of the Herculean work needed to understand the chemicals' effects on humans.
The study, which evaluated 69,000 people in the mid-Ohio Valley, examined only one type of perfluorinated compound, PFOA. But its findings proved revelatory.
The results — that the single chemical has a probable link with liver and kidney cancer, as well as other health ailments — helped form the basis of the EPA's health advisory almost a decade later. And several juries awarded plaintiffs millions of dollars from DuPont, which paid millions more for the research as part of a court settlement.
Coordinating similar studies for each of the perfluorinated compounds known to researchers is wildly impractical, Brooks said.
"We don't have time to study every one of those individually," he said. "Because it would take probably 50, 60 years to do enough epidemiological studies on an individual basis on those chemicals to prove that individually they cause trouble. So you have to make some assumptions on this.
"If it's in your blood, you've got a problem."
Higgins acknowledged the EPA's difficult position — overseeing a family of chemicals that have yet to be fully identified, and with varying levels of toxicity. Further, any move by the agency would likely have to withstand a court challenge.
Still, he said the shape-shifting nature of these chemicals must be considered. Only regulating one type of perfluorinated compound is "foolhardy," given how some types can transform into more troubling varieties once in the environment.
"That's a bit of a fool's errand," Higgins said.
While some have complained about the EPA's slow approach to addressing the contamination in the Widefield aquifer, one lawmaker said he was happy that the agency at least came to town to listen to the frustrations of locals.
"I am pleased to hear the EPA is proactively reaching out to the local communities who may be affected by (perfluorinated compound) exposure," Colorado Springs U.S. Rep. Doug Lamborn said in an email.
"I will continue to do everything in my power to facilitate coordination between local and federal authorities. Ensuring that my constituents have safe drinking water has been a priority of mine for a long time."
And EPA leaders say they learned a lot during two days in Colorado Springs.
Doug Benevento, the agency's regional administrator, worked to assure the Colorado Springs crowd Wednesday that their comments will have an impact in Washington, D.C., as the agency figures out how to deal with perfluorinated compounds.
"You are speaking to people who are listening," he said.