El Paso County Sheriff Bill Elder can't hold inmates if they are eligible for release solely on the basis of federal immigration authorities' suspicion that they are in the country illegally, a judge ruled Thursday.
The decision by 4th Judicial District Judge Eric Bentley came amid a national debate over illegal immigration that has seen President Donald Trump shut down the U.S.-Mexico border to prevent a caravan of asylum seekers from entering the country.
Trump also has threatened a government shutdown this month if Congress does not give him at least $5 billion for a wall along the southern border.
The lawsuit, one of two filed by the American Civil Liberties Union of Colorado challenging area sheriffs' authority to honor so-called immigration detainers, was the first to be decided and contradicts a different judge's earlier finding.
The detainers — issued by the Immigration Customs and Enforcement — request that inmates suspected of being in the U.S. illegally be held for up to 48 hours beyond their release dates to give authorities a chance to take them into custody.
The requests were described by Bentley as a central tool in the government's approach to finding and deporting undocumented immigrants.
In a 31-page decision, however, the judge concludes the practice violates inmates' rights under the Colorado Constitution and exceeds sheriffs' arrest powers under state law.
His ruling bars Elder from honoring the ICE requests, making permanent a temporary injunction the judge approved in April.
"The court ruled that when individuals have posted bond or resolved their criminal case, sheriffs have a clear legal duty to release them," ACLU of Colorado Legal Director Mark Silverstein said in a statement that praised Bentley's ruling as "very thorough."
Sheriff's Office spokeswoman Jackie Kirby said Elder planned to appeal, declining further comment.
Carl Rusnok, an ICE spokesman, said Friday evening that the ruling would result in more crimes being committed by "aliens who were released to the streets since an ICE detainer wasn't honored."
As an example, Rusnok cited Ever Andres Valles, a Mexican citizen who was released from Denver County Jail in December 2016 despite ICE having requested that he be held on a detainer.
"He was sentenced March 9, 2018, to 29 years in prison for robbing and fatally shooting a man at a light rail station on Feb. 17, 2017," Rusnok said in a statement.
"This very serious crime could have been avoided through cooperation between law enforcement partners by honoring ICE detainers."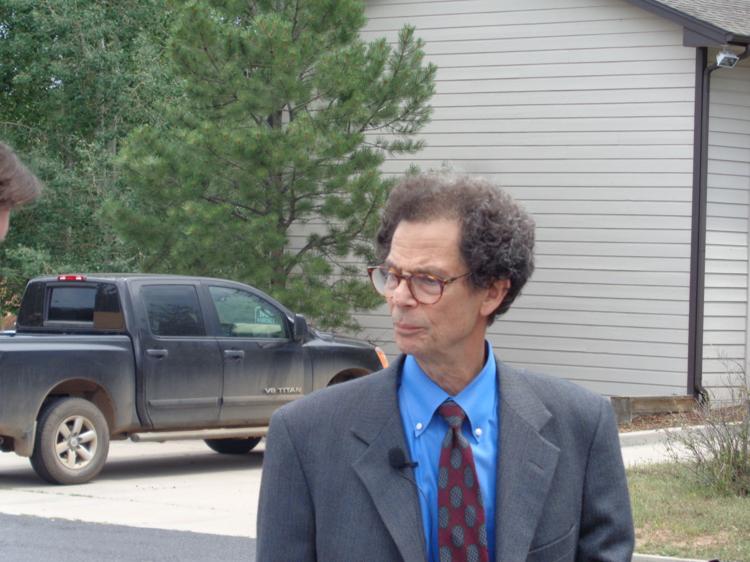 Bentley's ruling resolves the legal debate over ICE detainers only in El Paso County.
The judge's findings conflicted with those of a different 4th Judicial District judge who came to the opposite conclusion in a similar lawsuit by the ACLU challenging the same practice by the Teller County Sheriff's Office.
Judge Lin Billings Vela declined to grant the ACLU's request for a preliminary injunction barring Teller County Sheriff Jason Mikesell from honoring ICE detainers. The case is pending, but the judge's comments suggest she is poised to hand the ACLU a defeat.
Billings Vela found there is "a legitimate public interest in not obstructing the federal government from enforcing immigration law."
She wrote in her ruling that the ACLU failed to cite a specific statute that prohibits the sheriff from cooperating with the federal government or to prove that an inmate would suffer "irreparable damage" if he or she posted bond and was held up to two more days.
Elder is the only other sheriff in Colorado who was honoring the detainers.
Bentley welcomed a definitive ruling by the Colorado Court of Appeals, although he portrayed the issues as clear cut.
"No Colorado statute currently authorizes sheriffs to enforce civil immigration law or even to cooperate with its enforcement," Bentley wrote.
Most other Colorado sheriffs halted the practice of honoring detainers in 2014 after a letter-writing campaign by the ACLU, which raised constitutional challenges.
The ACLU sued Elder in February on behalf of two people who were held in jail despite trying to post bond through intermediaries. One of them, Saul Cisneros, has a separate lawsuit alleging false imprisonment. He seeks unspecified damages for the four months he served in jail beyond when he was eligible for release.
Cisneros is free on an immigration bond and fighting an effort to remove him from the country, Silverstein said.