Update: Thursday's meeting was postponed, El Paso County announced in a statement. A new date will be determined when organizers find a suitable location for the anticipated crowds. 
After high levels of toxic chemical pollutants were found in groundwater at the Air Force Academy last month, El Paso County said Wednesday that a town hall would be held Thursday to discuss the situation.
The announcement came about two weeks after the academy released a 15,000-page report showing that groundwater flowing into Monument Creek had been contaminated by toxic perfluorinated chemicals.
A county news release invited residents to a town hall at 6:30 p.m. Thursday in Woodmen Valley Chapel, 290 E. Woodmen Road, to discuss the contamination. The meeting will be in the lower level Community Worship Center on the east side of the complex.
About 30 domestic or household wells exist within one mile downstream of the academy, according to the Colorado Department of Public Health and Environment.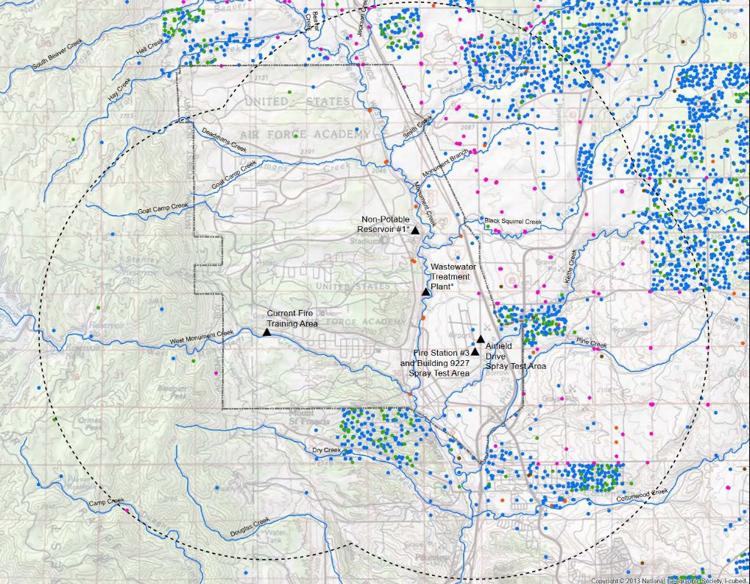 "The Air Force Academy is testing select private water wells in the Woodmen Valley area after groundwater tested positive for perfluorooctane sulfonate (PFOS) and perfluoroocatanioc acid (PFOA)," read the release.
The results of the testing will take several weeks, according to the release.
Four sites on the academy were found to have chemical levels higher than an Environmental Protection Agency lifetime health advisory of 70 parts per trillion, said Michael Kucharek, an academy spokesman. He declined to name the location of those sites.
An August 2018 Air Force report, however, suggested four possible test sites during such an inspection:
• the academy's fire training area;
• a fire station and a spray test area;
• an airfield spray test area;
• the academy's water treatment plant and nonpotable reservoir.
"I encourage those in the affected area to treat this issue seriously and if you think you are affected but are not already working with the Air Force, please contact them immediately," county commissioner Stan VanderWerf said in a statement.
"This town hall will be a great opportunity for local residents to meet Air Force representatives and be provided current and accurate information."