Under a new program from Pikes Peak Community College, assailants, robbers, thieves, drug dealers and abusers in county jail are learning how they can redefine their lives.
"No matter what my past may be, I can change my future and have what I want," said former gang member Alexander Ruiz.
He's one of 13 inmates in the El Paso County Criminal Justice Center who received certificates of completion Thursday from the Growth and Leadership Life Skills Training Series.
"It's all up to me on what kind of legacy I leave behind," said Ruiz, a father of three who has been in and out of jail for the past 25 years.
Unlike life skills training offered at other jails around the nation, the unique, 12-week program focuses on inmates developing a detailed, executable plan for their lives after incarceration, one that looks and feels different from what's been their status quo.
In a meeting room at the jail, participants wearing the standard-issue orange pants and tops smiled as they accepted congratulations from college and jail staff. They celebrated their accomplishment with Valentine-themed cupcakes sprinkled with pink and red hearts.
"I'm not going to say this class is a fix-all, but it's a damn good start," said graduate Joseph Raatz. "So many of us are trying to get through this and get back out, but we never think about the future."
Raatz wants one of his new defining labels after he's a free man in about a year to be "computer-aided design and drafting operator," which he plans on studying.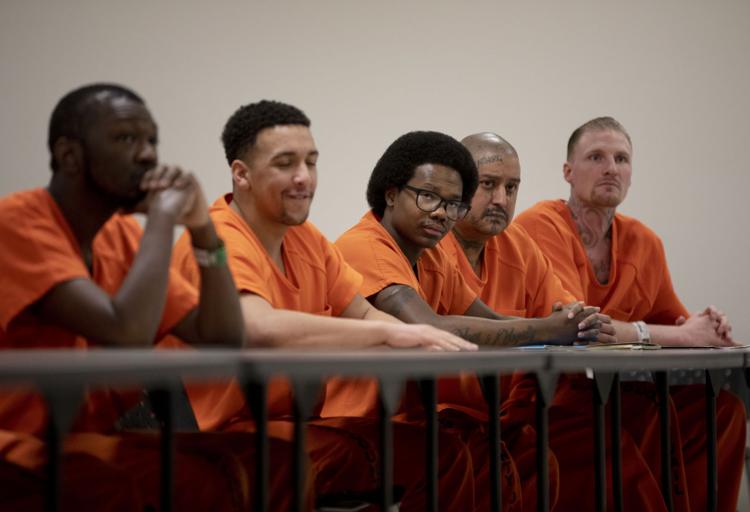 "The class gave me inspiration to go forward as far as more education," he said.
This is the second and largest group to finish the voluntary program that PPCC lead facilitator Sara Boatz began offering six months ago.
"This is not just a 'What now?' type of thing," said graduate Jamie Crawford, who since she was 12 has wanted to become a chemist. "I know my plans and goals will continue, for me to move forward. I know there's hope and possibilities."
With recidivism at the county jail running between 70% and 75%, just short of the national average for jails of 76%, Detentions Bureau Chief Clif Northam said such programs lessen the chance of participants reoffending.
"It gives them the education to want to better their lives," he said, after telling participants what matters is not what they did to be sent to jail, but "what you do here forward." He added that he hopes to never see them in orange jumpsuits again.
The program is based on a workbook Boatz wrote, "What If, What Else, What Now: An Interactive Guide to Personal Reinvention and Living Forward."
Participants answer questions about where they'd like to be in five years, one year and next month. They're encouraged to dream big and then chart a course for how they can achieve what they desire.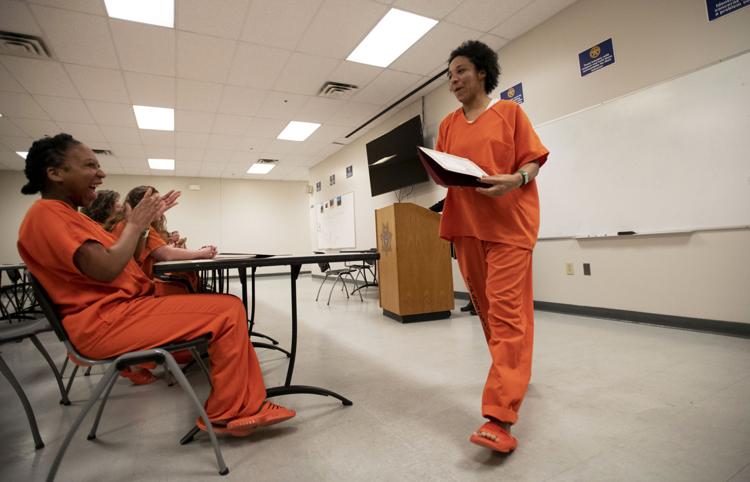 For many, Boatz said, it's the first time anyone has ever asked them about their aspirations.
"'What are you gonna do to not come back?' I ask them," Boatz said. "You don't want to be stuck or move backward."
Actionable change happens out of fear, pain or gain, she said, and her teachings emphasize the latter, since fear or pain don't seem to be effective motivators for some to stay out of jail.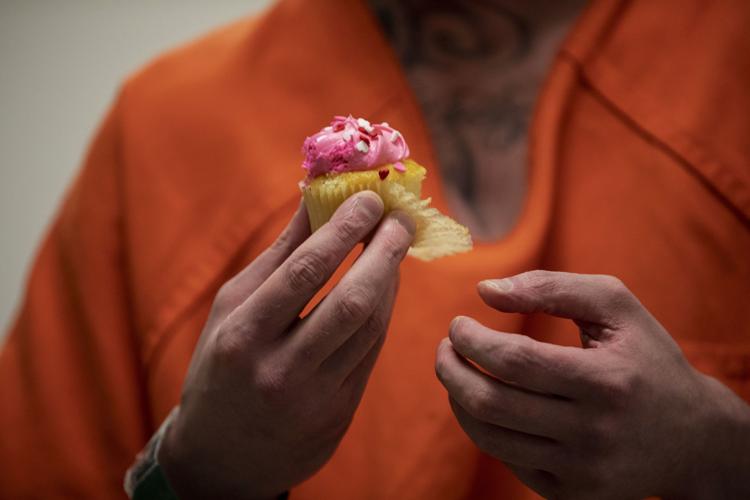 "We give them a reason to move forward," Boatz said.
Practicing "soft skills," such as resolving conflict, negotiating in business, preparing for jobs, developing self-awareness and self-esteem and building social and emotional acuity, also are part of the curriculum.
The program works because it's not forced on inmates, Boatz said, and has become so popular there's a waiting list.
"It's what they want, not what anybody else tells them they want," she said.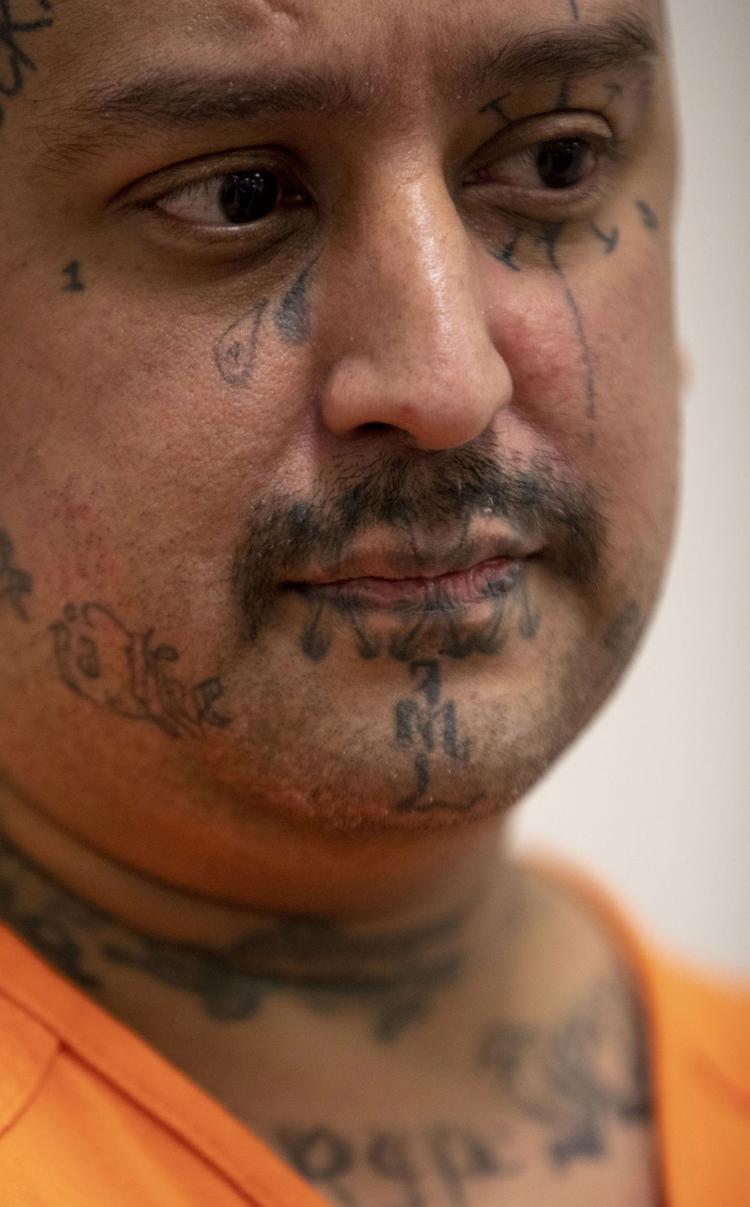 Ruiz, 39, intends to stop youths from following the same path he has. During a Bible study in jail one day, he realized that there were representatives from seven gangs in the room — and they were all getting along. He hopes to integrate the idea into a gang-reduction effort in Colorado Springs, similar to a program that's had success in Denver.
"I used to let my scars and tattoos, my gang-related persona and my criminal background define me as a person," he said.
Not anymore; Ruiz's new mindset is "turning negatives into positives" and teaching younger people about the dangers of gang involvement and drugs.
"It's a pretty violent life," Ruiz said. "It's not something to look up to. I know I don't want to go back."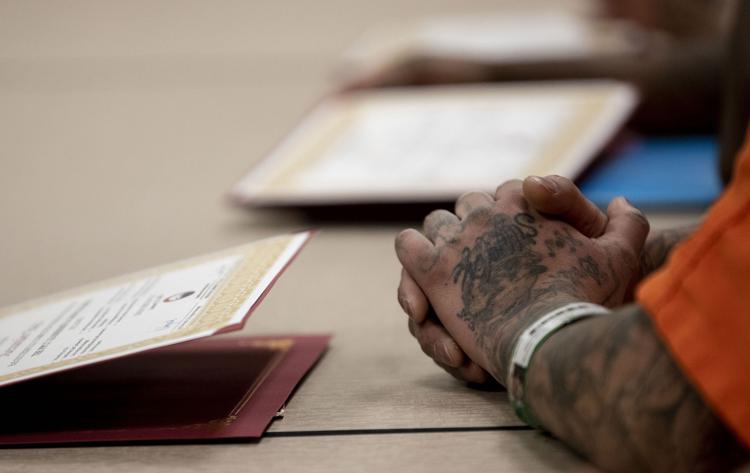 Said Boatz, "He can do it. He's so articulate, and he's a born leader."
In the 2½ years PPCC has been offering a GED-completion course at the county jail, Boatz said only one person followed through after getting released and took the online test to earn the GED, the equivalent of a high school diploma.
The new Growth and Leadership Life Skills Training Session already is charting better results. Since the program began in August, 145 inmates have taken some of the classes, which run for three hours a week for three months.
A total of 24 have completed the program and earned certificates, and 55 people filled out enrollment forms for Career Boost, a noncredit workforce training program through PPCC. A few have started a welding program.
"We really believe we're making a difference," Boatz said.