El Paso County commissioners voted down five new metro districts that would have funded a proposed subdivision of more than 3,200 homes in Peyton.  
The commission voted 4-1 Tuesday not to form the metro districts that proposed issuing $250 million in debt to help build the planned Grandview Reserve subdivision. The commissioners said they were legally bound under state law not to form the districts because a metro district already exists that could serve Grandview Reserve.
The 4-Way Ranch Metro District 2 is governed by some of the same people and provides basic services, such as roads and water service.
"They could do it. They are simply choosing not to," Commission Chairman Mark Waller said of the existing metro district. 
Commissioner Holly Williams was the lone vote in support of the metro districts, saying she felt they would make it economical for developers to build the thousands of new homes proposed in the subdivision north of Judge Orr Road adjacent to U.S. Highway 24. She noted that homes east of Colorado Springs are in high demand. 
County Planner Kari Parsons said that if approved, Grandview Reserve developers expected to build about 400 homes a year in the subdivision and capture about 11% of the market in the county. 
About 3,000 homes were expected to sell for $375,000 and about 270 homes were to sell for $575,000, said Pat Hrbacek, an attorney representing the developers. To pay off the needed $250 million in metro district debt, the developers planned to charge 60 mills per residence, he said. Owners of a newly built $400,000 home in the subdivision could owe $1,716 total annually, he said.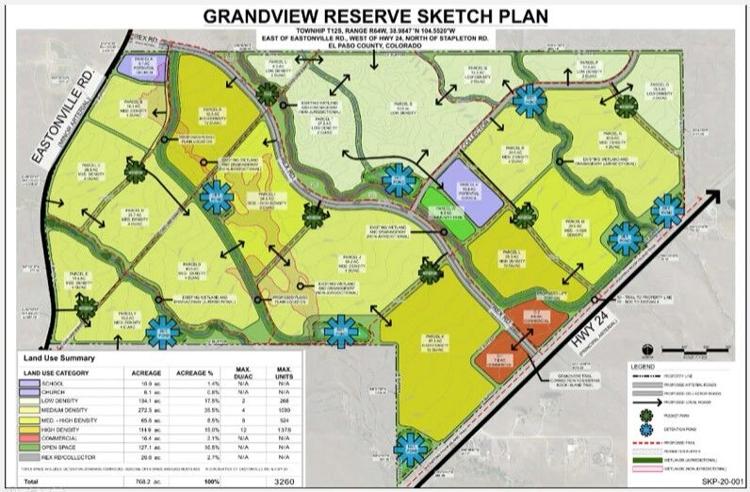 The homes were touted as affordable in an earlier county meeting when commissioners approved early designs for the subdivision. 
Developers Peter Martz and Paul Howard said the existing metro district could not serve Grandview Reserve because it does have rights to enough water. The owners of the proposed 768-acre Grandview Reserve subdivision own more than 6,000 acre feet of water out of the Denver Basin aquifer system, more than enough to serve the subdivision, Martz said.
Waller countered by saying 4 Way Ranch District 2 doesn't own water it provides through wells either, but it is successfully serving residents in the area. 
Developers also said during the meeting that the existing metro district doesn't have the authority to issue enough debt for the proposed subdivision, although it could ask for the right to issue more. But if the 4 Way Ranch Metro District issued debt for Grandview, owners outside the subdivision would have to pay for services specific to the new subdivision, Howard said.
Martz and Howard declined to comment on plans for the Grandview Reserve after the special districts were denied.  
Neighboring property owner Kevin O'Neil said he did not feel well served by the 4 Way Ranch District 2 because it is requiring him to build his own infrastructure to develop his property. Once built, the infrastructure must be given to the district for it to manage, he said. It was possible that after the new special districts were denied, his property could be better served by the existing district. 
"We are going to have work together as a team," he said.  
Commissioner Stan VanderWerf said he would like to see all parties work together on a solution for the properties. 
"It's an organizational and company relationship problem," he said.