Colorado Springs School District 11 will retain its new superintendent for at least several additional years. The school board voted unanimously to approve Michael Gaal's three-year contract extension at Wednesday's meeting.
His initial contract, which began July 1, 2022, was set to expire after one year.
"We found a great gentleman in Mr. Gaal. An outsider not entrenched in decades in public education, able to think outside of the box with diverse backgrounds," board Vice President Jason Jorgenson said. "I remember the interview process, he came in and said, 'what are the barriers that you have to getting this goal achieved?' and then said, 'OK, how do we figure out the solutions to getting those barriers gone?'"
Gaal stepped into the role last summer after former Superintendent Michael Thomas mutually parted ways with the district in March. The board unanimously selected Gaal at a June special meeting, describing him as a "proven leader" who previously served in multiple educational leadership positions. He has continued proving his effectiveness since, according to the board.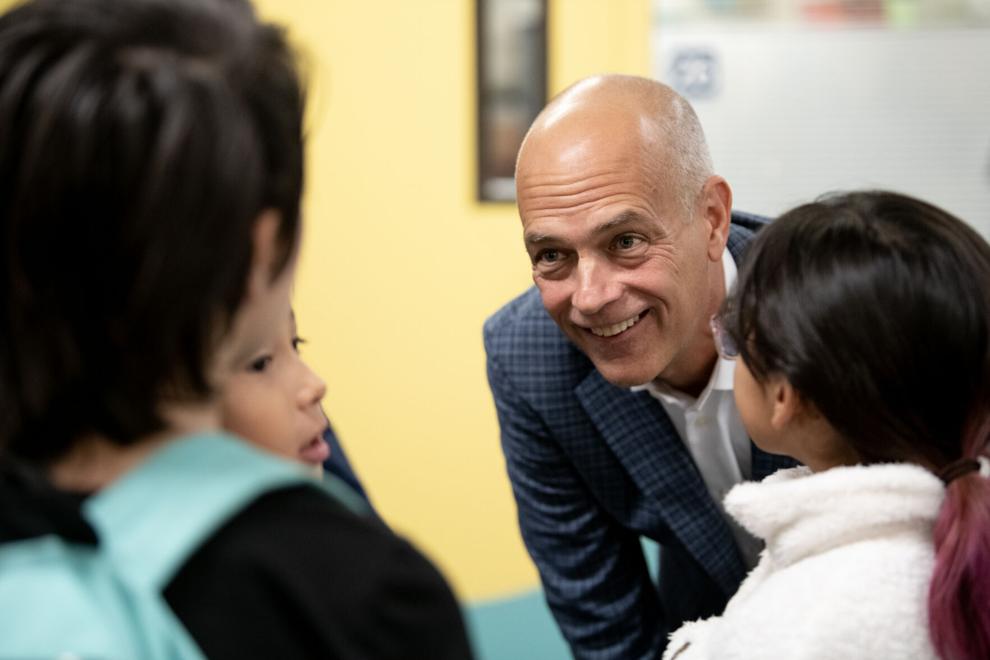 "I'm honored, I'm humbled, I'm certainly excited," Gaal said, pointing to the executive team "who makes it happen every single day" and the staff in the schools as a contributing factor to his early success in D-11. "This is our shared work, and I'm appreciative of the opportunity to share the continued journey with you."
Several community members expressed support of Gaal's contract renewal during public comment, though most comments focused their attention elsewhere. The public clashed over a proposed policy revision presented earlier this month that supporters say shield children from distractions and gender ideology, and critics say is anti-LGBTQ+ and dangerous.
At a Feb. 8 meeting the board moved to revise a policy to prohibit staff from asking students their preferred pronouns. Students would be free to share their pronouns on their own terms under the recommended revision, but teachers would not be allowed to ask or prompt them to do so.
"I was 12 years old when I attempted suicide because I was told by people I trusted that I did not matter," community member Dana Rasmussen said during public comment. "Trans kids matter. Their pronouns matter. Recognizing their identities is suicide prevention."
No immediate changes have taken effect. A policy subcommittee consisting of staff, parents and community members must first discuss the recommendation before bringing a revised policy to the board for an official vote.
Jorgenson introduced the recommendation earlier this month, saying pronouns serve no educational purpose and cis-gender students — those whose pronouns and personal identity align with their gender at birth — might be uncomfortable learning about their classmates' pronouns.
"We should not be doing that," Jorgenson said at the Feb. 8 meeting. "If a student wants to give that, then they can. That's none of our business to be promoting that in our younger kids, causing confusion with going, 'What's my pronoun?'"
The board also voted on Wednesday to name a school facility in honor of a longtime staff member and to renovate two high school track and field facilities. The board voted a second facility, however, will not be named in a staff member's honor.
Scott Elementary School's learning commons, or library, will take the name of former principal Lorence Howard. Howard served in the role for a decade before leaving in 2012. 
In her proposal to rename the facility, fifth grade teacher Carla Moore wrote that the now-retired Howard "encompassed all of the admirable qualities that an effective, compassionate, and dedicated leader should possess" and "has achieved legendary status" at the school. The honor comes just in time for the school's 25th anniversary next year.
Half a mile up the road, the Jenkins Middle School gymnasium will not be named in honor of "Coach" Joel Sjoerdsma, who is set to retire at the end of the school year, despite a proposal. Sjoerdsma has been with the school since its opening in 1999, two decades of that time spent teaching physical education. 
The board voted 5-2 against the motion to rename. Those who voted against the gymnasium's renaming shared the sentiment that it is unclear what Sjoerdsma's lasting legacy will be and whether he will stand the test of time, like Howard. They would prefer a candidate be retired for a certain period of time before they can be nominated for an honor.
"It is hard to even conceptualize the amount of hours he has invested in his science classrooms, in the gym and on the athletic field," eighth grade science teacher Gabe Wagoner wrote in his proposal to rename the facility. "Think about all the former students and athletes, some who may have athletes competing at Jenkins in the future, that can reminisce on the memories, values and lessons they learned from Coach."
Doherty and Coronado high schools will each receive updates to their track and field facilities after the board approved a contract of up to $4.2 million with FieldTurf USA Inc. The schools' current facilities are substandard for safety and performance, according to the action item in the meeting's agenda. They are the only high schools in El Paso County that have not yet upgraded to synthetic running tracks.
The project will be much more cost-effective in the long run for the district and abide by all state safety standards, according to Gaal.
Doherty will have a blue end zone with a white Spartan, according to Travis Whitley, the capital project program manager. Coronado's field will have a red end zone with white lettering, Coronado written on one side and Cougars on the other. Each field will have alternating dark and light green artificial turf every 5 yards with a surrounding maroon track.
Funding for the respective projects will come from the board's existing Oct. 22 fund balance initiative and a 2017 mill levy override. The project will begin on March 1 and wrap by July 31. The fields will be closed for the duration of the project, and all activities will be moved to Garry Berry Stadium.