While the Front Range was blessed with much needed snow in March, the state's snowpack has not climbed back up to average on the Western Slope and drought conditions are likely to persist. 
As a result of those forecasts, Colorado Springs Utilities expects to rely heavily on its reservoirs this summer, said Patrick Wells, general manager of water resources and demand management for the utility.
But water restrictions aren't expected beyond its permanent Water-wise Rules that limit outdoor irrigation to three days a week, he said Thursday. The rules also prohibit outdoor watering from 10 a.m. to 6 p.m. from May 1 to Oct. 15. 
The rules were meant to help develop a long-term conservation ethic, but they will help Utilities in the coming months, Wells added. 
"It will give us a boost and help us manage through dry conditions," he said.
While wet storms brought Colorado Springs twice its average snowfall for March, the city remains 5½ inches of precipitation behind what it should have received over the past 12 months, said Peter Goble, climatologist and drought specialist with the Colorado Climate Center.
Conditions on the Western Slope in the Colorado River watershed -- which supplies municipal water supplies and farms from Colorado to California -- are also dry, with the amount of water in the snow at 85% to 89% of average, according the National Resources Conservation Service. The snowpack is not nearly enough to break the drought conditions, Goble said.
The Western Slope "would need a much above average year to catch up to more normal hydrological conditions," he said. 
The dry, thirsty soils are expected to soak up snowpack, cutting expected runoff down to 50% to 70% of average, Goble said. The runoff expectations are important to Colorado Springs because it relies in part on Western Slope water.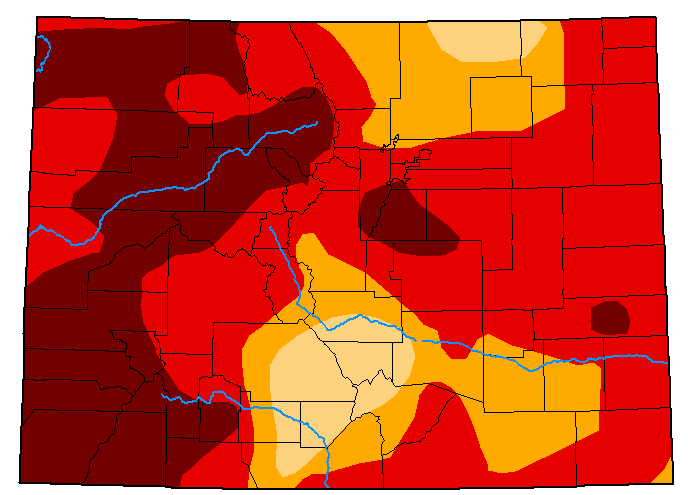 The three-month outlook though June doesn't offer much hope, with increased chances of below normal precipitation and above average temperatures, said Brad Rippey, a drought monitor author with the U.S. Department of Agriculture. 
The entire southwest U.S. would benefit from a strong summer monsoon and snowy winter next season because extreme and exceptional drought conditions are also widespread across Utah, New Mexico, Nevada and Arizona, said David Miskus, a drought monitor author with the National Oceanic and Atmospheric Administration. 
The NDMC is highlighting areas of interest on the U.S. Drought Monitor map with its new feature, the USDM Hot Topic. Using https://t.co/yZSB05PemL resources, this week's focus is the USDA Climate Hub Southwest region, which is enduring widespread extreme and exceptional drought. pic.twitter.com/KW3HlHgikR

— Drought Center (@DroughtCenter) April 1, 2021
But the summer conditions are difficult to predict, so it's unknown if the monsoons will arrive and its possible La Niña conditions could be back next winter, he said. A La Niña pattern brings drier weather to the southwest U.S.