A University of Denver team is one step closer to mapping the lives of thousands of Japanese Americans imprisoned at a southeastern Colorado World War II internment camp.
Researchers deployed the Swiss senseFly drone, generating more than 4,000 high-resolution aerial photos of Camp Amache in Granada. With artifact data collected by DU archaeologists, the photos will help create a 3D reconstruction of the prison for further research, interpretation and preservation.
"We've got photography already, which you can see on Google Earth. But it is not the resolution that we can layer it for an archaeological survey," said Bonnie Clark, director of the DU Amache research project.
"With the drone photos, we can snap in the information about the existing landscape with the pedestrian analysis that we've been doing."
From 1942 to 1945, more than 7,000 Japanese-Americans and Japanese immigrants were forcibly moved to Camp Amache.
They were among more than 110,000 Japanese-Americans ordered to camps in Colorado, Arizona, Arkansas, California, Idaho, New Mexico, Utah, Wyoming and elsewhere.
President Franklin D. Roosevelt signed Executive Order 9066, forcing Japanese-Americans, regardless of loyalty or citizenship, to leave the West Coast and other areas for camps surrounded by barbed wire and military police. Half of those detainees were children.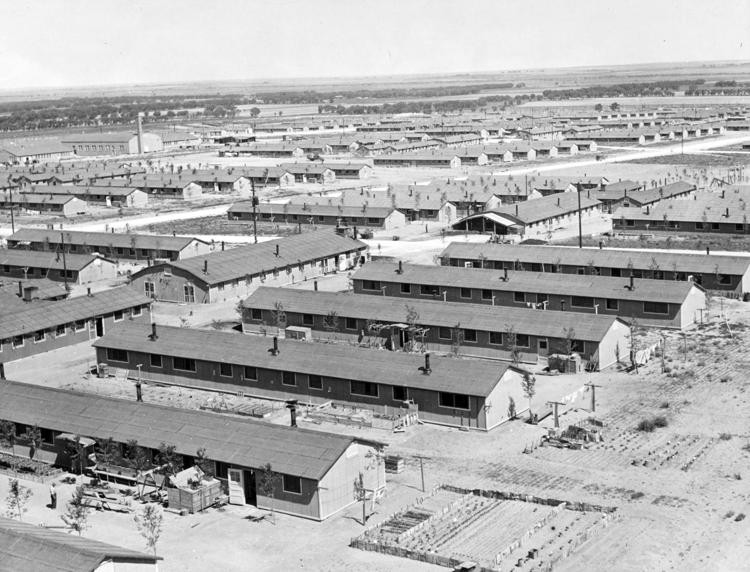 Today, Camp Amache has only concrete foundations, artifacts, a couple of restored buildings and a cemetery for those who perished there.
Few written accounts from the time detail the prisoners' day-to-day lives, Clark said.
"The material remains of our behavior tell a different story," she said.
"We talk about what people at the time don't think are important enough to have written down.
"There is an added layer, too, when we're talking about incarceration because there is a lot of shame and trauma from the time. People left the camp and didn't want to talk about it."
And with the first generation of camp residents no longer living, few people are available for interviews.
Children and grandchildren of the inhabitants, as well as state history books, are left with an incomplete history of the WWII II internment camps.
"Doing archaeology can open up space for us to come to grips with our history," Clark said. "We need to confront that thorny history."
She and her colleagues started combing the site in 2008. Every summer, they walk back and forth across sections of the camp, searching for lost and discarded items as well as landscape features created by the inmates.
Trees planted across the property, for example, can indicate what blocks were inhabited by prisoners with backgrounds in farming, gardening or horticulture, Clark said.
Vestiges of games — often marbles for children and an Asian strategy game called Go for adults — are usually found a couple of feet from trees that shaded players from the scorching sun on the eastern plains.
Such data already have been mapped digitally by Jim Casey, a DU geographic information system specialist. The drone footage will be another layer on those maps, corroborating old hypotheses, generating new ones and expanding the potential for public outreach via online databases and apps.
Visitors "could be standing at the site, looking at nothing but sagebrush and weeds. Then, you can point your smartphone at the view and see what was once there," Casey told The Associated Press.
These tools also could help Camp Amache toward National Park Service protection. The U.S. public lands bill signed into law in March authorized a special resource study of Camp Amache to evaluate its national significance and its suitability to be a unit of the National Park System.
The camp was listed on the National Register of Historic Places in 1994 and as a National Historic Landmark in 2006.
The Associated Press contributed to this report.