Colorado anti-tax activist Douglas Bruce was set to make a tidy sum two years ago when he sold a dilapidated home in Old Colorado City. But then the buyers stopped paying, and now Bruce has begun the foreclosure process to repossess the house.
Bruce still appears in the black on his investment in 1326 W. Kiowa St. He bought the house in 1993 for $9,500, and he sold it in October 2016 for $159,900. But his profits have dwindled as mortgage payments arrived late or not at all.
When Renovation Management Group 106 bought the house from him, the El Paso County assessor listed it in below-average condition with a market value of $17,458. Representatives of the group could not immediately be reached for comment.
Bruce said he received a down payment, and court documents show he lent the buyer $119,000. The buyer still owes Bruce $90,000, the documents show.
"They made payments for roughly a year, and then they didn't pay," Bruce said.
He began the foreclosure process on the skeletal structure in July. His attorney, Howard Morrison, said the property might go to auction with the county Public Trustee's Office in November.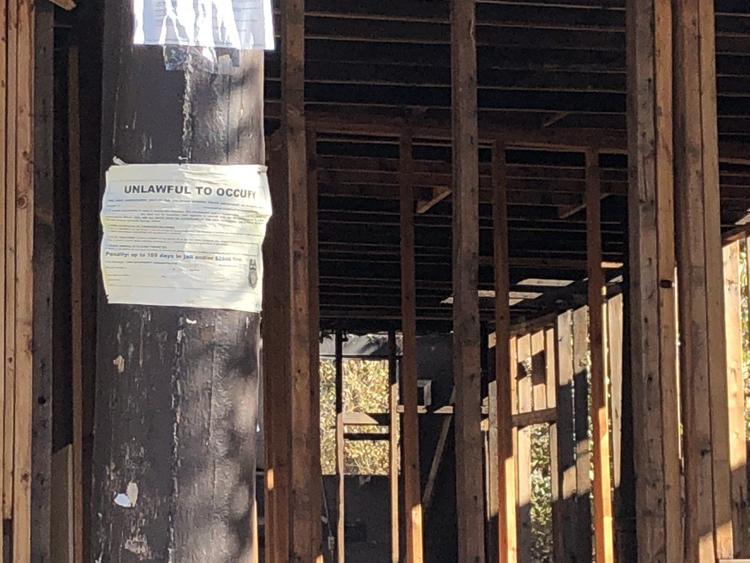 If nobody bids on it, Bruce will assume ownership again, said Thomas Mowle, the county's trustee.
Bruce said he wants his money back, and he'll cancel foreclosure if he receives payment.
"It was in disrepair when I bought it, and I started to fix it up," he said. "I did a lot of work to it, and then I sold it to somebody."
But city code enforcement officials have listed the property as condemned since 2007, confirmed Mitch Hammes, head of code enforcement.
The roof of the residence is riddled with huge holes, and the exterior walls have been removed, leaving the frame exposed to the elements for years.
"It's in a neighborhood and block that's really done a lot to take care of itself and it's the one property that just gnaws at you when you drive by," said City Council President Richard Skorman, whose District 3 includes Old Colorado City. "That's been a complaint for two decades."
The property poses a health and safety risk to neighbors and any children who might wander near, Skorman said. Skunks and raccoons have also made it their home.
If Bruce regains the ramshackle structure, he'll own three buildings in Colorado Springs, county property records show.
Bruce, the high-profile author of the Colorado Taxpayer's Bill of Rights, is no stranger to foreclosures.
Pleading for his early release from prison in 2016, Bruce said he would sell his properties, pay overdue taxes and "lead a quiet life" in retirement in Colorado Springs. But of dozens of properties he owned across the country, Bruce has sold only a few while tax liens and fines multiplied.
In 2015, Bruce owed more than $80,000 in delinquent property taxes, liens and fines.
By this time last year, those debts exceeded $120,000. Three counties in Ohio each had foreclosed on a Bruce house, and a fourth foreclosure was pending in King County, Wash.
Bruce was convicted in 2012 of felony tax evasion, filing a false tax return and trying to influence a public servant. He served 104 days in jail but then was sentenced to two years in the Delta Correctional Facility for violating his probation. He served less than six months in Delta, gaining early release that September.
None of Bruce's debts violated the terms of his parole, which he completed this June, confirmed Mark Fairbairn, spokesman for the Colorado Department of Corrections.
Whoever winds up owning the Kiowa property faces enormous challenges. Hammes said the city has begun "stages of an enhanced enforcement process to determine how we need to proceed, given the current conditions."
Skorman said he wants Hammes to follow whatever procedures are needed to rid the neighborhood of the skeletal building.
"I would like to see him do whatever it takes to get rid of that eyesore and source of health issues for that block," he said.