Attorneys for the estate of De'Von Bailey, a 19-year-old black man shot four times in the back last summer while fleeing Colorado Springs police, sued in federal court Thursday alleging wrongful death and civil rights violations.
The suit names the city of Colorado Springs and police Sgt. Alan Van't Land and Officer Blake Evenson, who opened fire on Aug. 3, 2019, killing Bailey and igniting repeated protests.
"It basically starts the process toward getting justice for De'Von and putting some parameters in place so hopefully this doesn't happen to anyone else," said Bailey's mother, Delisha Searcy of Decatur, Ga.
Searcy and Bailey's father, Greg Bailey, are listed in the suit as representatives of Bailey's estate, along with De'Von Bailey's 6-month-old daughter, named by her initials, R.B. 
The 31-page complaint, filed in U.S. District Court in Denver, also alleges denial of equal protection and excessive force, saying that police engaged in racially biased policing. The suit also comes amid a national uproar over police violence against blacks after the death of a black man in police custody in Minneapolis. 
Jamie Fabos, a spokeswoman for Mayor John Suthers, declined to comment, citing a city policy against discussing pending litigation. Colorado Springs police also declined to  comment. 
Danny Kay, one of the attorneys representing the Bailey family, said the legal team spent months seeking additional circumstances behind Bailey's death, accounting for the delay in filing suit. 
Bailey's family attorneys were also waiting on an investigation by the American Civil Liberties Union of Colorado into allegations of racially biased policing by the Colorado Springs Police Department.  
That probe highlighted at least a half-dozen instances of racial bias against minority residents in recent years, some resulting in large legal settlements, as well as statistical data showing disproportionate numbers of arrests and traffic tickets against minorities, the ACLU of Colorado said.
The civil liberties group levied the accusations as part of a lawsuit last month in which the ACLU said three police officers conducted an unlawful search after racially profiling Cory Barnes, a 28-year-old black man, in May 2018. 
That search was part of what the group called the "custom and practice" of racially biased policing in the city.   
Kay said the ACLU's findings have been incorporated into the Bailey family's lawsuit, and are an "additional factor" for a federal jury to consider.
The deadly shooting came after Bailey and his cousin, Lawrence Stoker, had been detained in southeast Colorado Springs on suspicion of an armed robbery that allegedly occurred a block away minutes earlier. 
Bailey took off running before officers were able to search him, and police body camera footage showed the moments the officers opened fire after ordering him to put up his hands. 
"Mr. Bailey did not threaten any police officer or citizen in any way prior to Sergeant Van't Land and Officer Evenson's decision to shoot him. He simply ran away, fast," the complaint alleges.
In public statements after the shooting, police said they feared he was reaching for a weapon at the time. A pistol was later found in the pocket of Bailey's shorts.
A grand jury declined to file charges against Van't Land and Evenson in November 2019, concluding they were justified in their use of force.  
Days after the grand jury returned its findings, an El Paso County jury acquitted Bailey's cousin Stoker of all charges in the alleged armed robbery that led to the deadly police encounter.
Stoker's acquittal shows that police could have determined that Bailey was innocent of wrongdoing had it done "even the most basic of investigations," the wrongful death suit said.  
The civil action comes on the sixth day of protests in Colorado Springs over the death of George Floyd, a black man who died in police custody in Minneapolis on Memorial Day after he was suspected of passing a counterfeit $20 bill at a convenience store. 
A white police officer pinned Floyd to the ground with his knee on his neck for nearly nine minutes, ignoring his pleas that he couldn't breathe while three other officers also held him down. The officer who knelt on Floyd was charged Wednesday with an upgraded count of second-degree murder, and the three other officers were also charged in the death.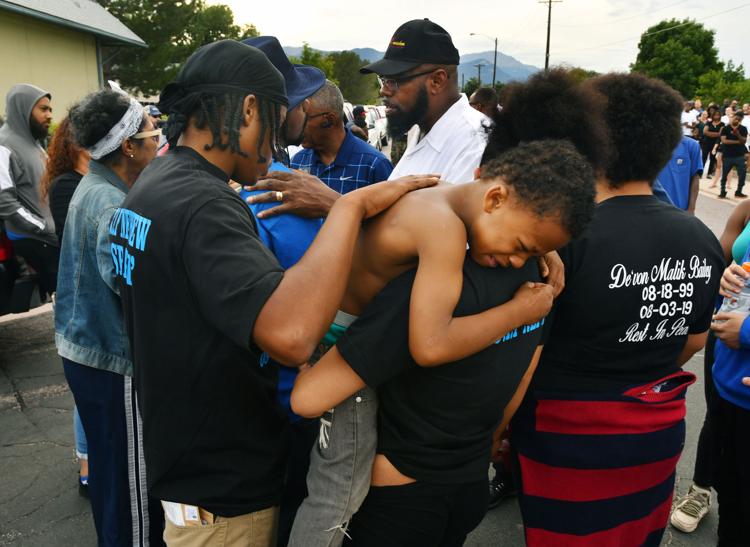 Protests sparked by Floyd's death have broken out in major cities across the U.S., remaining mostly peaceful during the day but degenerating into looting, arson and clashes with police at night. Colorado Springs implemented a 10 p.m. curfew beginning Wednesday and lasting through the weekend, joining many other cities, including Denver. 
Bailey's death last summer led to similar complaints over unequal policing of minorities, and his name has been a fixture of chants by demonstrators in Colorado Springs. 
"It touches my heart to know that people care and he's not just going to be another number or face or hashtag," Searcy said in a phone interview. "It's like a bittersweet moment. I'm glad we're able to put something behind what happened to him and not have him just be another child lost to police brutality."
Searcy called the loss of her son "unthinkable," causing pain that has made it difficult to continue working as a special needs educator. 
Her son's death caused her to lose pay and left her with debts from funeral and travel expenses, a situation compounded, she said, when her family was denied victim compensation funds as a result of the grand jury's findings that Bailey's killing wasn't a crime. 
"I just never thought that this would be the situation," she said. "That my son would be taken from me by an officer in Colorado Springs. You hear about these things but you just never think it will happen to you in your hometown.
"My hope is that, through all of this, we gain some accountability for everybody — the Police Department, the Sheriff's Office, district attorneys, mayors."
She called on them "to take a look and examine what the laws are."
"Are they humane? Are we protecting people, or are we setting them up to be hurt? I don't want anyone else to have to bury a family member because an officer did not do their job correctly."