Nearly 30 years ago, Patricia Hayden-Reber came home early from work to find a dozen sleeping children sprawled across the living room of her California home. 
Carla Faith, her friend who lived down the road, had asked to bring children over as renovations were made on the day care run by Faith and her then-husband, Jim, Hayden-Reber said. She wasn't expecting so many kids. 
"These kids need to be out of here," Hayden-Reber remembers telling her husband, who subsequently ordered Faith to get the kids out of their home.
Later, she found out that the state's Department of Social Services was investigating Faith's child care license.
Last week, Hayden-Reber got a call from her daughter about the 26 toddlers hidden behind a "false wall" in Faith's Colorado Springs licensed day care facility, Play Mountain Place. Authorities found the children — 20 more than allowed per her license — in an unfinished basement while conducting a welfare check at 838½ E. Willamette Ave.
In a week's span, investigators found Faith caring for children at two other Colorado Springs locations — both unlicensed facilities, Colorado's Department of Human Services said.
"She didn't learn her lesson the first time," Hayden-Reber said.
According to a Los Angeles Times report, authorities shut down several of Faith's unlicensed day care centers years ago in California. Records show that three incidents, dating back to 1991, were referred from the licensing office to California's Department of Social Services' investigations bureau, said Adam Weintraub, a spokesman for the department.
But without any criminal violations in California, Colorado state officials say, little could stop stop Faith from obtaining a home day care license in Colorado, where she should would run afoul of licensing regulations nearly 30 years later.
Even though she remains irritated by Faith's pattern of violations, Faith was kind, patient and an "excellent child care provider," former neighbor Hayden-Reber told The Gazette. She had "the ability to make a huge difference in kids' lives," she said.
Even so, Faith's apparent ability to skirt licensing requirements in two states over decades illustrates the glaring absence of any mandated national system of record keeping or reporting on child care facilities. No national database on day care licensing violations exists, said Mindy Bennett, deputy chief of partnership for Child Care Aware for America, a child care advocacy group. 
A trail of complaints 
The Nov. 13 discovery by police and state authorities in Colorado Springs was a culmination of sorts in the state's investigation of Faith. It's unclear how long children in Colorado Springs were being cared for in the basement, but inspection reports show that complaints accusing Faith of doing so date back to 2016.
Records show numerous attempts made by state licensing specialists to investigate Faith's day care facility at Play Mountain Place, but they never found evidence to support the complaints.
DHS immediately suspended Faith's license on Nov. 13 — shutting down Play Mountain Place and her other licensed facility, Counterpoint School — but the latest violations, combined with the decadeslong trail of similar issues with Faith, have left many parents skeptical of the state's regulations when granting someone the authority to care for their children. Some were left frustrated by the lack of oversight. 
Calls and voicemails left for Faith were not returned. 
In an attempt to investigate the complaints, DHS visited the facility on Dec. 7, 2016. No one answered and "no evidence of care" was found at the home. The DHS worker left a message for Faith, but didn't hear back.
In a second attempt later that month, a DHS worker met Faith's daughter at the door and was told that Faith was not providing care due to a death in the family, a DHS report shows.
According to the report, the worker completed the investigation over the phone and addressed several complaints made to DHS regarding Faith's care, including allegations that Faith was caring for 60 children, placing some in the basement.
Faith denied all allegations, asserting she cared for six children and two school-age children in her home and believed someone may have confused her home day care center with Counterpoint School, her larger facility located nearby.
She told the worker she never put children in the basement.
A complaint also accused Faith of mistreatment, alleging children in her care were dehydrated and physically disciplined.
When asked about the meals provided to children in her care, Faith said each child is served breakfast, two snacks and lunch. She said she'd never used corporal punishment.
To complete the investigation, a DHS worker made a second phone call to Faith in April 2017 — a time when Faith said her day care was still temporarily closed due to "personal reasons." In a subsequent inspection report, all allegations were marked "unfounded" and no violations were documented.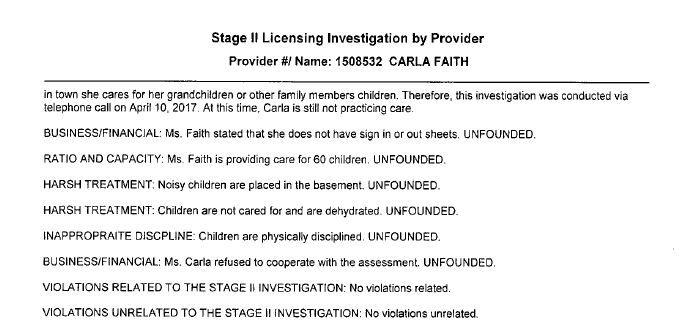 Stage II licensing investigation by Colorado Department of Human Services
(Screenshot provided by documents from Colorado's Department of Human Services)
In October the following year, a mother reported to DHS that she asked a staff member at Play Mountain Place to see the back room where kids were sleeping. "No, better not," the staff member allegedly told the parent, an inspection report shows.
The mother, who asked to remain anonymous in fear of retaliation from Faith, said she got an "uneasy feeling" when Faith got very defensive and told her to find care elsewhere if she wasn't comfortable bringing her daughter there, she told The Gazette.
She went home and searched "Carla Faith" on Google and found the LA Times story, documenting the day care operator's previous licensing violation allegations in California in 1998. In one unlicensed facility investigators found 44 small children. 
She pulled her daughter from the day care — where she was paying $175 per week in cash — and placed her at a more expensive center, she said.
"It makes me furious about (Colorado) licensing for not doing the research that I could find in one night while I was putting my daughter to bed," she said. "That's pathetic. I'm furious. How many kids went through that place?"
But the state's licensing agency has "no requirement or ability to access other states' child abuse and neglect records of licensing history," said Madlynn Ruble, a DHS spokeswoman.

Child day care license application, 2002
(Screenshot of application provided by Colorado Department of Human Services)
On Faith's application for a home day care license in Colorado, she indicated that she had never applied for a day care license before, the 2002 application shows. 
Even if she had checked "yes" and listed her California licensed facility, the department has no process to investigate it, Ruble said.
The application has since been revised and the question now asks applicants if they have ever applied for a child care license in Colorado.

Child day care license application, 2019
(Screenshot of application provided by Colorado's Department of Human Services)
Faith's Colorado criminal background check and a federal background check did not indicate any criminal charges, Ruble said.
If Faith continues to provide care at one of the unlicensed facilities, she could face significant fines, according to to an Oct. 31 cease and desist letter issued to Faith at 1319 Franklin St. 
To issue a fine, the department must "establish a regular pattern of unlicensed care" through "ongoing surveillance," Ruble said. Ultimately, the department would file for an injunction through the Attorney General's Office.
The department has not issued Faith any fines, Ruble said. 
A disconnected system
Bennett, the deputy chief of partnership for Child Care Aware for America, said that in the absence of a national database, her organization partners with referral agencies across the nation to walk families through selecting child care programs. 
The organization encourages parents to do research and look at states' websites before choosing care. Each state is required to post inspection reports, "major substantiated complaints" and corrective actions taken, according to the Office of Child Care website.
Due to the date of Faith's violations in California, it's unlikely they appeared on California's Department of Social Services' website, created in mid-2015, Weintraub said.
Older records are generally kept in regional officers that the public can access, he said, though once a facility loses its license, it becomes more difficult to find.
Once a license is revoked, the department will keep records of violations through the remainder of the year, plus two additional years. Then, they are shipped to a warehouse where they are kept for five years. If legal action was taken, the department could hold on to the records for longer, he said. 
Records show that the department revoked a license issued to Faith and her ex-husband, Jim, in 1992, he said. The license was then restored and the couple were placed on a five-year probation, which includes increased monitoring by licensing specialists, he said. 
In 1998, the California department proposed "expedited revocation" for a license issued to the Faiths and a judge agreed, Weintraub said. It was unclear if this was the same license issued to the couple in 1991. 
The California agency is still looking for legal documents — stored in warehouses — to determine why the department revoked her license, he said. 
When asked if a national database could help Colorado authorities, Ruble said: "Should the ability to share licensing history between states become available, the department would work with other states, our state Board of Human Services and the federal government to determine best practices and processes to share the information."
Documents pertaining to Faith's licensed day care facilities in Colorado can be viewed here.