Charges won't be filed in the Feb. 5 shootout in which El Paso County sheriff's Deputy Micah Flick and suspected car thief Manuel Zetina were killed and bystander Thomas Villanueva was partially paralyzed, the 4th Judicial District Attorney's Office announced Tuesday.
The DA's Office said the officers "acted reasonably" when they shot Zetina after he unleashed a hail of bullets, wounding four officers and Villanueva, all "before any member of law enforcement fired their weapons."
The report recounts for the first time the harrowing last moments of Flick's life and what District Attorney Dan May called the "horrible tragedy that struck our community."
The DA's report gives this account:
The Beat Auto Theft Through Law Enforcement task force, including Colorado Springs police, county sheriff's deputies and the Colorado State Patrol, were tracking a stolen green Saturn about 8 a.m. Feb. 5.
They hadn't yet identified Zetina, 19, as the driver, but they followed him as he drove across the city, stopping a few times to retrieve items from the trunk or spray-paint the car blue. His last stop would be the Murray Hill Apartments, 4225 Galley Road, where his family lives.
Zetina sat in the parking lot, smoking what later was determined to be meth, and making calls. Then he went into an apartment. When he walked out and headed toward the stolen car, officers decided to arrest him, noticing at the last minute that Zetina's right hand was in his pocket, apparently clasping an object.
Deputies Scott Stone and Flick approached Zetina as he walked toward them. Stone grabbed Zetina in a "bear hug" and yelled "police." Zetina had his gun in hand and started firing, striking Stone in the left hip.
Task force members saw Flick struggling with Zetina. Some think they were fighting over a gun. Seconds later, Flick was "motionless on the ground." The investigation later would reveal he'd been shot once, in the throat.
With two officers down, Zetina "began to spray the parking lot with gunfire, moving in a circle as he fired," striking police Detective Marcus Yanez in the groin and Villanueva in the spine. Bullets also struck a nearby apartment building, and sheriff's Sgt. Jacob Abendschan was hit by shrapnel.
Three officers returned fire, striking Zetina in the torso and back and grazing his left arm. When he fell, he still had "the gun in his hand and his finger on the trigger."
The event lasted about 10 seconds, May said.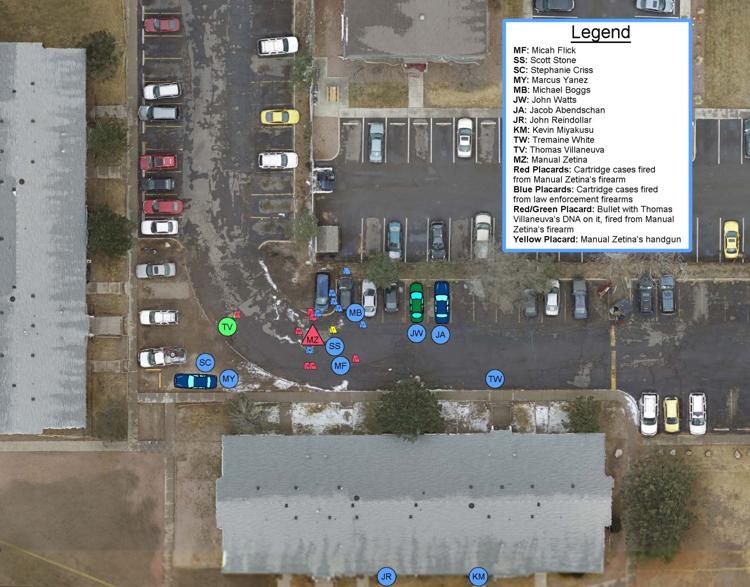 The bullet that punctured Flick's throat was never found, May said, but the DA's Office determined that Zetina shot him because autopsy records indicated Flick was hit at close range, and because no other officers had fired their weapons by then.
Zetina was using "9mm full-metal jacket rounds" designed to go "through and through," which is why some of the rounds were not recovered, May said. Zetina's gun held nine rounds, but the report didn't say how many were fired. Only six shell casings were recovered.
The DA's investigation indicated Zetina knew he was attacking law enforcement even before Stone yelled "police."
Earlier, while officers were tracking him, Zetina made "numerous evasive maneuvers in an apparent effort to identify (and throw off) any vehicle that might be following him," the report said. Zetina had been monitoring police scanner websites on his cell phone days earlier, it said, indicating that he knew police were following him.
"We don't know for sure whether or not he knew," said Margaret Vellar, lead investigator and chief deputy district attorney. "It looks like he probably did know."
But Villanueva was simply walking back to his apartment after lunch when Zetina started shooting. Villanueva was struck in the spine and is paralyzed from the chest down.
He was among the first to assert that officers did not identify themselves before the shooting, allowing him to walk unknowingly into danger. Instead, Villanueva thought the officers were possibly "gangsters," contradicting statements by Sheriff Bill Elder that the officers, though in plain clothes, were clearly identified by appropriate insignia and announced themselves.
The District Attorney's Office supported Villanueva's account, saying officers wore badges and protective gear only beneath their undercover clothing and did not identify themselves until Stone grabbed Zetina. At that point, Villanueva was nearby, and police were just noticing him, the report said.
Some of the 10 officers at the scene said Villanueva did not appear to be with Zetina and were asking where he came from, Vellar said. In seconds, bullets were flying, she said.
The Sheriff's Office declined to comment on the insignia discrepancy or the ruling, citing Villanueva's notice of claim, a precursor to a lawsuit. Villanueva filed the claim as a placeholder to possible litigation, depending on the results of Tuesday's ruling.
His attorneys previously said Villanueva would sue agencies for his "serious physical injuries requiring hospitalization and surgeries" if officers were found to have acted inappropriately in the shooting. Attorney Russell Araya with Ramos Law did not return a call Tuesday.
Villanueva's father, Tom Villanueva, has questioned whether the ruling and other public records would reveal violations or deficiencies in law enforcement policies or protocols, such as conducting arrests in highly populated areas with children and oblivious residents nearby. Could they lead to changes, he asked, to "make sure this doesn't happen again?"
But the DA's report said officers did not try to arrest Zetina at earlier locations for tactical reasons and because team members hadn't arrived.
May said his office does not scrutinize tactics used or any events after an officer's decision to use deadly force. It focuses solely on the shooting, though he noted that many of the tactics officers employed had been used successfully "over and over again."
"Unfortunately, law enforcement is a dangerous job, and this is an example of that. You try to take all of the precautions you can in the world, but in the end it's a dangerous job," May said, his voice choked by emotion.
Whether the DA's conclusion will spur release of the county coroner's autopsy reports remains to be seen. Coroner Robert Bux has petitioned to seal the autopsy reports for Flick and Zetina, records that could help verify the district attorney's account. Bux said releasing the reports — with details on where the two were shot, how many times, the trajectory of bullets and possibly the types of bullets — will harm the public interest and "cause additional stress and grief" to Flick's family.
Flick's widow, Rachael Flick, also opposes release of the records, the request said.
The Gazette and the Colorado Springs Independent have hired legal counsel to fight for the autopsy reports. A court date is expected to be scheduled Friday.
Villanueva and his family also protested last week for the release of the records. The family did not return calls for comment Tuesday.
Contact the writer at 719-636-0362 or find her on Twitter: @njKaitlinDurbin.