New details emerged during Anderson Aldrich's preliminary hearing Wednesday about how Aldrich allegedly helped run a website with neo-Nazi materials, and how he had made several posts and comments about having a "hatred" toward members of the LGBTQ+ community. 
Aldrich is accused of killing five and wounding more than a dozen in a shooting at the popular LGBTQ+ nightclub on North Academy Boulevard in Colorado Springs.
Rebecca Joines, a Colorado Springs police detective, testified and spoke in detail about Aldrich's online presence before the shooting. 
Joines said Aldrich was one of the individuals who ran a "neo-Nazi" website called freespeech2.ru where, Joines testified, a video had been posted called "Wrong Target" that glorifies mass shootings and the killings of members of certain minority groups. 
Additionally, Joines testified that Aldrich, on Nov. 19, the day of the Club Q shooting, had posted four separate videos to the website, including one video taken at 11:53 p.m. in the club's parking lot. Aldrich allegedly entered Club Q and began shooting two minutes later. 
Neither Joines nor the prosecution elaborated on the contents of the four videos uploaded by Aldrich the day of the shooting, and the videos were not played in court. 
Joines added that she believed Aldrich had originally planned on live-streaming the shooting based on a video streaming app discovered on Aldrich's phone after the arrest.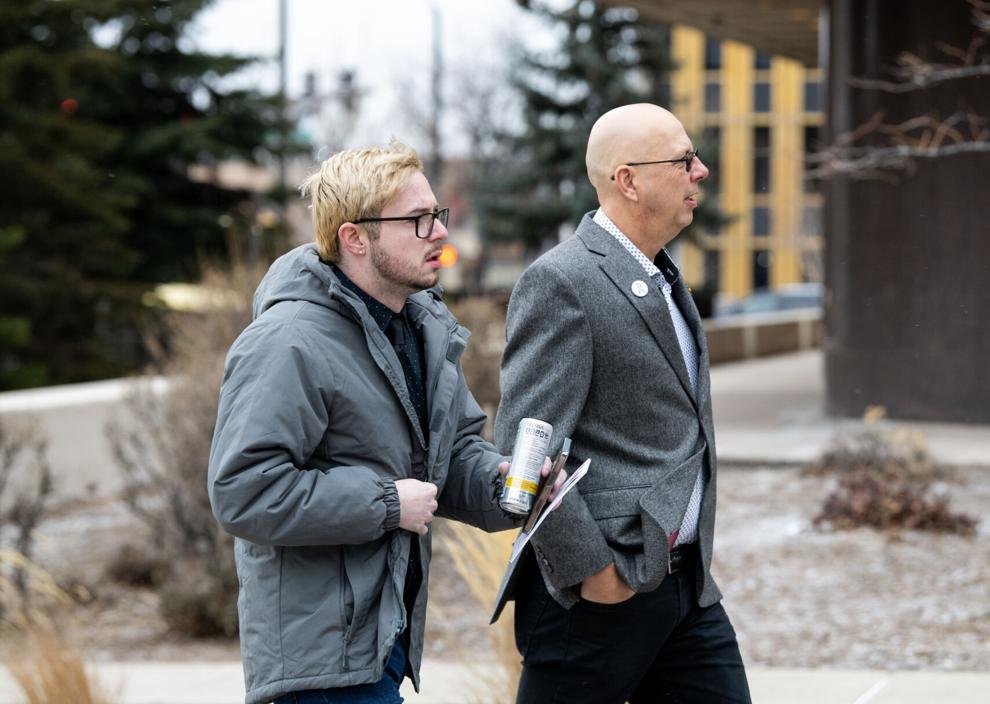 While speaking with prosecutor and District Attorney Michael Allen, Joines said that, after the shooting, she had interviewed two of the other men in charge of the freespeech2.ru website. 
One told Joines that Aldrich had a "hatred" toward the police and members of the LGBTQ+ community. A different man told Joines that Aldrich had an obsession with homicides and videos of homicides, and that Aldrich had never identified as nonbinary to them, but that Aldrich's mother identified as nonbinary and forced Aldrich to go to gay bars with her. 
Aldrich told detectives following Aldrich's arrest that they identified as nonbinary and used the pronouns they/them. 
On the communication app Discord, Joines testified that Aldrich sent, and then deleted, a photo that had been altered to show a rifle scope trained in on a person at a Pride parade. The altered image was shown to the court by the prosecution. 
Joines also said Aldrich was very familiar with Club Q, stating that Aldrich had been to the nightclub on six occasions before Nov. 19, as far back as August 2021, and including a drag show in February 2022. 
Aldrich's defense attorney Joseph Archambault, in cross-examining Joines, attempted to state that there was no evidence that Aldrich had committed the shooting due to a hatred of the LGBTQ+ community, and also put Aldrich's mental health at the forefront of the conversation. 
Archambault entered several pieces of evidence showing more than 10 prescription drugs Aldrich was taking to treat depression, bipolar disorder, schizophrenia, post-traumatic stress disorder and anxiety disorders. Archambault also said that Aldrich's mother, Laura Voepel, had told Joines in the past that Aldrich was "severely disabled" and had been a victim of sexual assault in the past.
"I really f--ked up; I really killed all those f--king people," Aldrich allegedly told an El Paso County transport deputy following a December hearing, according to a statement provided by Archambault. 
Archambault added that Aldrich told law enforcement that they had taken six Xanax, three Adderalls, and several grams of cocaine and freebase cocaine the night of the shooting. 
The prosecution fought back against the idea that the mass shooting was caused by Aldrich's drug use. Joines testified that in an interview several hours after the shooting, Aldrich was sober and coherent. 
Allen pointed to testimony that had been entered earlier in the preliminary hearing, when CSPD detective Jason Gasper testified that a hand-drawn map of Club Q was found in Aldrich's bedroom, as evidence of significant premeditation in the Club Q shooting. 
Gasper also testified that law enforcement found numerous signs of gun ownership, a rainbow-colored target, a black mask, a ghillie suit — a type of military camouflage outfit — and a handwritten note inside Aldrich's apartment which they shared with their mother. The note, which was shown to the court, read something to the effect of:
"Please relieve me of my fate
I'm drowning in my own wake
How long must I wait
To be free of this hate." 
Joines testified that the two guns in Aldrich's possession at Club Q did not have serial numbers and were not purchased legally. 
The first witness to testify on Wednesday was Colorado Springs police Officer Connor Wallick, who was one of the first responders to Club Q the night of Nov. 19.
Wallick testified that after entering Club Q he found the suspect who was pinned down, was wearing a ballistic vest, was in possession of "an AR-15-style rifle," and had a grenade. Wallick said that Aldrich was not complying with his commands, and that he had to be forcibly detained with handcuffs.
Wallick testified that the person he placed in handcuffs was Aldrich, pointing them out in the courtroom.
After the arrest, Aldrich allegedly told Wallick that they were not the shooter and that the person on top of Aldrich was the shooter, and that the shooter was still hiding within the club. Wallick said despite these claims, he knew Aldrich was the correct suspect.
While Aldrich was being detained, Wallick stated that Aldrich was bleeding significantly from their head and that Aldrich claimed they were shot and would "succumb to their injuries" if they weren't helped immediately. Wallick testified that although Aldrich was bleeding, it was clear they had not been shot.
During the interaction, Wallick testified, Aldrich never once took responsibility for the shooting.
During Gasper's testimony, screenshots of the video surveillance from Club Q were shown to the court, which pictured Aldrich entering the club in a ballistic vest while holding an AR-15-style rifle. Another screenshot shows Aldrich aiming down the sights of the AR-15 rifle within the club while shooting.
Throughout the hearing Wednesday, Aldrich could be seen becoming very emotional, visibly shaking and crying several times. Some of the points where Aldrich became notably more emotional included the portion of Gasper's testimony where pictures of the bodies of all the victims of the Club Q shooting were shown inside the nightclub, and during the portion of CSPD detective Ashton Gardner's testimony, when he discussed survivors' gut-wrenching stories from the night of the shooting. 
Some of the stories included that of a mother who was shot in the face attempting to help her daughter flee the club; of U.S. Navy Petty Officer 2nd Class Thomas James, who was shot in the stomach while attempting to apprehend Aldrich; and of Barrett Hudson, who was shot seven times while fleeing the club, but survived.
The courtroom was at capacity, with more than 40 people in attendance, including victims, their family members, and friends and reporters. The shooting three months ago left five dead and more than a dozen injured. Aldrich appeared in custody in an orange jumpsuit and shaved head.
At various points throughout the hearing, victims and their friends and family could be heard softly reacting to the graphic images and details provided by the prosecution, with some families choosing to leave the room entirely during portions of the hearing. 
The remainder of the preliminary hearing will be held on Thursday beginning at 9 a.m., where Judge Michael McHenry is expected to rule on the 323 charges against Aldrich. 
If McHenry opts to bind over Aldrich on the 323 charges, Aldrich's attorneys will then be forced to enter a plea at an arraignment at a later date.
Prosecutors have mentioned over the past few months that Aldrich's competency could play a role after the preliminary hearing, implying that Aldrich may plead not guilty by reason of insanity. The detailed discussions by the defense over Aldrich's mental health and drug usage on Wednesday only strengthens those implications. 
Aldrich remains in custody at the El Paso County jail.