Editor's note: This story begins the next phase in our yearlong investigative series on the crisis in mental health care in Colorado. Now our focus pivots to solutions and best practices that our state might emulate. We've dispatched Gazette reporters around the country and state to seek out innovations in mental health care and bring back lessons we can learn.
CHICAGO — Deep within the Cook County jail, white-walled dormitories have replaced steel-barred cells.
In a division of the jail known as the Residential Treatment Unit, jailers are trained to act more like therapists than guards.
Inmates are considered patients, and a licensed counselor sits as warden.
The $86 million building, which houses nearly 600 mentally ill people, is a concrete testament to the Cook County jail's transformation from what was once the nation's largest holding pen to an institution that helps forge a pathway to freedom for people with mental health problems who've landed in the criminal justice system.
"They want us to be a mental hospital," Cook County Sheriff Tom Dart recalled thinking, as he led that metamorphosis. "We're going to be a really good one."
Jails and penitentiaries across the country have become repositories for the mentally ill. Many, including El Paso County's jail, have taken incremental steps to improve mental health care.
But Dart has managed to reinvent his jail to help inmates access care on the inside that they can't get on the outside — even as Illinois slashed funding for mental health services, and Chicago closed clinics around him.
In the 13 years since he took office, the detention center has shed its image of one of the nation's most notorious jails, where inmates faced overcrowding, beatings from officers, woefully inadequate medical care and widespread mistreatment — as substantiated by a decade-old federal probe.
Now, it's widely considered the gold standard in corrections for inmates with mental health issues.
Dart has increased health care staffing, converted the jail's former boot camp into a therapeutic center and partnered with local nonprofit organizations that can connect people with the support they need after they leave jail to become stable in the community.
And he's accomplished most of that by moving money around in the agency's budget, he said.
"The vast majority of jails and prisons have not come to grips with the fact that you are a de-facto mental health hospital," Dart said. "Your job isn't just to hold these people. Your job is also to try to rehabilitate them, analyze the issues that brought them in, and then try to figure out ways to make it better when they leave."
Last month, The Gazette toured the Cook County jail's 96-acre campus, bordered by water-stained cement walls, chain link fence and barbed wire.
The sprawling compound occupies almost an entire block in Little Village, a heavily Hispanic neighborhood on Chicago's southwest side where health care resources are scarce among taquerias and costume shops with fluffy Quinceañera dresses in the windows.
El Paso County jail is Colorado's largest local jail, but its average daily population of roughly 1,600 inmates dwarfs in comparison to Cook County's inmate count, which at times in the past has exceeded 11,000.
On any given day, nearly 40 percent of the roughly 6,000 people in the jail's custody will have mental health needs.
And, for many, the treatment offered there is better than the care they've gotten in the past — so much so that mental health care advocates sometimes recommend that inmates don't bond out of jail, even if they have the choice.
"This is so devastating to say as an advocate," said Alexa James, executive director of National Alliance on Mental Illness Chicago. "We hope they go to jail to get mental health services. Sometimes it's the first time that people have access to it, in jail. Sometimes people engage in a behavior just to get incarcerated again so they can get their meds."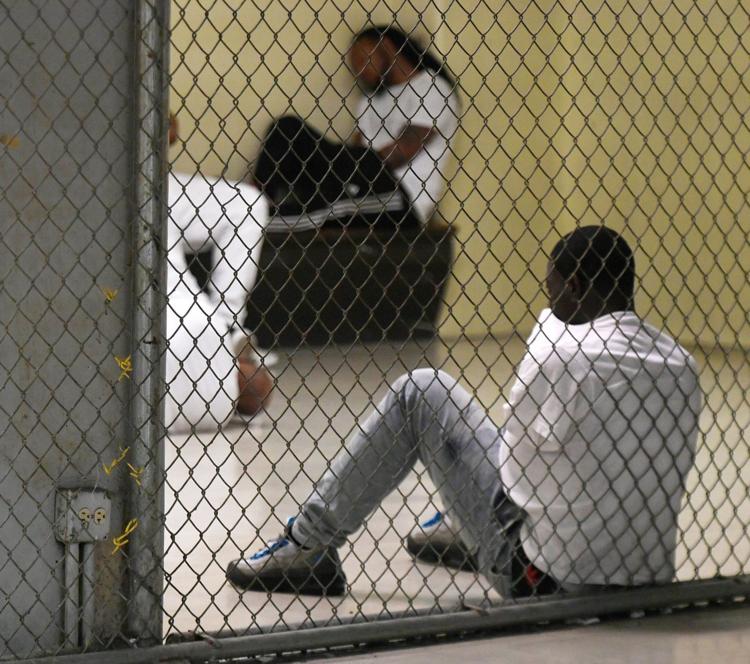 'No logic' to locking up the ill
Sheriff Dart has often said that it is "illogical" to house those with mental illness in jails.
It's expensive.
It's ineffective.
It comes with "hosts and hosts of liabilities for everybody involved," he says.
Dart echoed those talking points to a Gazette reporter in a spacious conference room inside his office suite.
"How is it any different than if we decided to start locking up diabetics? Pick an illness," Dart said. "I don't understand why that same logic doesn't apply to people with mental illness. I think it does apply. When you take them and put them in a criminal justice system, all the bad things you can imagine will happen."
The colorful woven bracelets stacked on Dart's wrists seemed misplaced next to his white collared shirt — starch and pressed, like that of any other politician. Many of the wristlets were made by his children, the youngest of whom is now in grade school, a Sheriff's spokesman later said.
Dart is a Democrat. He was elected in 2006 after a career as a prosecutor and state legislator. 
When he assumed his post as the county's top lawman, he was often called to the jail's living units.
He recalled a haunting sight: Inmates, in cell after cell, cocooned in blankets in the grip of psychosis.
"You didn't have to be a mental health professional to know what you're witnessing," Dart said. "I was blown away with just the enormity of it. And with that, it just sort of impacted me: What are we?"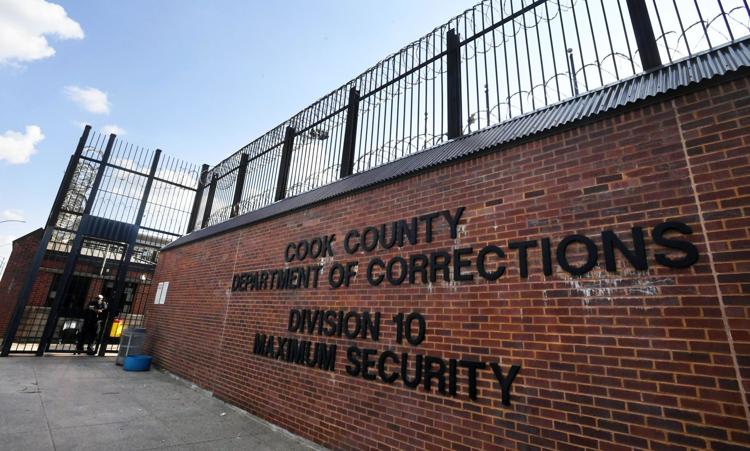 The jail, reimagined
Mental health care for inmates at the Cook County jail begins on the first floor of the five-story Residential Treatment Unit, where those in its custody receive screening as soon as they return from bond court.
There, anyone with psychiatric needs gets a ranking of one through four, depending on how severe their symptoms and illnesses are.
"If they screen positive for any mental health problem, they're seen within moments by a mental health specialist or a psychologist or a psychiatrist who starts their plan of care," said Linda Follenweider, chief operating officer of correctional health for the hospital system that provides healthcare to the jail's inmates.
In many other local jails, inmates don't have access to medication or treatment they need.
In those dire straits, they deteriorate. They lash out at staff and other inmates, extending their own sentences.
They return to the streets — often with little or no improvement — and are back behind bars soon after when another breakdown drives them to criminal behavior.
But the Cook County jail has instead become a window for people to get treatment while they do their time.
"People come here, and they get the best care that they've ever had," said Dr. Jane Gubser, who directs programming at the jail. 
"When you're here, your doctors and your nurses and everyone are here. There aren't hurdles to transportation or the initial trying to find a doctor or getting signed up or waiting for a psychiatrist," added Gubser, who has a doctorate degree in psychology. "When people are in crisis, there's no time for a waitlist."
Cook County Health's correctional branch, known as Cermak Health Services, has a hundred mental health staffers who work on the jail's campus. They include social workers, art therapists, psychologists, 16 psychiatrists and more than 60 other mental health specialists.
The jail has an additional few dozen mental health professionals on its staff. And courses that enable correctional officers to recognize and respond to the symptoms of mental illness are also mandated as a part of Dart's training academy.
If someone is in crisis in the jail's intake area, Cermak staff can immediately administer a dose of antipsychotic medication. They can also take that person to the jail's urgent care center in another neighboring building that functions as the hospital wing. There, beds are available for inpatient-level treatment.
While the jail's population has fallen in recent years, the percentage of inmates with mental illness is climbing.
In January 2017, the jail's average daily population was 7,570, and 28 percent of them had mental health needs.
That same month this year, about 5,860 people were at the jail on any given day, and 36 percent of them were experiencing mental health problems.
Even as proficient as Cook County has apparently become in caring for its inmates, offering mental health services in the jail presents a different set of challenges. 
The staff never know when someone is going to leave — Sheriff's Office data show that nearly half of inmates stay less than a month — so discharge planning begins immediately, according to Cermak officials.
Inmates who are severely mentally ill and low-income, uninsured, or otherwise considered high risk are assigned a social worker to help them make a plan for transitioning back into the community.
Those who are booked into the jail are often focused on what they have to do to survive when they're released — not addressing deep-seated mental health problems, Gubser said.
Some have been off their medication and deny that they have a diagnosis. Others have turned to drugs to ease their symptoms.
"It's difficult to talk to people about the next steps and treatment and medication maintenance and all of those things if they're not in a stable state," she said. "They're thinking about, in the immediate, how to feel better right now and coping with being here."
Despite the resources that the jail devotes to mental health care, there are still inmates whose psychiatric needs are so great that they belong elsewhere, Gubser said.
"If we were providing better treatment in the community, I don't think they'd end up here," she said. "There are people who are looking to get help, and they still can't get it."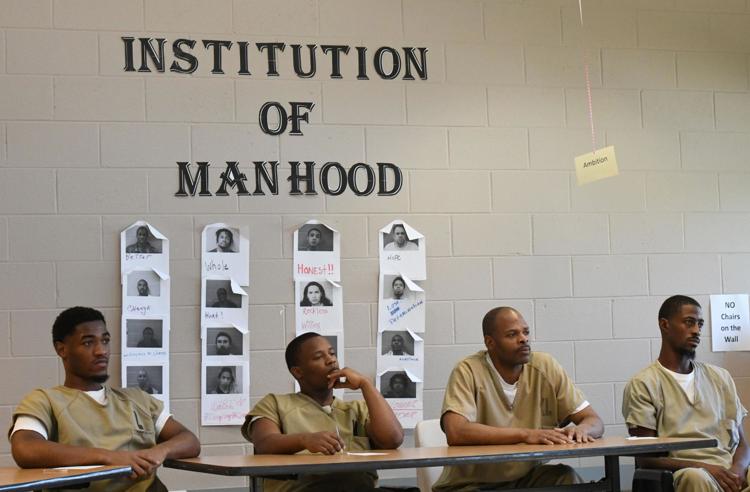 A 'broken' system
Colorado Springs is a fraction of the size of Chicago, one of the nation's largest metropolises with a population of roughly 2.7 million.
But the cities share many of the same problems in their mental health systems: Long waiting lists, a dearth of practitioners, a lack of inpatient beds — all exacerbated by shortfalls in affordable housing, public transportation and employment opportunities.
Illinois lawmakers have decimated funding for the state's mental health system. Between fiscal years 2009 and 2012, $114 million was cut from the budget — some of the largest reductions nationwide, according to a white paper from the National Alliance on Mental Illness.
Chicago resources have been slashed, too.
The city's past mayor, Rahm Emanuel, shuttered half of its 12 mental health clinics in 2012 in a bid to reduce spending. A city task force is now re-examining the unpopular decision.
"We're relying on a system to fix people that's totally broken," said James of NAMI Chicago. "Part of mental health recovery is, of course, access to treatment — but it's (also) stable housing, it's purpose, it's community, it's health in all of those fields. And we don't have adequate resources for that."
Poorer and more violent neighborhoods in the city — where residents are predominantly Latino or African American — have largely been overlooked when it comes to mental health, said Arturo Carrillo, a social worker who manages programs that offer counseling and other services to low-income residents.
The result: A system that's not able to give care to those who need it the most, with no safety net to catch people before they end up in the criminal justice system, said Carrillo, who works for Saint Anthony Hospital in Chicago.
"We see people fall through the cracks. Every shooting that happens in Chicago means that there's an entire family that's impacted by that shooting. As the saying goes, hurt people hurt people," he said.
James hears these stories every day, she said. NAMI Chicago's helpline is expected to handle about 6,500 intake calls this year, many from people who are working their way through the court system.
Dart's jail isn't a real mental hospital, she said. It can still be a damaging environment that adds to the trauma.
"It's like someone saying, you have stage four cancer, and we have a great treatment center, but it's on fire," James said. "You're putting somebody in a toxic environment and throwing some treatment at them and then hoping that they get rehabilitated."
Solution-minded mental health advocates agree: Though the Cook County jail is renowned for its mental health care programs, it's ultimately the wrong place for treatment.
"They're doing everything right," said John Snook, executive director of the national nonprofit the Treatment Advocacy Center. "But, the reality is, the best hospital behind bars is a bad outcome."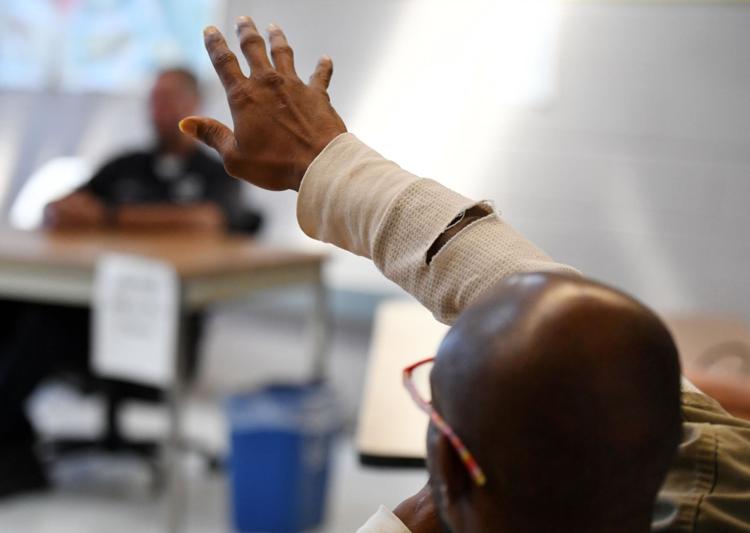 Empowering change 
Since entering the jail's Mental Health Transition Center, Fernelis Bigelow-Lighty has gotten used to saying he's sorry.
He's written letters to his friends, his family and his girlfriend. He's apologized for not reaching out to them when he desperately needed help a year ago.
His mental health issues, including reactive attachment and borderline personality disorders, made it difficult for him to connect with those he cared about.
Last fall, the 22-year-old had just finished a jail stint in Santa Barbara, Calif., for shoplifting and was homeless.
He'd lost his job on a crabbing boat, where he picked up the habit of using methamphetamine to self-medicate his depression.
"While I had lots of people, I didn't ask anybody for help, and kind of just suffered on my own. This program has helped me come to terms with the problems and emotional disconnect that's in my own family, but also with myself," said Bigelow-Lighty, who's being held on suspicion of burglary and theft charges.
"I've really opened up with the people who supported me," he said.
While the Cook County jail has the resources to cater to people who are seriously mentally ill, it also offers programs that can help people with moderate symptoms get the help they need to lead productive lives when they're released.
The Mental Health Transition Center, less than two blocks from the jail compound, has become a focal point in its programming. Every weekday, roughly 70 inmates are bused there to take psychoeducation classes taught by social workers.
At the later stages of the program, they can participate in yoga, drum circles and art therapy.
There's even an alumni association.
The counseling that takes place at the center now is a stark contrast to what happened there until the mid-2000s, when it served as a boot camp where inmates finished their sentences while receiving military-style training, said Lashiver Pate, who supervises the center's programming and staff. 
"Before, we were focused strictly on behavior — this is the behavior that's happening, we need to fix this behavior," recalled Pate, who previously worked as a counselor and case manager at the boot camp.
But, in the more than 15 years he's worked at the jail, he's seen a shift.
Staff members now dig deeper to determine why an inmate is acting out.
The center helped 38-year-old Michael Bartholomay come to the conclusion that he's used drugs to deal with his anxiety and depression, fueled by feelings of low self-esteem.
"I've been to treatment programs. But they don't really get below the surface, or to the root of why you're using drugs or escaping. Here, I was able to learn what was really causing me to use a drug," said Bartholomay, jailed on suspicion of burglary, theft and financial crimes.
"I'm being a better person in here, I know I'll be a better person out there," he added.
A 2018 Sheriff's Office analysis found that those who participated in the program were less likely to be arrested again soon after getting out. About 4% of them were re-booked within 30 days of release. That proportion was roughly double among inmates who did not receive counseling at the center.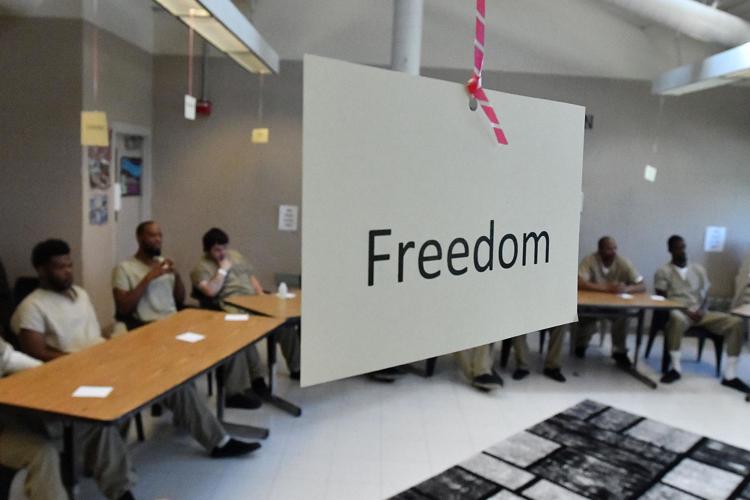 Awaiting the 'aha' moment
In the hallway of the Mental Health Transition Center's main building hangs a bulletin board plastered with photos of former inmates, along with vignettes of success.
A man who once sat in one of the nearby classrooms now is a county employee who teaches counseling to inmates in their living quarters.
A picture pinned to the cork shows inmates laughing and smiling, donning caps and gowns at the program's annual graduation ceremony. It's the first time they've worn the regalia.
Project manager Sharon Latiker hopes that it won't be the last.
"We're giving them a different sense to let them know you can make it, you can better yourself," Latiker said. "If they want to, they can. Is it easy? No. It's hard."
The center's staff give inmates the tools to manage the symptoms of mental illness. But they must still be willing to change, the counselors emphasize.
"We tell them a lot of times that they can't go back to the old neighborhood. They can't go back to the old behavior," said Latiker.
After a program participant leaves the jail, she can help him get a GED, find a place to live or get in to see a treatment provider. 
The alumni association even has a community van that can take the program graduates to job interviews and doctor's appointments if they don't have a reliable way to get around.
Still, even with the support, some backslide.
They don't take advantage of the resources.
They return to the circumstances where they originally got into trouble.
In a classroom down the hall from Latiker's office, psychoeducation teacher Tyrone Cook sat at a desk in the corner.
Before him were about a dozen inmates, sitting two each at tables arranged in a horseshoe shape.
"The problem that I'm having with some of you men here is, I don't know when your 'aha' moment is going to come," Cook said. "How many more jail stints must you do? How many more times you must be shot? How many more times must you get arrested? How many more times does it take for you to be living out on the street?" he asked.
"When are you going to have an 'aha' moment that, 'my life is more valuable and precious than this'?"
On the wall behind him, below motivational posters typical of high school classrooms, hung a white piece of paper with black lettering.
It read: "Leave better than you came."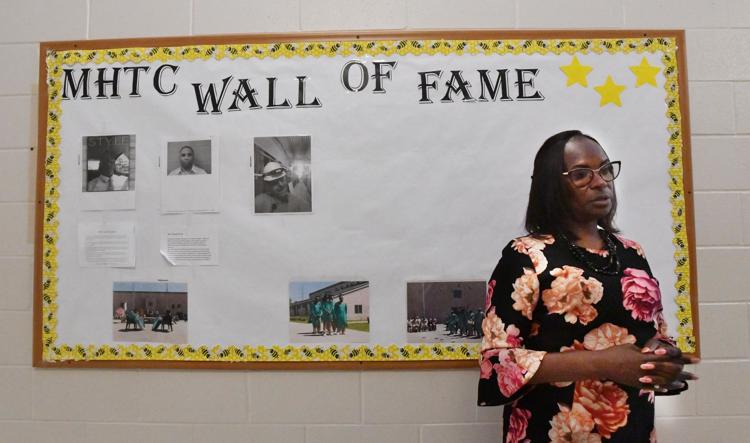 The jail's turbulent past
About six months after Dart took office in late 2006, federal investigators visited the jail.
Their findings were chilling.
The inspectors discovered countless "life-threatening" lapses in safety and sanitation, they would later tell county officials in a letter.
Violations of inmates' constitutional rights had become routine amid what one administrator described as "a culture of abusing inmates" among the jailers.
The 2008 letter cites harrowing examples:
Guards handcuffed a mentally ill man and hit and kicked him after he exposed himself to a female jailer.
An inmate lost a leg after an infection under a cast festered.
An HIV-positive woman died of a preventable infection after her complaints about coughing and shortness of breath went unaddressed, even when an x-ray delivered abnormal results.
The damning assessment, together with court filings and media coverage, painted the jail as an "incredibly dysfunctional, violent place where people lived in horrible conditions," said Jennifer Vollen-Katz, with a watchdog group that monitors Illinois correctional facilities.
In a 2010 court order, federal authorities and county officials agreed on a series of actions to remedy the situation.
Under the watchful eyes of independent monitors, Cook County jail had to change, said Vollen-Katz, executive director of the Chicago-based John Howard Association of Illinois.
"Often when we see positive change in the system, it's because the state or the county no longer has a choice..." she said. "It typically is larger than any one leader. It's a huge system failure. It demands that the system improves."
Additional staff were hired. Several thousand surveillance cameras were installed. Bond reform brought down the jail's population.
A judge ruled that the terms of that court order had been met in 2017, ending more than 40 years of oversight at the Cook County jail.
Dart has maintained that he had already begun instituting improvements before the results of the federal probe came to light.
And, in large part, the changes he's made to ease the plight of the mentally ill in his custody weren't forced, he's said.
They were a moral obligation.
"I couldn't look at myself in the mirror if I was given this opportunity and I did nothing with it — that I saw what I knew was wrong going on all around me. And I just collected my check."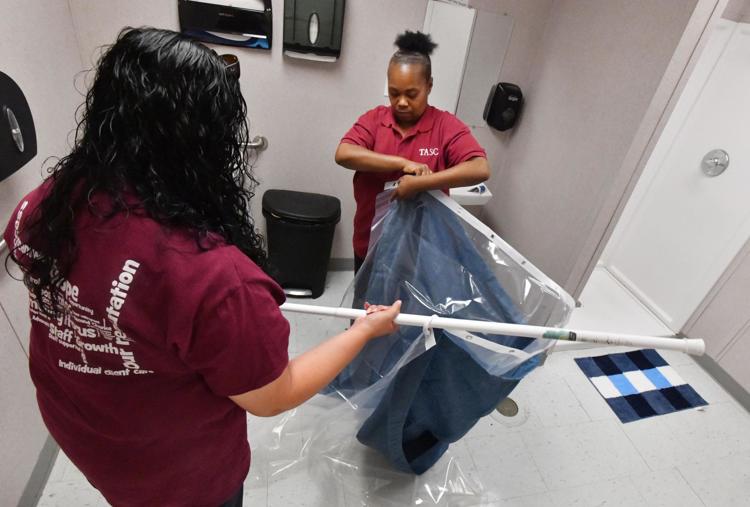 Breaking the cycle 
Inside a double-wide trailer near the jail's campus, a row of armchairs awaits newly-released inmates.
The center, which opened in 2017 as part of a pilot program, admits up to 12 or so people a night who struggle with mental health issues or substance abuse.
It's run by a local non-profit, Treatment Alternatives for Safe Communities (TASC).
The goal is to give people basic resources to function — in effect, addressing some of the issues at the root of recidivism, organizers say.
"Historically, we've just pushed people out the door and right into that survival mode," said Katie Dunne, the intergovernmental affairs liaison for the Cook County Sheriff's Office. "Without a lot of different holistic supports and just somebody … there to help and really to listen to you and what your needs might be, we're just setting people up to fail."
In the trailer, those who've been released can get a solid night's sleep, have a meal, take a shower and wash their clothes, said TASC Program Administrator Robin Moore.
In the meantime, the center's staff members help set them up with other resources: Perhaps they need a Social Security card or a birth certificate. Or they don't have health insurance. Or they don't have a primary care physician.
"They need these types of services in order to make those successful changes, those needed changes, those necessary changes, in order for them to stop utilizing the jails and the emergency room as their help," Moore said.
On an August afternoon, a few staff members prepared for the newly freed to arrive.
They typically bond out after dark, Moore said. But the center's doors open at about 7:30 a.m. on Monday and don't shut until 11 p.m. or so on Saturday.
There, helping hands await with anything an outgoing inmate might need to get back on his or her feet. 
Sometimes, it's just a clean pair of socks.