On a late autumn day in the San Luis Valley, rancher Julie Sullivan strolled through her meadow past hundreds of piles of raked hay. Her foreman Hana Fancher and apprentice Morgan Atkinson followed, engrossed in talk about the robust lower chests on their cattle, a sign of health.
Meanwhile, some 80 of the shaggy black bovines edged quietly toward the women, as if they were curious and needed a closer peek at the two-legged creatures wandering the fields.
The preoccupied women seemed to take little notice until they were suddenly encircled by their wide-eyed cattle. Some cows were bold enough to sniff a back pocket or an outstretched hand. The shy ones hung behind.
At many ranches and certainly at commercial feedlots such a scene would seem unlikely, cows congregating around their ranchers.
But at the 4,000-acre San Juan Ranch near Saguache, the lines are intentionally blurred. Here, the practice of humane animal handling requires an affinity with the animals. It is an approach and strength that Sullivan believes women are uniquely equipped to bring to ranching.
"We raise young women to be relational, to be more conscious of other people's needs and concerns," she said. "Young men often think they have to prove themselves and cowboy up. We don't cowboy up around here, so we get cattle that follow us around."
Defying convention is standard at San Juan Ranch. And with the mounting pressures from prolonged drought, climate change and unsustainably low crop prices, Sullivan and her partner George Whitten's idiosyncratic take on what it means to be a rancher in the West might save their operation, and also help others inevitably facing the same challenges.
"The idea that people that are raising animals for food can't care about them, or have to harden their hearts is opposite of what it should be," Sullivan said. "The more compassion and empathy that we can have for them – those are the people who should be raising animals."
Along the way, San Juan Ranch has joined a broader movement to connect female ranchers, mentor young women and pioneer a new ethos behind ranching in the West.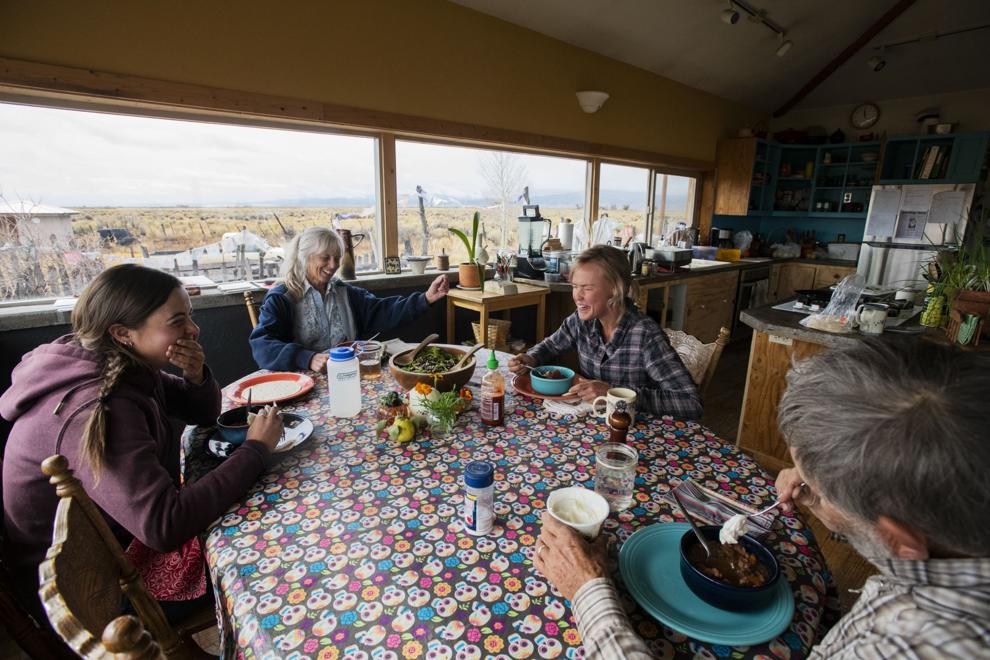 ❃ ❃ ❃
Sullivan says her life changed when she, a 25-year vegetarian, fell in love with a third-generation cattle rancher.
There's more to the story.
Sullivan was born into the 1960s counterculture movement in California. Raised in a "crazy hippie household," she protested the Vietnam War, marched in the first Earth Day and stood in solidarity with the victims of the Cambodian genocide.
In 1990, she began teaching with an expedition program for Lesley University in Massachusetts in which students traveled in a school bus across North America to understand environmental issues from the people who lived and breathed them. Ten years into her professorship, Sullivan, then 44, and her class visited Whitten's ranch to learn about raising cattle.
That fall of 2000, he introduced them to the meadow.
- Gallery: More photos of life on the San Juan Ranch.
Out there, he told them, billions of spiders weave intricate mazes of silk between straws of blue grama grass growing beneath the snow-capped peaks of the San Juan and Sangre de Cristo ranges. Without those spiders and the countless other species cohabitating, the productivity of his land, its resiliency against pests and the nutrient density of his grass would be lessened. In turn, so would the health of his cows.
"Everything in this meadow is dependent on one another," said Whitten, whose family first purchased property in the valley in 1893. "From the giant cows to the tiniest microorganism. They are connected and live together."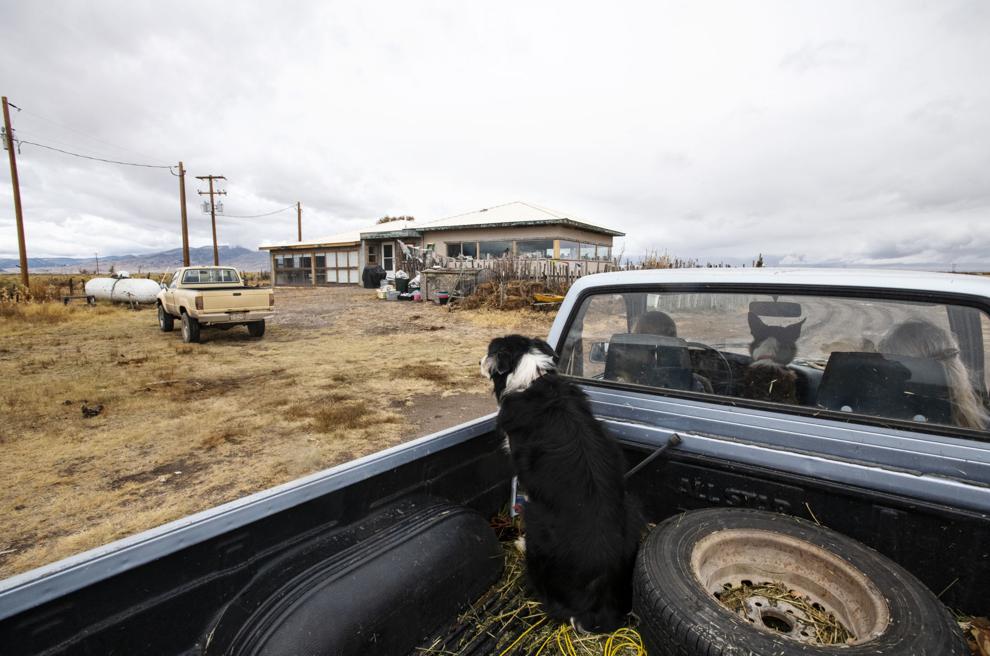 Finding others in the ranching world who think about sustainability was tough for Whitten.
"I manage the meadow, and the only way anyone will pay me for that is if I sell meat," he said. "That kind of environmental ethic is easier to talk to an environmentalist about than Colorado cattlemen. They don't hear it because they are raised in a culture where it's about the economics of the business, hard work, honesty ... Don't get super touchy-feely about somespiderwebs."
But Sullivan was no rancher. When Whitten picked up a blade of blue grama that day in 2000 – his gnarled hands holding up its delicate seed pod with tenderness and marvel – she knew this man was exceptional.
"The day we left, he and I both woke up early and said, 'We don't want to walk away from each other.' He gave me a kiss, the students woke up and we drove off," she said. The couple exchanged letters until the end of the year, then reunited at the ranch.
For three days, they clashed on divisive issues: gun rights, abortion, war – building a life together seemed unlikely.
But their shared kinship with the natural world transcended the societal norms that might have kept them apart. Six months later, they were married.
❃ ❃ ❃
Their union also made Sullivan a partner in the ranch. For her to fully embrace that role, though, a major component of Whitten's operation needed to change.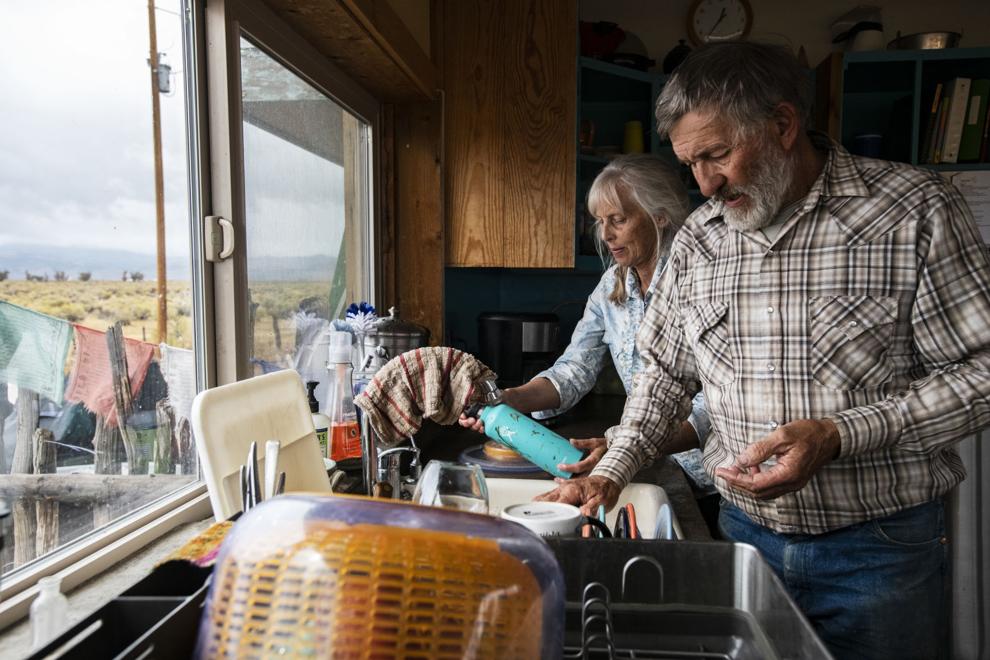 "When I came to the ranch, I talked to George about how I didn't feel like I could make my living by selling calves into the industrial market," she said. "George said, 'You know, I've never been comfortable with it, either. It's what I've done my entire life, but I never liked it."
"I made it okay for us to question what we were doing and ask the next deeper question," said Sullivan.
In conventional beef ranching, it's status quo to graze newborn calves on grass in a pasture for, on average, 215 days before they are weaned from their mothers, according to the U.S. Department of Agriculture. The calves are then often sent to vast commercial feedlots where they are fed corn and animal by-products and given growth hormones and antibiotics.
Pennsylvania State University Extension describes the weaning process as a "lucrative management tool" because they often receive higher bids at auction, eating and performing more quickly and with less potential for disease. The extension service notes, too, that the weaning process is "the most traumatic" for both the calves and the rancher.
"In our culture, it is not OK to talk about because meat is in a package at the store. But, collectively, we need to carry that burden..." Sullivan said of producers and consumers. "We need to ask how can this be honorable rather than something we hide in the industrial section of town that no one thinks about."
Sullivan and Whitten cut ties with the feedlots after they married, opting to keep their cows in their pastures on a grass diet for the duration of their lives. It is a slower process but produces beef with less fat and calories per ounce of meat, more healthy fatty acids and, according to the couple, happier cows.
More than 15 years later, San Juan Ranch sells its grass-finished beef from upwards of 450 head of cattle across the state, the packaging stamped with labels for certified organic, certified humane handling and Audubon-certified bird-friendly land. They also helped establish the Sweet Grass Co-op with strict management standards to collectively access larger markets alongside 11 other small-scale grass-finished, organic beef operations in Colorado and New Mexico.
"These are all ways to communicate to a customer, who we don't know directly, that there are people out here growing food who really have a profoundly deep land ethic," Sullivan said.
It's not at all how Sullivan envisioned her future, but it's given her an immeasurable sense of belonging to something larger than herself.
"You'll realize that your life has been sort of preparing you or directing you towards something, but you didn't see it coming. Then there's this moment when you go, 'Ah this is how it all fits together,'" Sullivan said. "That's really what I've discovered by being here as an environmental educator, feminist and cattle rancher."
❃ ❃ ❃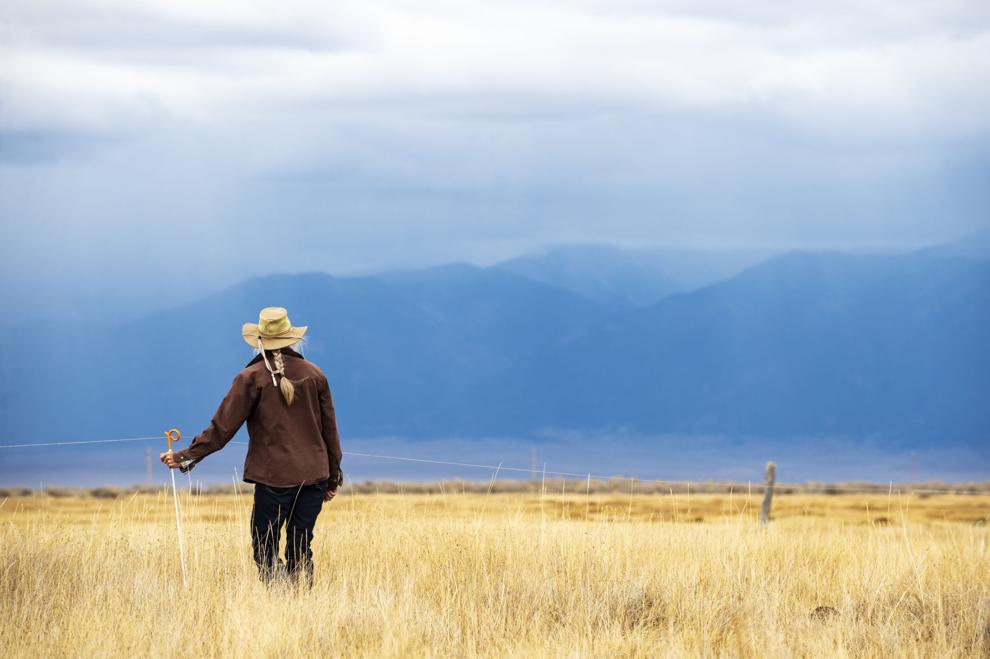 The more Sullivan watched the meadow cycle through the seasons, from spring wildflowers to frost crystallized on the steers' muzzles, the more she felt unified with the land.
"The sky, the wind, the sun – there are all of these things out here that, if you're feeling lonely, confused or sad, you can ask for that support from the natural world," she said.
Still, during her early years in the valley, she lacked a human community. As a newcomer, she had to forge friendships with neighbors who, on the surface, were nothing like her. Finding a support network took time, especially when the field work she'd started to participate in is historically man's work.
In 2012, women made up 31 percent of the agricultural workforce in the U.S. and 37 percent in Colorado according to the USDA. The percent of principal landowners was about 13.5 and 18 percent for the U.S. and the state, respectively. Women have tended to serve as homemakers, while also being engaged in ranch chore work.
To combat the isolation and gender stigmas, Sullivan and a group of 26 other women ranchers across the West formed in 2015 a regional network called Women in Ranching. Online and at annual meetings, they discuss everything from properly sizing tools for women to juggling kids and cattle.
"Ranches are run by families, but women's voices just haven't been elevated the way that men's have. (Our group) hopes to provide an equal voice to those involved in ranching for a long time," said Wendy Millet, a Women in Ranching founder and the director of TomKat Ranch in Northern California.
This year the Western Landowners Alliance, a nonprofit advocating for sustainable land management policy, adopted the group as a formal subsidiary program. The more it expands, the more the ideas of conservation, humane cattle management and gender roles championed by Sullivan and the Women in Ranching network can benefit agriculture in the West.
"As I've come to learn this holistic process of ranching, it is trying to find the best of both worlds of improving the environment you're working and trying to reach your economic goals," said Jon Haubert, spokesman for WLA. "Women bring a fresh perspective in an industry that has been male-dominated and that is trying to find where that balance lies."
So, too, do young people. For 11 years, Sullivan and Whitten have hired interns or apprentices, through the Quivira Coalition's New Agrarian Program, who work full time for one year.
Through their comprehensive curriculum – covering the ecology, business and practical skills of ranching – Sullivan and Whitten want to paint agriculture as more than just a job or even some sort of passing adventure. It's a way of life.
"That's part of what I think we're trying to do is move them past any kind of romanticized vision of what a life on the land is like and help them discover what within themselves is going to be that will keep them here," she said.
At first, Whitten was hesitant to hire women because, in his experience, women never wanted to do the dirty, messy parts of ranching.
"Ranching communities have always had really strong women outside doing ranch work, but often those were people that either their husband had died or there were no sons in the family," Sullivan said. "George just didn't think that young women would want to be covered in blood and puss and do branding and do castrating and want to lay underneath the truck and get oil in their face. It just hadn't been his personal experience that women would want to do sort of some of that dirty messy part of ranching."
But after their first female hire, Whitten's notion of what women saw as their roles on the ranch changed. Since then, eight of the 11 apprentices have been women, including their current employee, Morgan Atkinson, 25.
❃ ❃ ❃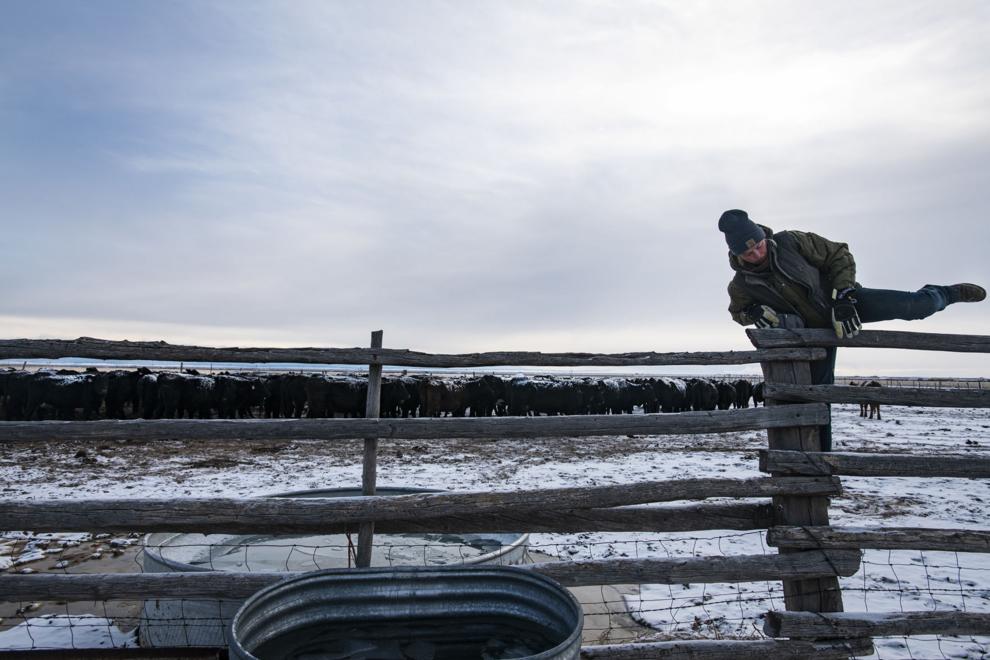 Through the picturesque windows wrapping around the homestead at San Juan Ranch, 28-year-old Hana Fancher can monitor the meadow. From there, she can watch the nearby livestock graze, native and migrating birds glide over a string of Tibetan prayer flags, and the early rays of the sun break the night's stillness.
Later on that autumn day, she stirred a pot of homemade tomato soup she and Atkinson cooked for lunch. Outside, a hungry coyote pounced into piles of hay in pursuit of its prey.
Some ranchers would eliminate the predator, but Fancher needs only to fend off the canine from their dogs and cat. In fact, its presence is an indication of the health of their ranch's ecosystem.
A coyote means rodents, and rodents mean nutritious seeds, grains, other vegetation and insects. The latter require rich soil built from nitrogen, carbon, minerals, organic matter and microorganisms invisible to the human eye, especially when Crestone Needle commands the same horizon.
But when Sullivan gazes out at the flat grassland – her braided silver hair cascading down her back – she sees a fertile womb of life that she is a part of nurturing.
Traditional ranching operations bale hay and haul it away, which Sullivan says removes the nutrients offsite. "When you're mining your pasture, you're not feeding back to it. You can't just keep taking and taking and taking from a piece of land."
Sullivan and Whitten, instead, cut the hay and rake it into piles. The unorthodox process returns the hayseed back to the soil. They've never had to till their meadow and only have had to irrigate a section. The resulting nutrient-dense soil sequesters carbon, meaning the greenhouse gas is pulled out of the atmosphere to fortify the earth.
They consider it another piece of their sustainability puzzle.
"When you think about the next generation of farmers and ranchers, not only do we need to have an economic system that is viable for (them), but we need an ecological system that makes it possible to grow food," Sullivan said. "Most farming and ranching practices don't do that, but it is the cornerstone of what we do: the whole system."
Even so, Whitten and Sullivan cannot avoid the financial insecurity that agriculturists everywhere experience. No matter the cows' quality of life or their intimate acquaintance with the ecosystem, their profits still fluctuate year-to-year.
"George has been ranching since before he was born, but he has no guarantee of what he will make after 65 years in a profession," Sullivan said. "Tell me another field where your mastery of the practice doesn't lead to economic stability. That's invisible to our culture. That's an institutional problem."
How can they tell young people like Fancher and Atkinson that their life is feasible when they could flounder if faced one year with a violent vortex of adverse weather and low commodity prices? Or worse, year after year?
The lack of control engenders fear, which in turn produces resistance to change, Sullivan said.
"The thought is, 'This is what Grandpa did and it worked.' It may not be working right now, but if the most important thing to feeding your family are things you can't control, you are going to hold onto the things that you can and feel you understand," she said. "I think that's why change is hard in general and even harder in agriculture."
❃ ❃ ❃
Before Atkinson moved to northern New Mexico to intern at MP Ranch in January 2017, a high school friend from Ketchum, Idaho, asked her, "Why bother with ranching?"
What about the long hours in the cold, in the snow, in the rain, in a pile of manure? Why settle for low pay and unstable finances when you have a degree from a distinguished liberal arts college? You have other options.
"She just didn't understand why I would choose to go work on a cattle ranch after getting a college education," the Whitman College graduate said. "That moment just like keeps hitting me as I get deeper into ranching. Because I'm like, 'What do you mean why? I'm producing food.'"
She never has to consider her answer when she's out corralling the cows or changing the oil in the trucks.
One day at MP Ranch, Atkinson was separating impregnated cows from ones in the herd that had not been bred. Still a novice on horseback, she had to simultaneously predict and control the movements of her horse and the cows.
"There was this one moment where the timing just worked, and me and my horse cut the right cow out," she said. "It was one of the best feelings I've ever had, amidst all of this frustration and feeling of wanting to get off my horse and drive back to Idaho."
As the apprentice at San Juan Ranch, she chases that feeling every day; and the more she roots herself in ranching, the more abbreviated the pursuit.
"Even those repetitive fencing days, repairing a water tank or something that is really mundane, you realize you're doing it to create a home for these cows," Atkinson said. "The entire process gives me that high that I got from just that one moment of cutting a cow out."
A relationship of reciprocity, Sullivan would say.
"I think a deep relationship (with the land and animals) really appeals to the young women who want to go into agriculture, or at least the young women that come here," Sullivan said. "I think that they're looking for a way for their life to have meaning, for a way to feel their strength and their capacity inside the context of a relationship."
❃ ❃ ❃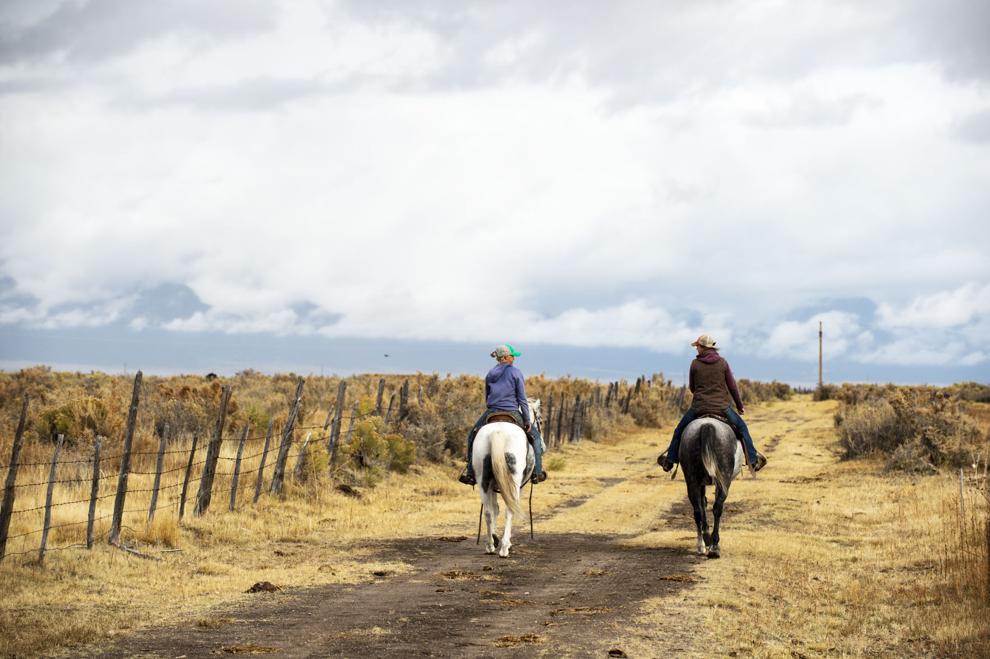 Down a dirt road spotted with brown, brittle grass, Fancher and Atkinson spend the afternoon riding two of the ranch's horses. Their habitual giggling filters across the prairie, interrupted only by the clopping of their horses' hooves.
When working on horseback, Fancher's mind is immersed in the moment – the bob of her hips above the saddle, the billow of a blonde mane, the resplendence of mountain shadows. If she's on her horse, Cody, it's symbiotic.
"We'll be riding around, and I realize that my feet aren't on the ground. He's the one that's doing everything and carrying me around and I'm still like, 'Whoa. You're a whole other creature underneath me just carrying me around,'" she said. "I have a lot of respect and appreciation for Cody, and I think it's mutual."
Fancher met Cody in 2014 while working as an engineering associate with the Division of Mineral and Energy Development under the Bureau of Indian Affairs in Golden.
Though she was intrigued by the position's blend of culture and science under the umbrella of renewable energy, something was always missing. She craved the outdoors and the restoration she felt as a child during summers at her family's ranch in Wheatland, Wyo. She started to train horses at a barn in Golden in her free time and rode Cody as much as possible.
"It was just this reminder that this is what I love: being outside and riding..." she said. "I wanted to see what myself and what Cody were capable of in a ranching setting."
Four years later, she has abandoned an engineering career in favor of one on the farm. Currently, as foreman at San Juan Ranch, Fancher oversees the day-to-day operations, contributes to the business dealings and is free to saddle up as she pleases.
"To be in these types of landscapes is very humbling, and that feeling is grounding," she said. "That I'm really grateful for, because flipping back to when I was in a more of a corporate life ... it just felt like my head was going in a million different directions and being out here is ... there's more opportunity to pause and feel."
She also helps draft policy recommendations on behalf of the Rocky Mountain Farmers Union to mail to the U.S. Capitol.
"I really want to bridge that gap between the urban and rural communities because I feel like that was the most fortunate part of my upbringing: I had the best of both worlds," she said. "So, if I work my way into having a voice in policy, I can have empathy for both worlds, which I think is lacking and leading to some of the extreme polarization that we're seeing."
At a time when the 'us' versus 'them' narrative pervades in the United States, Fancher prefers to extend a hand across the table.
"If we shun men and say, "Well, you've always had the upper hand,' that's a way to close off the conversation, which doesn't do any good," she said. "Instead, (we should) foster how can we all be on the same page and how can we support each other."
❃ ❃ ❃
Sitting around their bowls of tomato soup, Whitten and Sullivan told stories of their partnership, both the madness and the ecstasy.
Whitten was walking through the meadow last spring when he noticed a spider crawling up the grass. He said the spider mulled around the blade, shot out a bit of web and then let a gust of wind carry it away to who knows where.
"How many millions of years of evolution is in that spider's decision to crawl to the end of the stem of grass and release himself?" he said. "He has hope, that tiny little spider."
"That's powerful. That connects us all," he said.
Sullivan's smile was warm, and quiet tears pooled in her glossy eyes.
"I love it when he tells that story."
Twitter: @lizmforster Phone: 636-0193