The sounds of eggs sizzling on griddles, fiddles crooning and horses hooves clopping along pavement filled downtown Wednesday, proof that the Colorado Springs Western Street Breakfast was back and thriving.
The street breakfast — canceled in 2020 because of the COVID-19 pandemic, for the first time since its inception in 1936 — returned in full force Wednesday with throngs of people out to celebrate Western heritage with food, music and festivities.
Neal Schuerer, a member of the Pikes Peak Range Riders, the group that hosts the breakfast, said he was happy to be back out with the Colorado Springs community.
"Colorado and the ranching community and Western heritage — all of those things — this is what keeps it alive," Schurerer said. "There are things different in the West than there is in other parts of the country, and that's the focus of the Pikes Peak Range Riders — to preserve that Western heritage. We're here to preserve those Western values."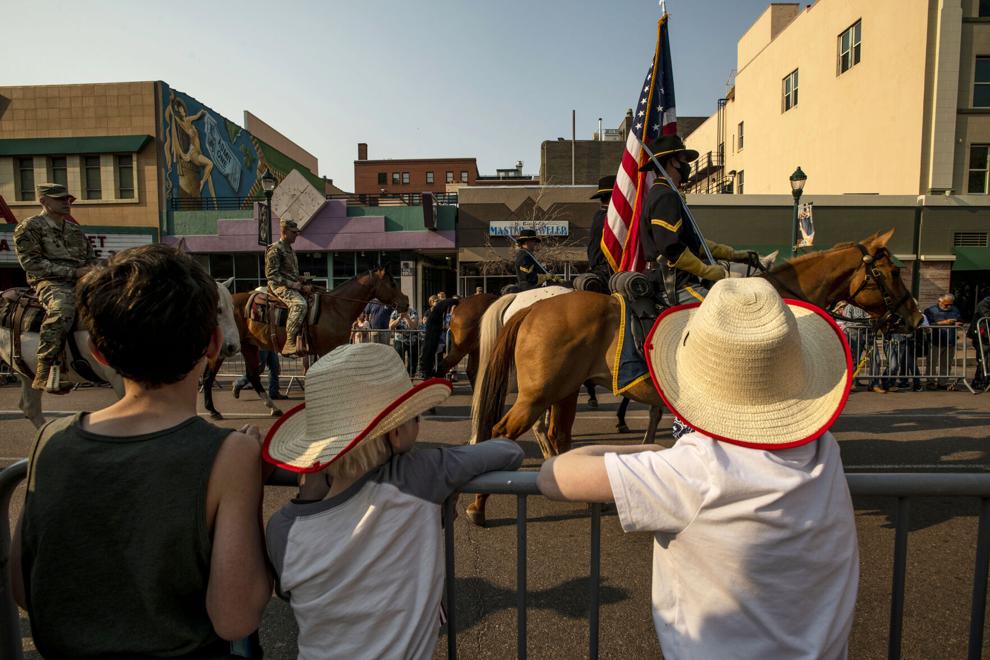 Schuerer and the roughly 160 other riders, equipped with cowboy hats, boots and Wrangler jeans, rode through the streets atop prancing horses, headed toward Pikes Peak for a five-day trip to promote the Pikes Peak or Bust Rodeo.
"Come see us at the rodeo!" one rider hollered to the crowd as he rode past. "Pikes Peak or bust, am I right?" another said.
Before the parade began, performers took center stage. One of the main events included songs and dance by Elvira Sweetwater and her family, citizens of the Diné Nation, also known as the Navajo Nation. 
"Our ancestors roamed this area for centuries and this was one of the main places they used to meet — the Garden of the Gods, Ute Pass," Sweetwater said.
Sweetwater said her grandfather preformed at the street breakfast for years, and now she and her family carry on his legacy.
"We're here to educated people that we're still here, we're still fighting," Sweetwater said. "Basically carrying on our culture and language to our next generation so they can carry it on."
Other Western activities included a lasso station for kids to try their hand at roping. Air Force Academy cadets toted falcons on their arms for attendees to see up close. Cadets also cooked and served the pancake and egg meal alongside soldiers from Fort Carson.
"I like that the military is serving," Carol Spoden, a longtime resident of Colorado Springs, said. "I mean, I think it's great to be able to see them helping out the community and then be able to thank them for their service."
Cadets and soldiers started preparing at 11:00 p.m. Tuesday and worked through the night, readying for the morning onslaught of hungry street-goers.
For first-time attendee Anna Pruitt, the event was everything she hoped.
"We've always wanted to come and we finally made it," Pruitt, surrounded by her family, said. "This is definitely unique. I love the culture."