Most days, Aram Benyamin arises by 4 a.m. and soon travels to his corner downtown office with superb views of Cheyenne Mountain, Pikes Peak and, alas, Interstate 25.
He's the CEO of Colorado Springs Utilities, on a sprint through his life, but savors a few still moments every morning around sunrise. Looking out his big windows, he watches Colorado Springs awaken.
"I just have to remind myself that if I ever want to be somewhere, this is where I want to be," he says. "I just sit here and look around and look at all the things that we have."
He sees peace, prosperity and a safe haven for a man who endured violence in his homeland of Lebanon that robbed him of his father and mother. They are gone, killed for no good reason.
Somehow, he's eluded the grip of bitterness. Alone in his office, he celebrates his blessings each morning.
He celebrates his very existence.
Benyamin spent the afternoon of April 13, 1975, enjoying teenage fun with friends in Lebanon's capital, Beirut, a gorgeous, cosmopolitan, sun-kissed city on the Mediterranean Sea filled with cafes and palm trees. He watched a movie, indulged in burgers and laughed in the final hours of peace in his city.
That night, a man shouted at the teens, commanding them to return home. Hadn't they heard? Christian Phalangist militiamen had attacked a Chrysler Fargo bus that afternoon, killing 27 Palestinians. Agony was about to descend on a beautiful city.
Beginning at 10 p.m., this agony arrived for a long stay in Benyamin's life. He stood with his father, Haig, on the fifth-floor balcony of the family apartment in the Christian section of Beirut. There, they watched the horrifying birth of Lebanon's civil war, which lingered 15 years and killed 150,000.
He saw explosions and tracer bullets. He believed it was a bloody, but isolated night of violence.
After Benyamin returned home late, his 6-year-old sister decided to sleep in his room that night, which meant he slept in her bed. This random trade would have momentous consequence.
At 1 a.m., a thunderous sound awakened the family. A bomb exploded when it hit the balcony, sending shrapnel into the room where his sister slept.
Benyamin saw his bedroom shredded. He took special notice of his pillow, which had been destroyed. In her sleep, his sister had huddled into the middle of the, for her, oversized bed and was unharmed. Aram knew, as he stared at the ruins of his pillow, he would have been killed.
He had planned to study at Beirut's prestigious American University. He planned to build a life in his home country.
"I saw all that evaporate," he says. "It took about a second for those dreams to crash."
He devised a new plan. He would study engineering in the United States. He enrolled at the University of California at Los Angeles and resolved to graduate in three years.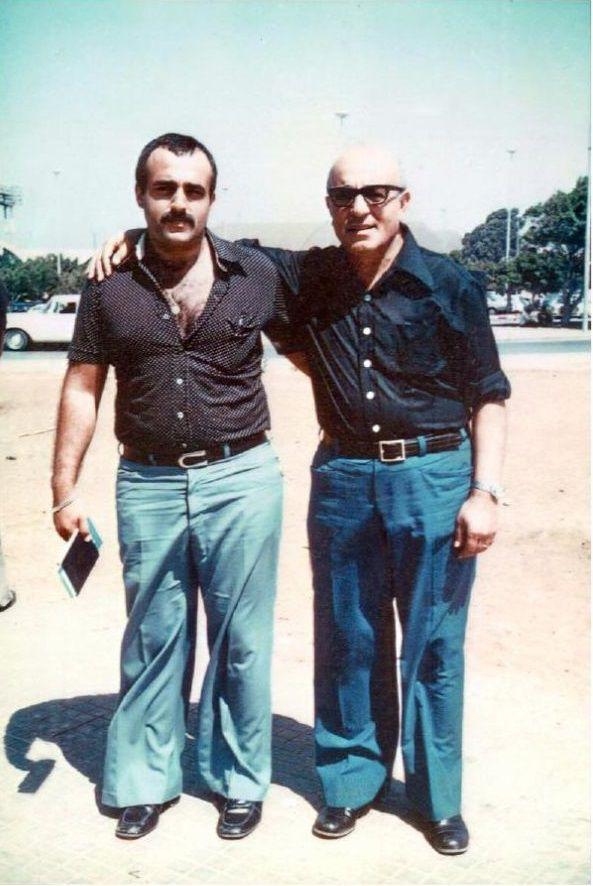 In 1979, his father, a government drug enforcement agent, was kidnapped and killed. Benyamin remains unsure who is responsible for the murder. He flew home to Beirut to pay respects but quickly returned to the U.S. and school, where he was taking 20 hours of credits. Nothing, not even the death of his father, could halt his studies. With his father gone, he needed to provide income for his family.
Benyamin wanted his mother, Mary-jan, to join him in America, where he became a citizen in 1983. She declined, believing, or maybe just hoping, Lebanon would return to the old, comfortable days. In 1987, Syrian forces surrounded and bombed the Benyamins' neighborhood. Mary-jan was killed.
"She was comfortable there," Benyamin says. "For me, at 17, it was easy to walk away. For someone with roots, for her, to come here was a hard decision."
Sitting in a quiet room far from the city of his youth, Benyamin is silent for a moment. He returned to Beirut at Christmas 2017 to commune with his parents. He cleaned the marble of their graves and stood there, honoring Haig and Mary-jan, for a long time.
"Maybe I grieved what I didn't grieve for 40 years," he says. "Maybe that's what it was. … It was just a way for me to close the chapter on what has happened and put it behind. I'm at peace with everything."
"Bitterness, no, never," he answers quickly. "I don't have a single bitterness in my life. I don't have a single regret. … It just happened. Life happened. To me, it's just a waste of energy to be bitter at life. Never. Life is too short. You just pick up the pieces and look forward and try to be positive about everything."
Benyamin, an immigrant, is unabashedly positive about his new home.
"I'm just in love," he says. "I've always been in love with the freedoms that this country represents. … The freedoms, the opportunities, the humanity. Just the sheer value of human beings and for what a human can do.
"America, it's just me. America is me. I wasn't born here, but I put my life in line for the values that this country represents. It's me."
It's past 9 on this morning, meaning Benyamin has been awake for nearly six hours. It's time to return to work.
His suffering produced a singular focus on safety, which fuels him as Utilities leader. He was promoted by unanimous vote to CEO, with a $480,000 salary, in October after serving as energy supply general manager since 2015. He previously worked for the Department of Water and Power in Los Angeles, where he embraced renewable energy.
Past chaos inspired an intense pursuit of order.
"Keeping you safe," he says, looking his interviewer in the eye. "That's my No. 1 priority. The rest of it, it's all things you can replace. You can't replace lives. You can't replace people."
He's grim, but just for a moment. His smile returns as he gazes out those big windows.
"Look at this," he says, shaking his head in wonder at blindingly white mountains. "Look at this."