Lottie Kempf, the youngest daughter of famed local sculptor Starr Kempf, died Wednesday at a local nursing home. She was 72.
She is survived by a sister and brother.
Services would be private, said Joshua Kempf, Lottie Kempf's nephew and Starr Kempf's grandson.
After her father's suicide in 1995, Lottie Kemp moved into her parents' North Cheyenne Canyon home, where Starr Kempf displayed his 10 kinetic sculptures, some reaching as tall as 56 feet, to care for her aging mother.
She angered many of the neighbors by marketing the sculptures and home to tour buses as a for-profit museum. Neighbors complained that the increased traffic was a detriment to the area, and city officials agreed.
After the city sued her in an attempt to stop the tours and a court ordered her to stop, Lottie Kempf filed a $17 million countersuit against the city and the neighbors. The lawsuit was dismissed.
In 2001, the city sued her again, claiming eight of the sculptures were too tall or close to the road for a residential area, and in 2002 a District judge ruled in favor of the city.
In 2003, Joshua Kempf moved two ornamental lamp posts into storage, and shipped three of the sculptures to New Mexico, where they stayed for a few years before also going into storage. Almost a year ago, those three sculptures were installed at Ent Center for the Arts, where they'll be on display for the next year.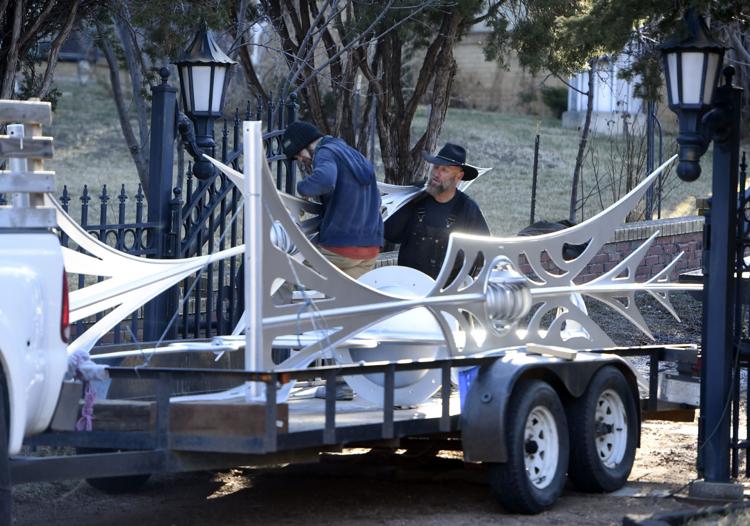 Joshua Kempf removed only five of the eight pieces that had to be removed, but neither the city nor the neighbors pushed for the remaining three to be taken down.
Contact the writer: 636-0270