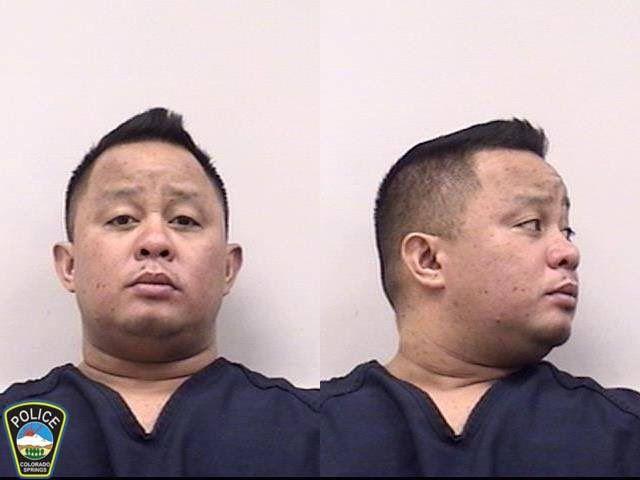 Editor's note: Police revised the amount of cash seized in this investigation from $1.8 million to $1.375 million. This story has been updated to reflect the correction.
More than $1.3 million in "unreported cash," 60 firearms and more than 100 pounds of refined weed, edibles and concentrates were confiscated during an investigation of eight marijuana businesses reported to be operating illegally in Colorado Springs, police said Monday.
Jon Vincent Martinez, 37, was arrested on suspicion of distributing and possessing large quantities of marijuana, court records show. He is scheduled for a first court appearance Thursday.
The Marijuana Regulatory Team investigated stores purported to be selling pot for recreational use, which is prohibited by city and El Paso County ordinances, police said in a news release. Only two recreational pot shops operate legally in the county, both in Manitou Springs.
Police raided eight stores:
• Toke-a-Lot, at 507 Security Blvd.
• Vapers Choice, 509 Security Blvd.
• Toke-a-Lil, 2549 Delta Drive
• Primo's Smoke, 1748 Shasta Drive
• Best Bud Gifts and Peak Ascension, both at 1617 Lashelle Way
• Blazed & Confused, 603 W. Colorado Ave.
• Church of the Most High, 2402 E. Boulder St.
Martinez owns at least six of the stores, his arrest affidavit shows.
Before the raids, detectives "conducted multiple controlled narcotics purchases" at the shops, the affidavit says. Martinez allegedly sold marijuana to undercover detectives at Toke-a-Lot.
During the raids, police recovered more than $10,000 and 100 pounds of refined marijuana produces, including buds, edibles and concentrates. Police said they also searched the homes of Martinez and three other people involved in those businesses.
At Martinez's home, police said, they found more than 60 guns, six of which were reported stolen in other city crimes, and an undisclosed amount of cocaine, methamphetamine and ecstasy. They also reportedly confiscated five vehicles, a motorcycle, high-end jewelry and several Rolex watches.
That bust led to additional raids at undisclosed locations in the city and county, leading police to confiscate another $1.375 million in cash. In total, the seized property is worth more than $2 million.
Anyone with additional information about Martinez or the businesses is asked to call police at 719-444-7000 or leave an anonymous tip at Pikes Peak Crime Stoppers, 719-634-7867.
The Gazette's Ellie Mulder contributed to this story.
Contact the writer at 719-636-0362 or find her on Twitter: @njKaitlinDurbin.