- PHOTOS: Documenting COVID-19 in the Pikes Peak region.
The coronavirus pandemic has left us all in uncharted waters, with no horizon in sight. But with businesses and schools closed, national pastimes on hold, and the traditional flow of life ground to a halt, one thing's for sure: We're carrying on. With new worries and "social distancing" habits, but also with new perspectives and priorities. We're sharing several of your personal stories.
With goggles strapped to her face, gloves covering her hands, a mask over her mouth and a long blue gown draped over her body, Juliet Draper looks more like a surgeon than a firefighter.
The safety gear the 23-year Colorado Springs fire captain wears has become mandatory for all Colorado Springs Fire Department staff when responding to medical calls to mitigate the spread of the coronavirus.
Draper calls her new uniform a "learning curve," but necessary to keep safe during the pandemic.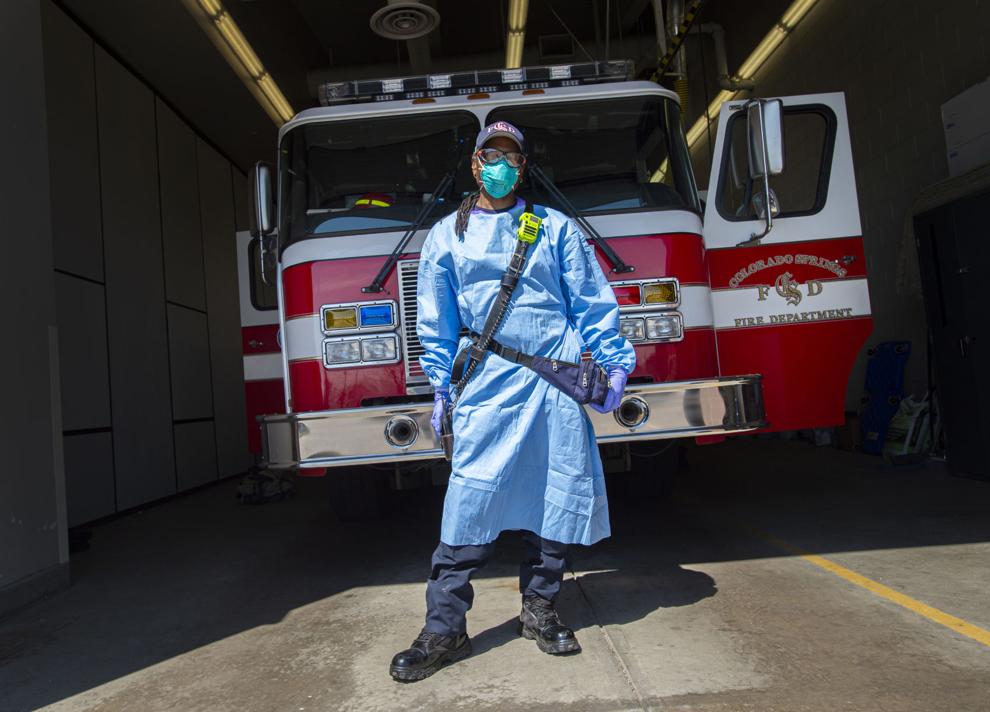 "Normally, we would just walk up to people like we normally would, you know our faces, you could see our smiles. But now, we are all covered up," she said. "It makes it a challenge communicating with people because so much of what we do and so much of our communication is body language and facial expressions and so you know, we have to put a lot of that on the back burner for the time being and we have to be more verbally communicative."
For Draper, a self-proclaimed hand shaker, hugger and backslapper, the change is hard.
"For me personally, that's the hardest part: not shaking hands and hugging. That is truly unusual for us. We do like to make sure that we can be as warm as we can be with our masks," she said. "We're doing the best we can with what we got."
- Our full collection of stories on how Coloradans are overcoming the many effects - health and otherwise - of coronavirus.
Luckily, adapting to change and making the best of a situation is in most firefighters' DNA, she said.
One of the most "creative" changes made during the pandemic, she said, was the department's decision to staff Engine 23, which is stationed in the department's headquarters on Printer's Parkway.
The engine, of which Draper is the captain, helps alleviate calls made to stations 8 and 1, she said.
"We've never done that before. We were supposed to be building (engine) 23, but in the interim we staffed it. … It's working out so far," Draper said.
When responding to medical calls, the department has adopted its "two-in, two-out rule" — typically reserved for when there is a fire — to help limit its staff's exposure to the virus.
Once inside, one firefighter will make contact with the patient and the other will stand 6 feet away. Two other firefighters will remain outside, unless there is a medical emergency and all firefighters will go inside.
The coronavirus, though unique, will go down in her memory as another "big event" during her career, right along with the Waldo Canyon fire, the Old Colorado City fire and the Blizzard of '97, when she got a ride home in a Humvee.
"We will have others, I'm sure. It is kind of just the nature of the beast, nature of the business that we're in. It's definitely unusual," she said.
"That's one of the things that I cherish about this job: things are always changing."
***
As soon as public health officials ordered physical distancing, in a way, Sgt. Jason Newton's job stopped.
Newton, who works in the Colorado Springs police community relations unit, had to cancel hundreds of events he had planned for the next two months.
"So now I am trying to figure out how am I going to connect with these communities and continue these relationships that I have built?" he said. "It was kind of nerve-racking at first, but in the end, what we started doing was finding alternative ways to connect."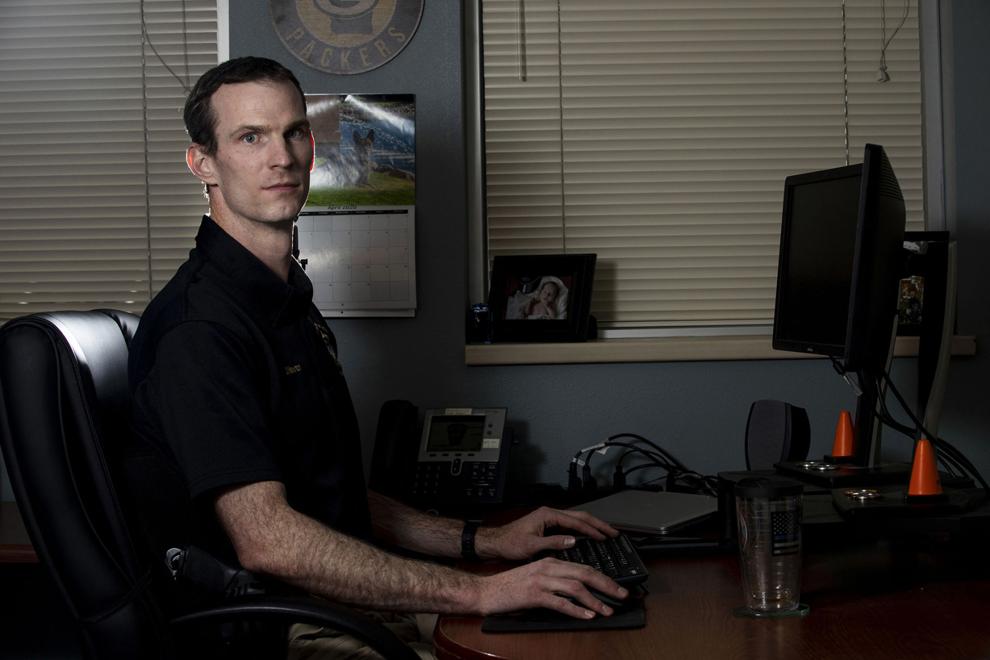 Now, his day-to-day duties look a bit different as he tries to connect with the community in a virtual way. He said the unit has filmed videos to send to elementary and high school students and posted coloring pages, crossword puzzles and word searches on its social media pages.
He's even fed lettuce to a herd of giraffe and filmed a meerkat mob during a tour of the Cheyenne Mountain Zoo, which remains closed due to the virus, that he later posted to Facebook.
Technology has served as an adequate tool for now, but Newton admits it's not the same as connecting face to face.
"That's dangerous for trust," he said. "It is hard to know what is going on. It is our job, from our Police Department in our community, to get to know each other, so that you can trust us, so you don't just see a person in a badge or uniform. You actually see the person behind it."
He credits the department's efforts to educate the community about the stay-at-home orders — instead of ticketing citizens — to build that relationship.
"One of the first things we did was connect with the community right away and get the message out: We are here to support you," he said.
He's been tested to show support in ways he's never done before in his 16 years as a police officer.
As he drove past a senior living center in a patrol car alongside other officers, he waved to the residents who stood outside next to their walkers and from their balconies.
"It was so cute to see: these older gentlemen that served in the military with their military hats, saluting us. Just seeing how happy they were to see a police car drive around with lights on … it brought tears to my eyes."
He looks forward to when the Police Department can continue to support senior citizens, when it becomes safe to do so, and connect with the community as a whole.
"After we get back to whatever our new normal is, I think that our bond will even be stronger. Because we will know how important those connections are and that face-to-face interactions are, because we lost them for a little while," Newton said.
"I'm a glass half full kind of guy."
***
El Paso County sheriff's Sgt. Jason Garrett was dispatched to a medical call in a residential area in Security when he spotted a man sleeping in his car. The man had open sores on his body and was suffering from mental health issues. Bed bugs were crawling through the car.
Garrett paused. He looked around to make sure all deputies were wearing their appropriate gear: masks, eye goggles and gloves.
The situation wasn't unlike several other scenes he's witnessed in his 17 years of policing with the El Paso County Sheriff's Office, including several as a crisis negotiator. But the gnawing fear of becoming infected with the coronavirus, potentially spreading it to citizens or bringing it back to their families, has changed things, he said.
It has added a layer of additional stress that deputies didn't have to navigate before, said Garrett, now with the Tactical Support Unit. "Due to the current environment ... by human nature, you may be a little more concerned or hesitant a little," he said.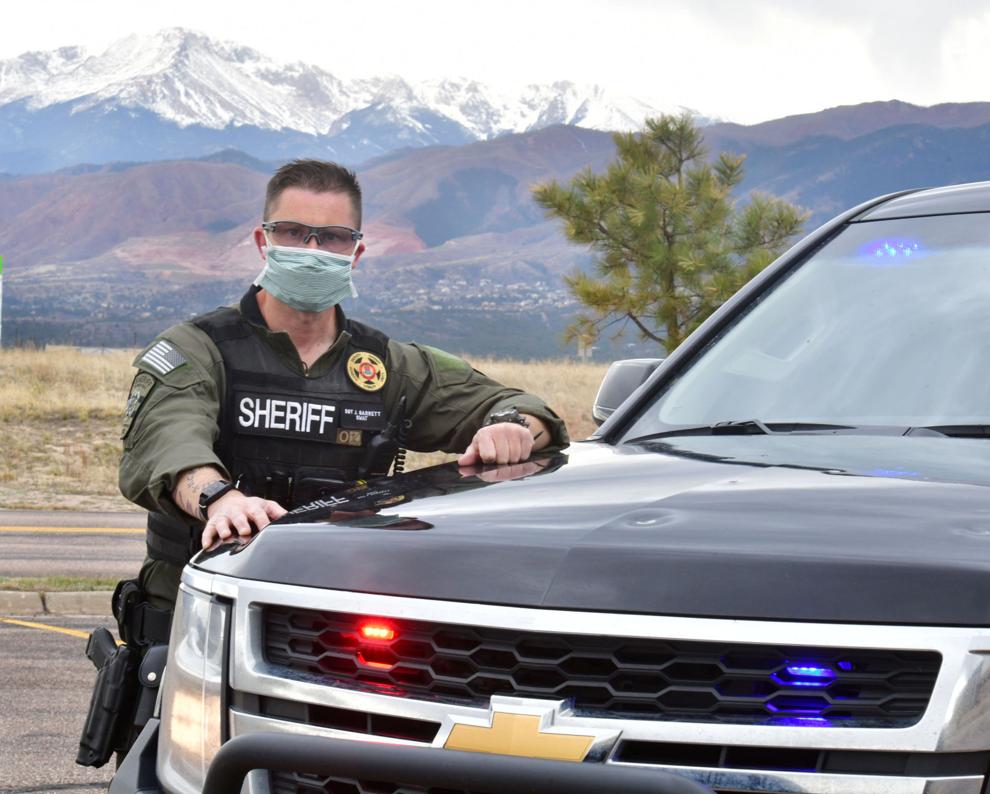 While on patrol duties, Garrett said he's seen an uptick in mental health-related calls since the coronavirus took root in El Paso County as people with mental health issues become shut off from their worlds.
Nowadays, disturbances seem like they are "all day, every day," he said, noting that they could be a result of many families being cooped up in the house for longer periods of time.
The calls are stressful for deputies and jeopardize their safety, even without the presence of COVID-19, he said.
"Those are a bit inherently more dangerous than your run-of-the-mill identity theft or fraud," he said of domestic violence calls. Now, there's an added risk.
"(There's) concern that when (deputies) go home at night, they are going to bring in traces of COVID that might have unwittingly come into contact with during their day, to their families," he said.
For Garrett, the risk of catching the virus isn't very different than the danger he could face any day while on the job, he said. Though he talks about it with his wife, a daughter of a retired Colorado Springs police sergeant, and his three teenage children, he said it isn't much of a concern.
But the death of Deputy Jeff Hopkins, who worked at the El Paso County jail, made the pandemic more personal.
"That kind of brings it home and makes it personal with my family and probably everybody's family that works in this agency and probably all cops in this region. A lot of people knew Jeff," he said.
After each shift, Garrett takes his boots off at the door before entering his home. Some deputies completely disrobe in their garages before going inside, he said.
His confidence to continue serving the community, and some comfort, comes in part from Sheriff Bill Elder, Garrett said, who has established an internal incident command to help mitigate the spread of the virus among the ranks. Every deputy has personal protective equipment and spray bottles with sanitizer, he said.
"I think if that wasn't happening, our folks would be a bit more hesitant to get out there and risk themselves during this time," he said.
Working in a "very pro-law enforcement community" also helps boost morale, he said, noting that he can't work a shift without someone wanting to buy him a cup of coffee.
"I couldn't be more proud to be in the profession that I am, especially during times like these because we always step up to take care of what we need to take care of," he said. "It makes it a whole lot easier when the community is supportive of us as well."
Whatever you're doing to weather this storm, The Gazette wants to know. Send an email to coronavirusstories@gazette.com, and include a selfie if you can.
Reach Olivia at olivia.prentzel@gazette.com. Twitter: @oliviaprentzel