Colorado Springs police want the City Council to send a message to people living in recreational vehicles parked across the city: find an RV park or leave town.
At the request of police commanders, the council is considering banning RVs from being parked on any street in the city, lest their owners be fined or see their vehicles impounded. A vote on the proposed ordinance is scheduled for Tuesday.
The move aims to do away with an increase in RVs that police say are clogging some streets, surrounded by trash and posing an environmental hazard. Many are parked in the CityGate area, where developers and city officials are planning the City for Champions' Switchbacks soccer stadium.
"We think with the change in the ordinance — with the possibility of fines, increasing fines — we can get these vehicles to move and to park somewhere else outside of our city limits, or somewhere else where it's legal for them to park," said Cmdr. Sean Mandel, who oversees the Gold Hill division, during a council work session two weeks ago.
But multiple council members and nonprofit leaders say the ordinance criminalizes homelessness in a city that bans camping, panhandling and sitting or lying in many areas, usually public spaces and downtown.
And the ordinance could leave families and other homeless people with nowhere to go, some nonprofit leaders say, because RV parks are often full and too expensive for them to use.
It comes down to the city's intentions, said Beth Roalstad, chairwoman of the Continuum of Care, a leading coalition that responds to homelessness.
"My concern is that we have an affordable housing crisis as a community, and we have a lack of housing for all," Roalstad said. "We have some people doing their best to survive living in campers and RVs. And this further restricts their ability to take care of themselves."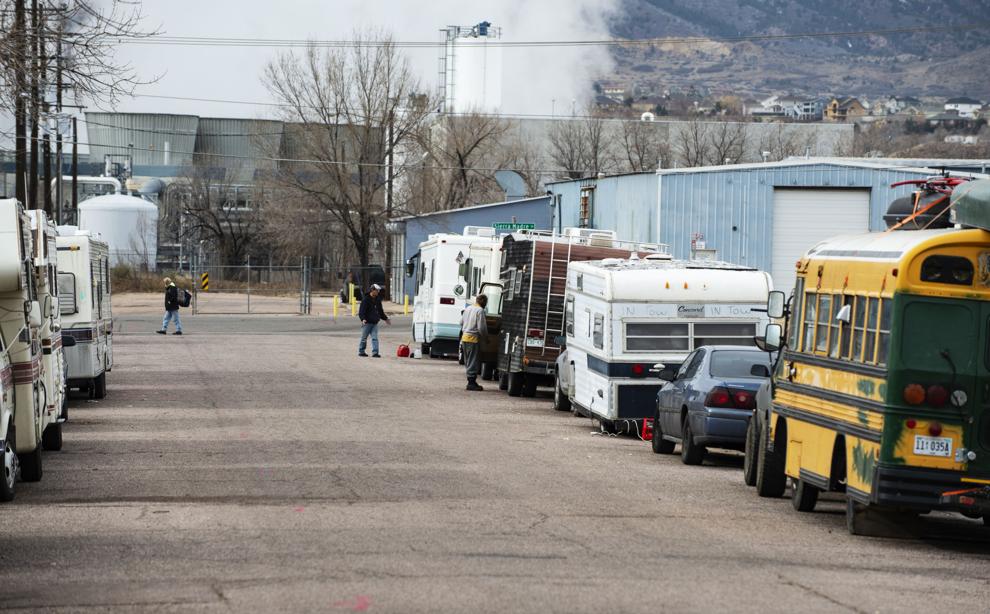 Count Christina Smith among those people.
Smith and her husband say they are homeless only because they have nowhere to park their 29-foot RV.
They lived in an RV park for three years, paying $640 a month to park there. But her husband's seizures forced him to stop working, and the couple lost their spot because they couldn't pay the bills.
Now they live off Moreno Avenue, between Sawatch and Sierra Madre streets, among seven motor homes and two detached trailers. Another nine cars, SUVs and trucks recently were parked there as well, along with a school bus where at least one person appears to live.
Even with more money, finding an RV spot would be difficult. Most parks don't accept RVs built before 2000, and the Smiths' was made in 1999.
"We have no place to go," said her husband, Scott. "The city thinks, because you live in one of these things, you have no rights."
El Paso County enacted a law late last year to prohibit camping in vehicles.
Colorado Springs bans RVs from being parked on residential streets for "greater than that necessary for the expeditious loading and unloading of passengers or property."
The new ordinance would extend that ban citywide. The first ticket would be a $25 fine; the second, $100; and the third, $125. Four tickets would draw a court summons.
Mandel, the police commander, said discretion would be used on when to impound vehicles, calling such a move "very rare." The city also doesn't have space in its impound lot to deal with an influx of large RVs.
Mandel said RVs are being used as homes for people parked on streets in nonresidential areas. He complained of trash and generators being scattered around those vehicles. And police have received complaints of wastewater from those vehicles being dumped on streets and flowing into storm drains, he said.
Councilmen Tom Strand and Richard Skorman proposed the ordinance, which Councilman Andy Pico called "a half step in the right direction" during a work session.
"That already is a criminal offense to dump waste in the streets. So we are not criminalizing homelessness. They already are doing something to attract our attention."
The ordinance would not pertain to cars, trucks and SUVs, which can park as long as they move at least a few feet every 72 hours.
People also can live in cars, trucks or SUVs as long as no belongings, such as generators or a tent, are beside a vehicle to suggest someone is camping, Mandel said.
Mayor John Suthers said business owners' complaints of RV owners illegally dumping waste onto city streets need to be addressed.
"It is all a balancing act," Suthers said. "We are trying to be compassionate to the folks that are homeless, or in this case, need a place to park their RVs. But on the other hand, we have to be responsive to people who run businesses and need to do that for their livelihood and the economic well-being of the community."
Even so, the proposed ordinance was criticized by local and national homeless advocates.
"It will not result in better compliance in the law unless people are being chased out of town, which is unconstitutional," said Tristia Bauman, senior attorney with the National Law Center on Homelessness and Poverty. "It's just a bad policy. And it's failed other communities.
"It's usually passed as part of an effort to chase people who are undesirable out of a community. Never solves the issue. And in my mind, it does at least potentially expose Colorado Springs to legal liability."
Councilman David Geislinger said the ordinance should only be implemented in conjunction with a planned homeless court at the municipal courthouse, which has yet to be developed and has no planned start date.
"The focus needs to be on what can we do to bring these people off the streets, as opposed to pushing them out of parking along pubic thoroughfares, to moving to another place, to losing their vehicle, to going into camping," Geislinger said. "That's the spiral that I think we need to try to avoid."
For those people affected, the proposed ordinance would add another layer of uncertainty to their lives.
Sara Moineau-Hart, 39, scoffed at the idea of finding an apartment, because she suffers agoraphobia, an anxiety disorder that induces overwhelming fear of uncomfortable situations. For her, that includes being anywhere outside her RV.
She's lived there for years. And for years, that was OK, because the RV was parked on her grandmother's property.
But her grandmother died a year and a half ago, and she can't afford to park in an RV lot on her $805-a-month disability check.
"We're always on borrowed time," Moineau-Hart said.