Valentine's Day flirted with record lows in parts of the Front Range on Sunday, while several inches of snow piled up at lower elevations.
Mountain communities sidestepped the worst of the arctic freeze, getting an unlikely reprieve with highs in the double digits and moderate snow accumulation.
In Colorado Springs, the temperature hovered around 1 degree on Sunday afternoon, headed for an overnight low of -12. By early evening the National Weather Service in Pueblo tweeted that the temperature in Colorado Springs had fallen to -10. The record low for the day, -9, was set in 1895, according to the weather service. The Springs could also set a record low high for the day, previously set at 5 degrees in 1985, with -1.
Denver likewise found itself stuck in deep freeze, though it appeared unlikely to set a record, with an expected high of 2 degrees and a low of -9. Denver recorded a low of -20 for the day in 1881.
RELATED:
Updated closings and delays in the Pikes Peak region
The best sledding hills around Colorado Springs
9 of the wildest weather moments in Colorado Springs history
Lower elevations along the Front Range were expected to receive 2-5 inches of snow, according to KKTV meteorologist Christina Sanjuan. Double-digit accumulation was forecast in the mountains southwest of Pueblo and in the state's far southeastern corner, where storm clouds were expected to hover for a couple days, she said in a forecast.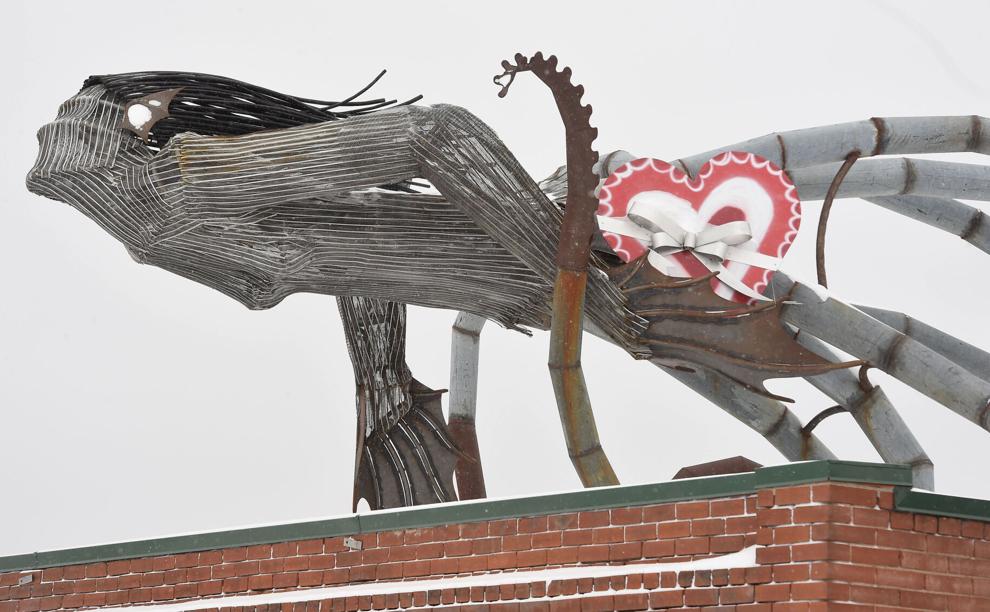 Mountain communities elsewhere were expected to receive "just a few inches" of snow on Sunday, according to OpenSnow.com.
The extreme cold — accompanied by a dusting of snow — swept into Colorado from the north late last week, part of a high-pressure system on the move through Utah and into New Mexico and Texas, sharpened by a cold easterly wind, National Weather Service meteorologist Kyle Mozley said. Wind-chill values were in the -30s in the eastern plains, and -20s in Colorado Springs and Denver.  
"Tonight will definitely be the coldest," Mozley said.   
Temperatures in the 20s and 30s are expected to return Tuesday and Wednesday in Colorado Springs and Denver, ahead of a warming period that will push next weekend into the 40s.  
Anyone planning to travel during the cold snap should be prepared with blankets, food, water, a charged cell phone and a shovel in case their vehicle gets stuck, the Colorado State Patrol warned at the storm's onset.
Here is a look at Sunday's weather across the state:
Lamar: High of 1 and low of -21; no records available
La Junta: High near 3, low of -16; no records available
Alamosa: High of 21 and low of -2; well above record -26 in 1963
Durango: High of 32 and a low of 8; no records available
Grand Junction: High of 10, low of -12; Record -15 set in 1903
Craig: High of 10, low of -12; no records available
Boulder: high of 1, low of -7; no records available
Winter weather was affecting large portions of the U.S., with significant ice and up to 12 inches of snow expected near the Oklahoma-Texas border.
"Typically, we just don't have quite this much cold air in place that far south," said Marc Chenard, a meteorologist with the National Weather Service's Weather Prediction Center.
The Associated Press contributed to this story.
RELATED:
Where to warm up? Hot springs oasis within an hour of Colorado Springs
Here's the forecast for the next several days from the National Weather Service. 
Monday: Mostly sunny, with a high near 26. Wind chill values between -10 and zero. Calm wind becoming south southeast around 5 mph in the afternoon.
Tuesday: A slight chance of snow before 2pm, then a slight chance of rain and snow between 2pm and 4pm, then a slight chance of snow after 4pm. Partly sunny, with a high near 38. Chance of precipitation is 20%.
Wednesday: A 20 percent chance of snow after noon. Partly sunny, with a high near 33. Calm wind becoming east northeast around 5 mph in the morning.
Thursday: Mostly sunny, with a high near 35. Northwest wind around 5 mph becoming west southwest in the afternoon.
Friday: Sunny, with a high near 48. West southwest wind around 10 mph.