Teri Whyatt is still learning what her uncle, Bill Mann, was like before he died on Dec. 7, 1941.
The 1.7 million people who travel through the Colorado Springs Airport each year can now get to know Mann and other sailors who were aboard the USS Arizona, including the 1,177 who perished, when the Japanese attacked Pearl Harbor and propelled the United States into World War II.
An exhibit unveiled at the airport on Wednesday features a touchscreen kiosk with biographies of those men and a 150-pound piece of steel that was once part of the ship's superstructure.
The display also honors 96-year-old Colorado Springs resident Don Stratton, one of only five living survivors who were on the ship.
"My entire family is just so honored that these gentlemen are getting recognition," said Whyatt, a Seattle-area resident who traveled to Colorado Springs for the exhibit's commissioning ceremony. Her uncle, an Elma, Wash.-native, often sang and played guitar while babysitting his 12 younger siblings, his biography states. A gunner's mate, he had just gone below to get dressed to go to church service when the attack began, according to the short profile.
The exhibit, on the second floor of the main terminal, will remain at the airport for two years before it's moved to another location that hasn't been determined.
"Seeing something in public like this is huge," said Don Stratton's granddaughter, Nikki Stratton. "It gives people renewed interest in World War II, and Pearl Harbor especially.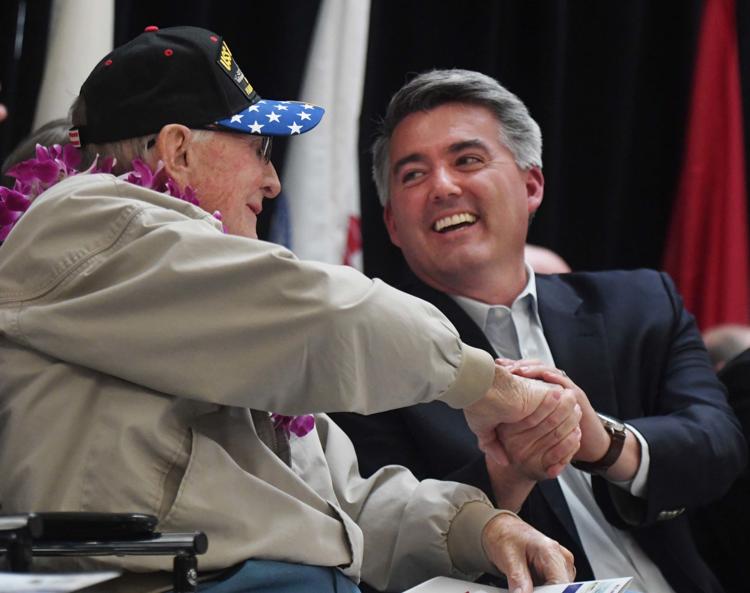 The rust-covered fragment of the legendary ship, donated by the Navy, once helped support Don Stratton's battle station, where he fired at Japanese bombers during the attack, said El Paso County Commissioner Stan VanderWerf.
When a bomb hit, Stratton's station burst into flames, leaving him with burns covering more than half of his body and killing the vast majority of his fellow crew members. He was saved by a sailor who threw a weighted line to the Arizona from a neighboring ship. Although his hands were "burned virtually to the bone," he "swung hand-over-hand to the other vessel," according to a newspaper article that's part of the exhibit.
Stratton re-enlisted after he recovered and participated in three more campaigns in the Pacific, including the Okinawa invasion.
On Tuesday, he sat beside Velma, his wife of 69 years, wearing a pink lea as VanderWerf, Mayor John Suthers and other speakers thanked him for his service.
"We are lucky that Don Stratton survived the attack at Pearl Harbor on the USS Arizona so that all of us today can meet a man, stare him in the eye, marvel at his service, and thank him for his sacrifice," VanderWerf said.
EDITOR'S NOTE: This story has been revised to correctly state the number of years that Don and Velma Stratton have been married.