After two days and nights of rage in cities across America, more than 1,000 people marched in Colorado Springs on Saturday to protest the death of a black man who cried he couldn't breathe as a white police officer kept a knee on his neck.
As in other cities, what began peacefully during the day with little uniformed police presence, beginning with a gathering in the afternoon at City Hall and later at Acacia Park, turned confrontational at night.
PHOTOS:Black Lives Matter rally
PHOTOS: Confrontation Erupts During Evening Protest In Downtown Colorado Springs
VIDEO: More than 1,000 people marched in Colorado Springs on Saturday to protest the death of George Floyd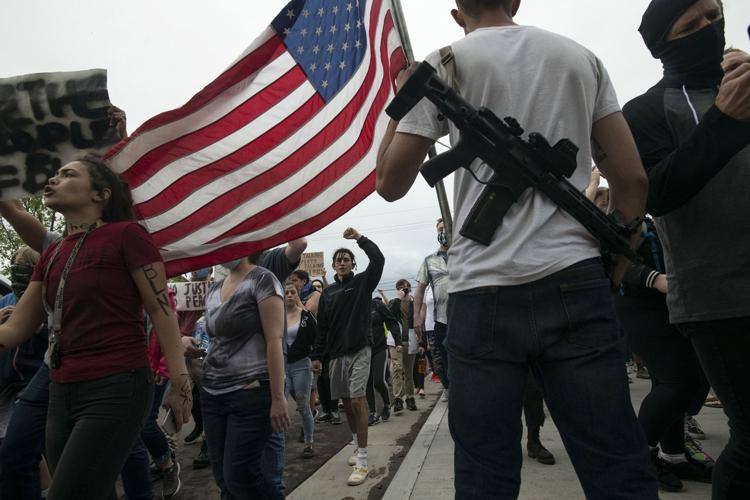 Throughout the day, the crowd of blacks, whites, Asians and Hispanics, ranging in age from early teens to people in their 50s or 60s, marched up and down Nevada Avenue from the park to the police headquarters on Rio Grande Street.
They chanted and waved signs demanding justice for George Floyd, the man whose death on Memorial Day in Minneapolis has sparked demonstrations, looting and burning from the White House to Los Angeles.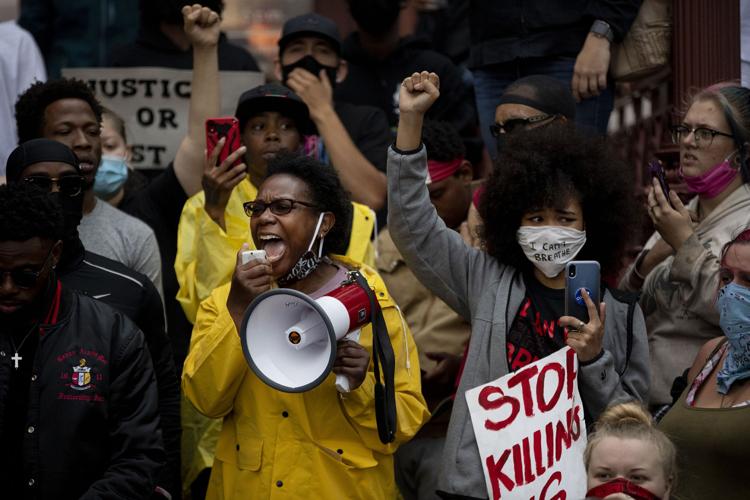 "Racism is in the DNA of this country. It always has been," said A.B. Lugo, 45, of Colorado Springs, marching alongside his wife, Suset Rosario. "That doesn't mean it's hopeless."
"The best thing to do is not just protest," said Rosario, 38. "Vote. Vote for Congress, senators, president, vote for city council. Local voting is important. Put people in office who are going to represent all the people." 
Protesters held signs proclaiming "Black Lives Matter," and "Cops kill here too," while shouting, "No justice, no peace," and Floyd's "I can't breathe" plea before he died.
"This is not an isolated incident," Lugo said. "It's never been an isolated incident."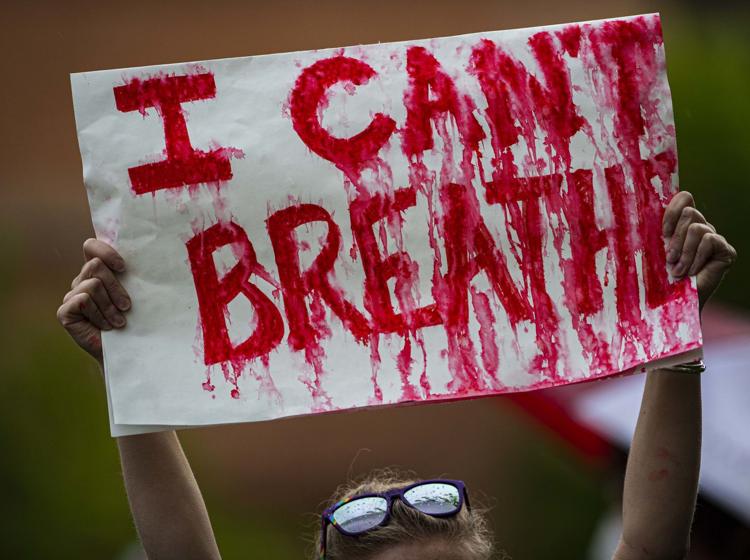 About 7 p.m., after the protest had mostly broken up, about 100 people faced off with police at the headquarters south of downtown. Gazette news partner KKTV reported that police used loudpeakers to order the crowd to disperse and fired tear gas at a line of protesters walking toward officers on South Nevada Avenue.
TEARGAS now thrown on protesters in #ColoradoSprings on Nevada. Myself and @oliviadarocha got hit too. We are OK. pic.twitter.com/yWTpm3NPhi

— Megan Hiler (@MeganHilerTV) May 31, 2020
SWAT officers were called out, and police tweeted that downtown should be avoided. It was unclear if anyone was arrested.
Protests in Denver continued for a third day, and demonstrators Saturday mostly heeded the calls of organizers not to repeat the violence of the past two nights until later at night.
---
RELATED: 
Third night of clashes with police erupt in Denver after day of peaceful protest
Denver Mayor Hancock implements curfew, calls in state National Guard in preparation for destructive clashes
---
In response to the unrest Thursday and Friday resulting in at least 32 arrests and battles with police who fired tear gas and pepper bullets at protesters, Mayor Michael Hancock ordered an 8 p.m. to 5 a.m. curfew through Monday.
"We've had enough," Hancock, the city's second black mayor, said Saturday in front of the City and County Building, whose windows have been covered with wooden boards after being shattered during the protests.
"We hoped we would not have to take these steps," he said, "but the aggressive actions taken by some has made it necessary."
After a relatively calm day, live video streamed by 9News showed police trying to control angry protesters in the streets around Civic Center Park near the state Capitol and firing tear gas to drive them back. 
Earlier, Denver protesters honored Floyd by reenacting his final moments, laying face-down for 9 minutes with their hands behind their back as if they were handcuffed as he was, while reciting, "I can't breathe." 
Denver Public Schools board member Tay Anderson, reiterated the call for nonviolence when he addressed protesters at the Greek Amphitheater.
"When you turn up and destroy our city, we are the ones they blame, because our name of Black Lives Matter is attached to it," Anderson told the crowd. "Let me just be clear, everybody, we're asking you, we're demanding that once we end this, there is no riot, there is no second protest today."