Even as their residents succumbed to the coronavirus, nursing homes in Colorado hit with outbreaks struggled to adhere to basic infection-control protocols, such as hand washing and the wearing of masks, according to special, ramped-up inspections launched by the state.
The state cited more than half of the nursing homes with outbreaks for deficient infection-control protocols.
The inspections found haphazard hand washing, a lack of face masks, insufficient screening for symptoms, poor patient monitoring and a host of other issues.
Nursing homes hit with an outbreak also were almost twice as likely to receive a citation for infection-control problems than those without an outbreak, suggesting poor practice played a role in nursing home deaths in the state.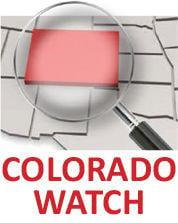 The pattern — worse infection controls in nursing homes with outbreaks — shows up in nursing home inspection data spanning the second week of March through the first week of June.
The data, provided to The Gazette through a Colorado Open Records Act request, encompasses a time period during which the state increased the pace of nursing home inspections to deal with a spike in nursing home deaths, hoping to blunt the impact in a population uniquely vulnerable to the virus.
The new inspection regimen focused enforcement on whether nursing homes were taking steps to contain the spread of infections and protecting residents from COVID-19.
The disturbing answer, revealed in the inspection data, is that many of the facilities hardest hit by COVID-19 struggled with ongoing systemic issues as the virus rapidly spread.
Of the state's 232 nursing homes, 79, or about one out of every three, has had an outbreak, as of June 17. Of those, 42, or about 54%, were cited for infectious control deficiencies during a COVID-19 inspection.
Out of the state's 153 nursing homes that haven't had an outbreak, only 31% received a similar citation.
Nursing home residents are among the most vulnerable populations to COVID-19 because they are elderly and often have other health conditions, making them more susceptible to death if they contract the virus. Infection containment is critical in nursing homes because residents live in close proximity to one another, and employees that contract the virus while off duty can spread the virus to residents even without exhibiting symptoms.
As of June 17, COVID-19 was the confirmed and suspected cause of death for 542 Colorado nursing home residents, about a third of the virus' overall death toll in the state up to that point.
"It became very clear early on that a disproportionate number of deaths occur in these facilities as a result of the comorbidities (the simultaneous presence of two or more chronic diseases or conditions in a patient) that many of these residents live with," said Randy Kuykendall, director of health facilities for the Colorado Department of Public Health and Environment, during a press conference this month. "They are vulnerable to this disease."
Despite such risks, inspectors in the last three months found employees at nursing homes failing to wash their hands after touching sick patients. In other instances, staff reported to inspectors coming to work sick themselves or admitted to reusing soiled face masks, gowns and gloves.
Among the issues detected by inspectors in facilities with an outbreak:
• Four employees at Avamere Transitional Care and Rehab-Malley in Northglenn in April continued coming into work despite reporting on screening surveys that they had suffered a cough, shortness of breath and/or a sore throat in the last 14 days and had contact with others infected with COVID-19 or had no face mask.
• Staff at Fairacres Manor in Greeley that same month stuffed dirty linens, trash and biohazardous material in two open cardboard boxes just outside the room of one resident exhibiting signs of respiratory infection who lived in a wing for memory-impaired residents. The inspector noted the other impaired residents walking the hallway of the wing might pick up the discarded and potentially contaminated material.
• A certified nursing assistant failed to use proper hand hygiene at Cherry Creek Nursing Center in Aurora in April as she inserted into a resident's nostrils oxygen tubing that had dragged along the floor.
COVID-19 outbreaks at those facilities are confirmed or suspected to have spread to 131 residents and 106 staff members, according to outbreak data maintained by the state. The virus claimed the lives of 35 of the residents at those nursing homes.
The infections in those facilities are just a fraction of the virus cases and deaths in nursing homes in Colorado.
As of the June 17 accounting, the state health department outbreak file reported that 1,548 residents in facilities regulated by the state as nursing homes were counted as positive COVID-19 cases at outbreak sites, with another 440 residents suspected of contracting the disease awaiting lab confirmation. The virus has killed 436 nursing home residents, with another 106 deaths awaiting final lab confirmation. Four staffers at those facilities have died due to COVID-19, and more than 1,700 staff had either tested positive for the virus or were likely infected, pending final lab results.
Still, state health officials have found some solace in the focused inspections, even as they found widespread problems in infection-control protocols in the state's nursing homes.
The officials credit the ramped up inspections, which have now been conducted in all 232 nursing homes in the state, with educating providers and helping to slow the spread of the disease in nursing homes in recent weeks. Just two months ago, the cases in nursing homes were surging, growing at four times the rate of the rest of the state.
Kuykendall said that as problems were discovered through the inspections, nursing homes learned and got better at protecting residents from the virus. For instance, the new inspections emphasized the importance of the use of "personal protective equipment" in nursing homes, where staff aren't as familiar with the use of gowns, gloves and face masks as doctors and nurses working in hospitals and surgery centers, he said.
"There is a lot of education that's been required to train these staff, members and caregivers in how to actually use that equipment in addition to, of course, the ongoing difficulties that we've all experienced in obtaining sufficient levels of PPE out there," Kuykendall said.
Many nursing home staff members are hourly employees, with a 2016 study by the Paraprofessional Healthcare Institute finding them at "near-poverty wages." The study called for greater training requirements. Another study by the Centers for Disease Control in March found the spread of COVID-19 among long-term care residents in Washington was caused by the fact that staff worked at multiple facilities.

In addition to Colorado's new targeted inspection program, other changes have occurred that have helped stop the spread of the virus through the facilities, he said. There's been an increase in COVID-19 testing in nursing homes. Providers have done a better job of isolating infected residents, and the state's decision to restrict visitation to nursing homes also has played a role.
As the spread of the disease in nursing homes has slowed, state officials are now moving to shift policy and loosen a ban, in effect since mid-March, on relatives visiting and having contact with family members living in nursing homes.
Under plans state officials are crafting for review by Gov. Jared Polis, relatives of residents would have a 48-hour window to visit nursing homes if they test negative for COVID-19.
"We know that there is a balance between visiting restrictions and maximizing protections for residents so they don't succumb to the illness," said Dr. Jeff Beckman, a medical director at CDPHE and associate division director for health facilities and emergency medical services. He noted that the restrictions on visitors also can harm the mental health of residents and can cause depression if they become too isolated.
"Though we're seeing declining cases overall we still are seeing new cases," Beckman said. "It's important to not let our guard down so we don't have a reversal of all the efforts and all the intervention we've done to mitigate it up to this point."
Now that all nursing homes have received inspections on infection control since the pandemic began to spread, the state is shifting the focus to other facilities, such as assisted living residences that house the elderly and group homes for the disabled.
There are about 1,000 of the other facilities in the state that aren't nursing homes but also are considered high-risk areas for elderly residents, ranging from dialysis centers to assisted living residences, psychiatric hospitals and group homes for the disabled. Kuykendall said the state also plans to inspect all of those facilities for infection-control protocol.
The limited inspections in assisted living residences the state has done so far have revealed some startling conditions.
At Juniper Village at Aurora, an assisted living residence that houses 51 individuals, an inspection in April found "the residence failed to provide a safe and sanitary environment, personal services and protective oversight sufficient to protect residents."
The issues there included instances in which staffers who tested positive for COVID-19 "remained on the staff schedule and continued to provide care to the residents against the direction given to the residence by local and state epidemiology personnel," the inspector noted.
As of June 17, Juniper still was grappling with a COVID-19 outbreak that had spread the virus to six staffers and 33 residents, six of whom died.
Of the 232 nursing homes that underwent focused infection-control inspections, just one — the Forest Street Compassionate Care Center in Denver — was cited for a pattern of problems so severe the inspector believed it posed "immediate jeopardy" to resident health or safety.
By the time an inspector visited that nursing home on April 27, the virus had already spread to 24 residents, requiring the hospitalization of 16, with 20 employees also infected.
The inspector found that the nursing home wasn't monitoring and assessing residents for COVID-19, violating the nursing home's own standard that residents receive screenings twice a day. Residents also reported they hadn't been warned about the need for face masks or offered any face protection to wear when they left their rooms and visited common areas.
The facility's administrators pledged to make improvements by educating staff on the need to have residents wear face masks and on the need to screen residents for COVID-19 symptoms.
As of June 17, nine residents of Forest Street had died of COVID-19, with another death likely due to the virus but awaiting lab confirmation. The outbreak at the facility remains active, according to CDPHE data.
About half of the nursing homes with COVID-19 outbreaks were cited by inspectors for having widespread issues that posed the potential for more than minimal harm but not immediate jeopardy. Dozens were cited for having a pattern of similar problems that weren't considered as widespread. Many of the inspection citations reviewed by The Gazette did not have a severity rating.
Seven facilities in CDPHE's outbreak file are categorized as independent living facilities, combined care facilities, assisted living facilities or other kinds of healthcare facilities, but the state regulates them as nursing homes. The state's regulatory nursing home classification was used to calculate these numbers.
As well as uncovering deficiencies in nursing homes where dozens of residents already had died before the inspection was conducted, inspectors also found deficient infection-control protocols in other nursing homes free of outbreaks when the inspection occurred. In several instances, those deficiencies seemed to presage virus outbreaks that later would occur and go on to kill residents.
On March 25, while two nurses at the Kenton Manor nursing home in Greeley were helping a resident into his bed, one noticed a puddle of brown liquid, under the resident's chair. The other fetched towels, cleaned it up, then changed gloves, but without washing her hands.
Both nurses continued to touch the resident, bed, bedding, trash and doorknob, then walked down the hall and opened a clean utility room door, all with "contaminated gloves" and "contaminated hands," amounting to a violation of the infection control protocols in Colorado's long term care facility operation manual.
Three weeks later, the facility had a COVID-19 outbreak that has since spread to 25 residents and 13 staff members. Seven of the residents have since died.  The state has yet to classify the outbreak as resolved.