The Central 70 Project, a $1.2 billion undertaking that has left the north Denver neighborhoods of Globeville/Elyria-Swansea in a state of constant noise and construction for four years, has been contentious from its beginning. 
In 2008, the Interstate 70 viaduct was declared structurally deficient and functionally obsolete; but it was nearly three decades earlier when highway engineers realized that the viaduct needed repair, said Stacia Sellers, project spokeswoman for the Colorado Department of Transportation. 
"Since about the '80s until now we've just been doing damage control," she said. "That means going in and doing guardrails, fixing potholes, doing anything for upkeep of the highway so that folks can still drive on it." 
Two hundred thousand vehicles travel the 55-year-old viaduct each day, which Sellers said has reached its maximum capacity. 
THIS SERIES:
Denver's Central 70 project: Digging in troubled ground
Denver I-70 construction problems lead to extra $100 to $150 million cost
Video: Central 70 project is troubling residents
In two Colorado neighborhoods, even life expectancy is much diminished
In the 1960s, the promise of an interstate won out over community cohesion
So when the Colorado Department of Transportation started plans to widen I-70 from six lanes to eight and to sink a 1,000-foot section underground, they acknowledged they were again bringing hardship to families who went through a similar upheaval in the 1960s, when the original stretch of interstate first separated the neighborhoods.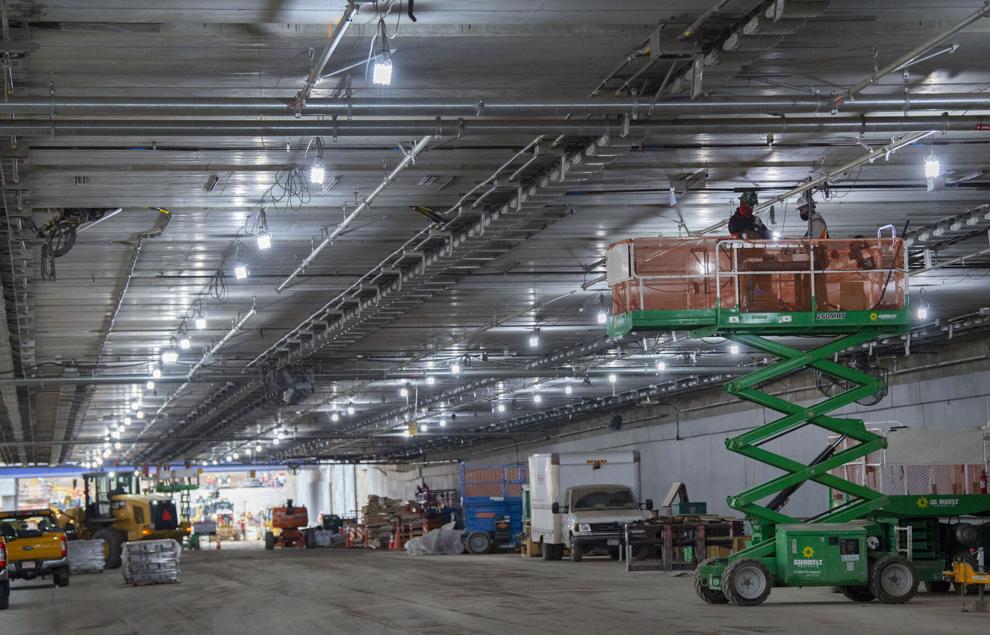 "By today's standards, if we were putting in an interstate system … I-70 wouldn't have been built through a community. We want to right some of those wrongs from 1964," Sellers said. "That's why they're removing the viaduct and putting I-70 underground." 
The widening project will add an express lane in each direction on the 10-mile stretch from Colorado to Brighton boulevards with room for another express lane on each side. 
As of this month, CDOT employees have logged 3 million hours on the massive project. Roadwork has placed more than 504,000 tons of concrete, and excavated more than 1.7 million cubic yards of dirt while reconstructing 15 ramps to and from I-70. Two bridges are finished with 16 more yet to be completed.
Those lanes will have tolls, but the price hasn't been decided. Money collected from the toll will go toward operating and maintaining the express lanes. 
"The remainder of toll revenue will be excess," Sellers told the Denver Gazette. Some residents had hoped that CDOT would sink any leftover money back into the GES neighborhood. But, according to Sellers, the Attorney General's Office does not allow the excess to be spent on nonexpress lane-related expenses.
In the neighborhoods, 29,000 feet of new sidewalk were laid down. A "lid" being built to cover the interstate will have a 4-acre park with playgrounds and a soccer field.
Sellers said the park will connect to Swansea Elementary, so students can use the park during school hours. She added that there will be picnic tables and a splash pad where kids can play.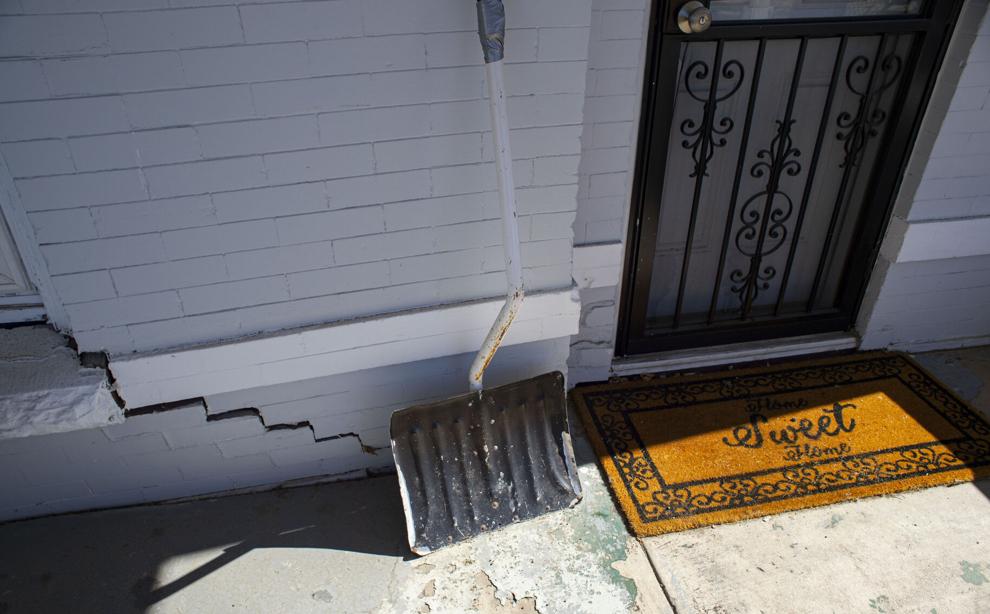 "Do you know what I call that park? I call it lipstick on a pig," said Drew Dutcher, president of the Elyria and Swansea Neighborhood Association, who moved to the area in 2007 because he says it was the only part of Denver he could afford. "It's very nice what they did for the school. They should. But you put grass over a highway and your kids with developing lungs can play on it. Great. You wouldn't do that in a white, wealthy neighborhood."
Some of Dutcher's neighbors see things differently. 
"These people complaining all of the time. They're never satisfied," said Salvadore Blea, whose two homes are half a block from where the park will go in, and are among the few which actually have grass in the front yard. "It's going to be like Disneyland," he told The Denver Gazette.
Community and legal battles 
The major area of contention for the GES community was not the lid or the crumbling viaduct, but the location of the highway. They organized with a demand that called for moving the freeway four miles to the north instead of widening it. In 2010, residents started a campaign called "Ditch the Ditch," which would have rerouted I-70 north along Interstate 76 to Commerce City, where it would meet with Interstate 270. That effort failed to gain any support.
Residents who were opposed to the Central 70 project also tried to battle it out through the court system. 
In March 2016, the Sierra Club, the Elyria-Swansea Neighborhood Association, Citizens for Greater Denver and Cross Community Coalition filed a lawsuit against the EPA, claiming that the project would violate air-quality standards. 
Nine months later, the national environmental law firm, Earthjustice, filed a separate lawsuit representing several neighborhood groups using a different tack: they filed a civil rights complaint against CDOT.
In it, Earthjustice argued that widening the highway would unravel community cohesion, which was already fragile since the interstate was first built.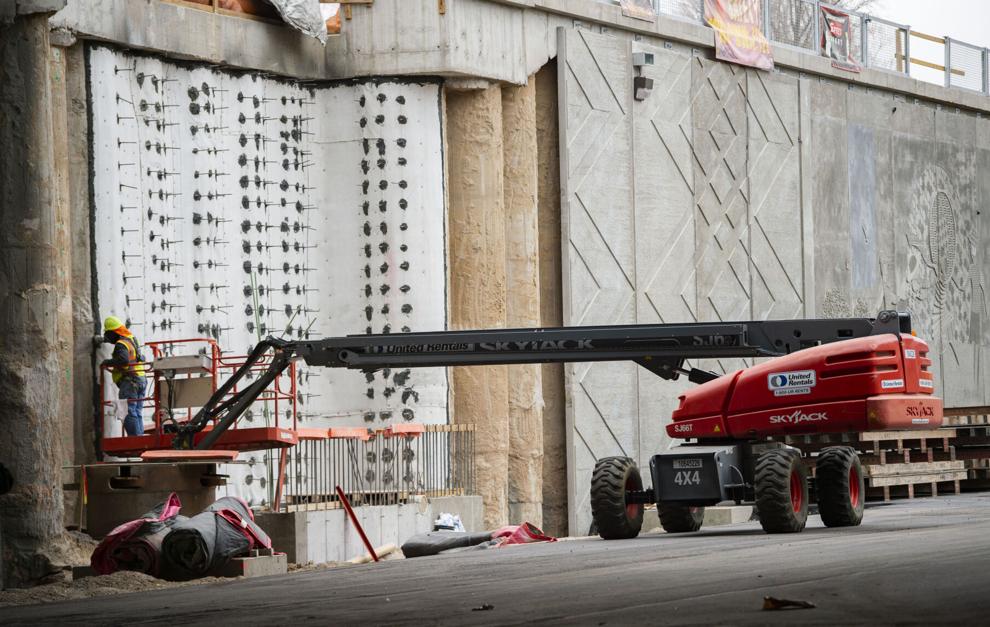 "The neighborhood is 83.8% Latino and 44.4% low-income and has been identified as the most polluted zip code in Colorado," the complaint read.
Several other lawsuits aimed at stopping the Central 70 project followed. In all but one of those, final rulings fell in favor of CDOT and the city of Denver. 
In that one that succeeded, CDOT settled with a second Sierra Club and neighborhood group lawsuit in 2018 regarding air-quality issues. 
The agreement stipulated a provision for a $550,000 community health study. CDOT agreed to provide air monitoring, more trees and promises that it would communicate with residents in English and Spanish.
"CDOT didn't even look at it. They did a 1½-page analysis and that's what we got," said Dennis Royer, an independent transportation and public works consultant who participated in several of the lawsuits, said. "It's done. We lost the battle."
Noise and disruption
CDOT broke ground for the I-70 widening project in August 2018. To do this, 56 homes and 17 businesses were demolished, and families were relocated (at the expense of the highway department) to other parts of the city. The bungalows still standing were unhappy next-door neighbors to a major construction project that has brought dust, noise and disruption. 
Leon Santinallos' mom, who has lived at her home on 4642 York St. for 42 years, drew the unlucky straw. Today, the street is torn out and the front porch has a huge crack beneath the front window. Santinallos understands it's not the fault of the Kiewit construction workers, but he complains to them weekly.
"They have a job they have to do. But, you know, we live here. They don't live here," he said. "So I gotta go out there, and I scream at them. The house shakes and shakes, especially in the basement. I finally took all of my pictures off the walls because they were always falling off and there was glass everywhere. This was a good neighborhood a long time ago."
A huge pipe wrapped in plastic lay in the dug-up street just 100 feet from Santinallos' front door. Kiewit rep Megan Wood said that these are old gas lines which were made with asbestos and are being replaced.
"Some of the abandoned utilities have had asbestos materials on them," she told the Denver Gazette. "So that's what you were seeing was an abatement process." 
Wood said Kiewit hired a general abatement contractor to do the work, and that there's no danger that the deadly fibers will adversely affect the Santinallos family or their neighbors. "They have a tent to make sure there are no asbestos fibers in the area."
Emily Clarke, who oversees Public Information and Outreach at Kiewit, is the person who fields complaints from homeowners like Santinallos. She said any damage to homes near the construction will be considered for restitution. 
"In order to properly assess property owner concerns due to construction, Kiewit performed initial property site surveys to homes directly adjacent to the project limits," she said. "This will allow the contractor to determine if there is any damage due to construction activities and if any repairs need to be made."
She says most of her fielded complaints involve subpar street conditions. "Road wear and tear is the biggest thing we see. Things like potholes and fading striping."
Dutcher said his days are an endless stream of dust and noise. "I'm looking out my front window at major huge construction equipment with giant jaws which they're using to devour the guard rails on the highway to demo it," he said. 
CDOT placed four air-quality monitors throughout the area, agreed to bring in $2 million in affordable housing, committed to hiring 20% of its construction workforce from the community, but conceded that for some, it's still not enough.
"I think with any transportation project, obviously you're never going to get 100% of people to be happy with it," she said. 
Where the project stands
Today, the project is nearly halfway complete. Traffic will shift down to the lowered section by late summer 2021 and will be in its final configuration by the end of 2022. The next big hurdle is the demolition of the 50-year-old viaduct, which shoulders the elevated portion of the freeway at 49th Avenue and York Street.
Sellers said a team of engineers preparing for the viaduct's demolition will soon file permits with the Colorado Department of Public Health and Environment. They are modeling the shutdown and destruction after Seattle's 60-year-old Alaskan Way Viaduct demolition during which the Washington state Department of Transportation used jackhammers, concrete saws and cranes to take it down in phases. That project started in February 2019 and finished seven months later.
The 56-year-old viaduct has been at the center of much back and forth since the widening was first discussed.  Royer claims that the viaduct was used as an excuse to keep I-70 where it is and widen it instead of moving it to Adams County. He claims a well-maintained viaduct should last for up to 100 years. 
"CDOT started this project in 2003. At that time the viaduct was 39 years old. How is CDOT at 39 years saying it's got to be taken down? They said it's in bad shape. Well of course it's in bad shape because CDOT doesn't do maintenance." 
Sellers says the viaduct is in a constant state of repair. 
"The viaduct was built in 1964. It's not unsafe," she said, but it is listed as structurally deficient. "That sounds a little scary, but it's not. What that means is that we are doing constant maintenance repairs and it means it needs to be replaced. CDOT would never put motorists on a road which was unsafe."
Many of CDOT's critics agree with Sellers that the crumbling viaduct should come down. But they say the real battle was lost when I-70 was built in their backyards in the first place. 
"The original crime was running I-70 through Globeville/Elyria-Swansea and condemning the neighborhood for a future that was less vibrant than the rest of the city," Dutcher said. Of the widening project, he added, "And now they are using a solution from the 1960s for a 21st-century problem."
University of Colorado-Denver professor emeritus Tom Noel said he has mixed feelings about the expanded interstate with its promises of parks, soccer fields and tree-lined streets. 
"There are improvements and there will be more room on the highway," he told the Denver Gazette. "How it looks many years from now I'm not sure. Probably what will happen is that freeway will get as clogged as the old freeway was." 
Rocky Piro, watched his own family relocate at the expense of progress, grew up to become Denver City Planning Director and is currently the Director of the Colorado Center for Sustainable Urbanism. He knows firsthand the impacts of running interstate highways through communities.
"Those are not just ZIP codes," he said sadly. "Those are true neighborhoods."
University of Colorado News Corps journalists Tayler Shaw and Tory Lysik contributed to this report