A Colorado Springs woman arrested on suspicion of first-degree murder claimed she fatally shot her husband after he brandished a knife and was "talking crazy" about dying from COVID-19, court records show.
Amee Karin Anderson, 54, told police she awoke in bed in the early hours of the morning March 18 after hearing "fidgeting" and then screams from her husband on the other side of bed in their Rockrimmon home. When she turned on the light, she said she found James "Greg" Anderson bleeding from the neck with a large hunting knife in his hand, an arrest affidavit stated.
Anderson told detectives the following about what led up to her husband's death:
As she struggled to grab the knife from her husband's hands, the blade sliced her across her knuckles and forearms. She then went to another room to call 911 as he continued to threaten to hurt himself.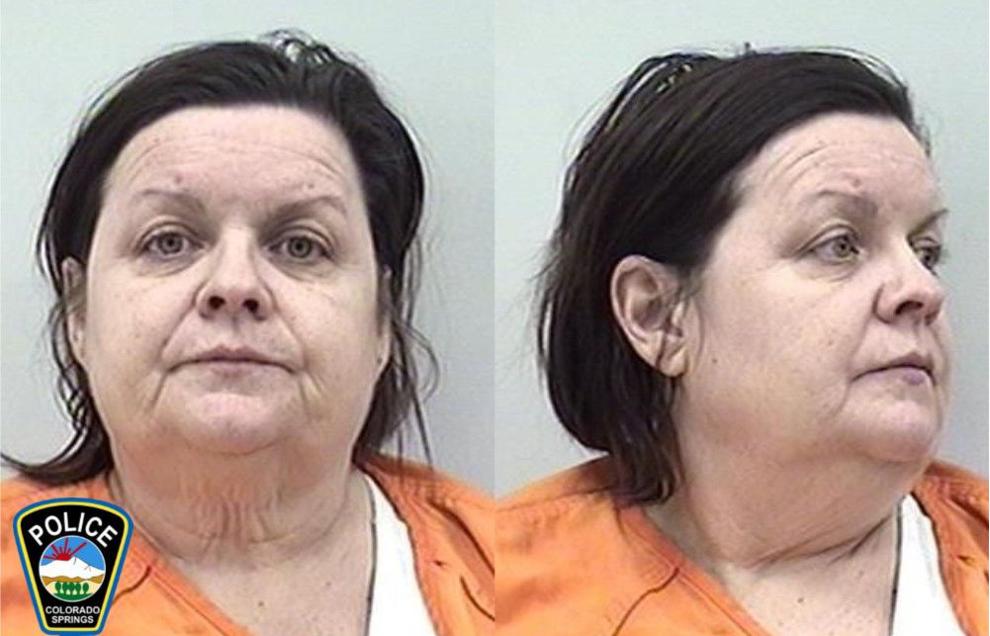 When she returned, she found a handgun next to her husband on the bed. She grabbed the gun in her right hand, while holding the phone in her left, while her husband continued to yell.
He was "blaming the coronavirus and stating he was not going to live through it."
She shot her 62-year-old husband three to four times, she said, in self-defense. Anderson is being held without bond at the El Paso County jail, online inmate records show.
The killing, experts fear, could be the start of an upswing in domestic violence due to the novel coronavirus, which has cost many their jobs and kept others isolated in their homes for more than a week already. 
Generally speaking, the uncertainty, confusion and anxiety around the pandemic could cause abusive behaviors to escalate, said Amy Pohl, associate director of Violence Free Colorado.
"This is kind of a pressure-cooker situation where people who are not normally home with each other during the day, all day, every day, are now (together) … there is so much more access. The abuser has so much more physical access to victims because of this," Pohl said.
Stay-at-home orders and job loss could make the situation more frightening.
For now, domestic violence cases have remained steady across the state, Pohl said, explaining that those in abusive relationships are still trying to navigate the new landscape caused by the virus and are focusing on getting basic necessities. 
"But pretty soon, that abuse is going to come right back to the forefront and they are going to want to get help," Pohl said.
Skyrocketing firearms sales across the state are also a concern, she said, citing studies that someone is five times more likely to be killed in a domestic violence situation when a gun is in the home. 
"Firearms (stores) are running out of supplies because people are scared. … With this increase in gun sales, we're concerned about the increase in pretty severe cases of physical violence, including use of a firearm," Pohl said.
Anne Markley, interim CEO of TESSA, a nonprofit that serves survivors of domestic and sexual violence in El Paso and Teller counties, stressed the importance of social connection, especially for those living in an environment in which domestic violence is present.
"Just because we are having to social distance, that doesn't mean that social connection goes away. So just make sure that you are checking in on people," she said. "We all need to be doing that."
She said the stressors related to COVID-19 could be "a tipping point" for domestic abuse.
"The idea that we are having to be more socially distant is just causing one to have more time at home with an abusive partner," she said. "It's those other stressors — potentially having children home in which you have to home-school, having one or both spouses having lost a job and an uncertainty of where finances are going to come from — all of that stuff on a good day is a stressor. But when there is domestic violence present or susceptibility to DV, those things can be exacerbated."
While services for domestic abuse survivors may look different amid the pandemic, experts stress that help is still available. Domestic violence safe houses, which may be limiting their intake to mitigate the spread of the disease, have backup options like hotels, Pohl said.
TESSA isn't allowing walk-ins at its location, at 435 Gold Pass Heights Road, to protect the staff and the community from being exposed, but additional phone numbers have been installed for the community to get in touch with advocates from 8 a.m. to 5 p.m. Monday through Friday.
Outside of those hours, those dealing with domestic abuse can call the statewide hotline at (719) 633-3819 or find additional resources on TESSAcs.org.