Hospitals in Colorado Springs and across the state took in billions of dollars while saddling insurers with more costs, likely causing insurance prices to rise ever higher, a draft report by state health policy officials says.
The findings, prepared for the Colorado Healthcare Affordability & Sustainability Enterprise, raise new questions about hospitals' spending practices amid a boom in hospital construction across the state. And they mark the first swing in the brewing fight between state health policy officials and hospital systems, which account for the largest share of health care spending in Colorado.
The issue appears most acute along the northern Front Range — Boulder, Fort Collins and Greeley — where annual operating margins, income compared with costs, have grown sixfold since 2009, hitting $353.6 million in 2017.
But the Pikes Peak region isn't immune. More than $450 million has been spent renovating and expanding hospitals across Colorado Springs in recent years, and construction is expected to top $1 billion in the coming decade with Penrose-St. Francis Health Services' plans for a third campus and major renovations at its facilities.
In the process, hospital margins in El Paso and Pueblo counties skyrocketed, reaching $168.1 million in 2017.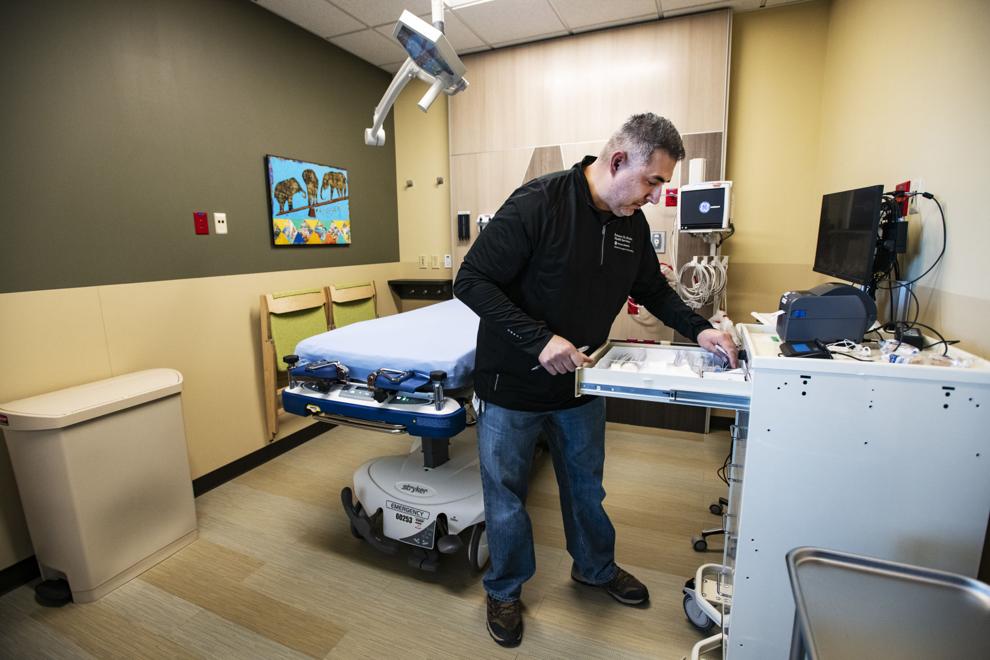 The problem is that hospitals appear to be profiting at the expense of insurance companies — which, in turn, are likely charging healthy and sick customers higher premiums, according to officials with the Colorado Department of Health Care Policy and Financing. The report estimates that hospitals across the state could have saved insurers — and patients and policyholders — about $11.5 billion from 2010 to 2017 by operating in a more financially prudent way.
Hospitals are building expensive — some say redundant — wings for high-cost specialties such as cardiac or orthopedic care. Instead, they should respond to the needs of their communities and use current facilities for different services, such as behavioral health and psychiatric units, said Kim Bimestefer, the state agency's executive director.
"To build brick-and-mortar construction … at a time of grand innovation going forward on health care is probably a miss for our entire ecosystem of health care," Bimestefer said.
In its report on the factors contributing to higher health care costs, the Colorado Hospital Association called any effort to link hospital construction spending to rising health insurance costs a "miasma" — nothing more than "the quick answer that in the end will not solve the problem."
It blamed Colorado's high cost of living and a need to prepare for worst-case scenarios — such as flu outbreaks — for the high costs and fast-paced construction. The hospital association also suggested finding ways to cut unnecessary care and emergency room visits for nonemergency cases rather than targeting hospital construction and administrative spending.
In a statement, the association said the state needs "a scalpel, not a sledgehammer" as it works to lower health care costs.
"As we move forward, we must approach solutions carefully so that we do not end up with unintended consequences that could impact accessibility of high-quality health care," the statement said.
The draft report could be finalized as early as the Colorado Healthcare Affordability & Sustainability Enterprise board's monthly meeting Feb. 26. Its release first was reported by The Colorado Sun.
The clash comes as Gov. Jared Polis makes reducing health care costs a priority of his new administration. In January, Polis created the Office of Saving People Money on Health Care, which counts improved hospital transparency as one of its goals to cut health care and insurance costs.
Checking high health care costs also is a priority in the Legislature. After a blue wave in November gave Democratic lawmakers a supermajority at the state Capitol, the first bill introduced by House Democrats called for each hospital to report financial data to the Colorado Department of Health Care Policy and Financing.
"What I see is a market failure," said Rep. Chris Kennedy, D-Lakewood, who sponsored the bill. "I'm not saying that hospitals don't care about costs. But they just don't care as much about it as they do about upgrading their equipment or acquiring another physician group."
The hospital association traditionally has opposed such measures. But it supported Kennedy's bill after amendments changed some reporting requirements.
Its support has limits, though. A bipartisan bill introduced this month would seek a federal waiver to take some money spent on hospital reimbursements and use it to help stabilize the individual insurance market — a measure the association opposes.
Democrats also are seeking to control health care costs by allowing Coloradans to import prescription drugs from Canada and by creating a public option pilot program for people seeking health insurance. A bipartisan measure also aims to reduce "surprise" out-of-network medical bills.
Concerns about hospital spending practices come at a time of growing margins for hospital systems — most of which operate as nonprofit organizations.
A hospital provider fee that began in 2009 helped pump money into hospitals' coffers by using matching federal funds to raise Medicaid's reimbursement rates. That was important for hospitals because Medicaid had paid less than other sources, such as Medicare and commercial insurance carriers.
Medicaid's expansion in 2014 under the Affordable Care Act also helped hundreds of thousands of previously uninsured low-income Coloradans get coverage. As a result, hospitals finally began getting partially compensated for care that historically was provided with little hope of reimbursement.
Yet despite those financial blessings, hospitals never stopped overcharging commercial insurance carriers, according to the draft report. Rather, they leaned even more heavily on insurance companies to front their costs — putting pressure on those businesses to raise rates.
Across the state, hospital costs increased 60 percent from 2009 through 2017, from $9.1 billion to $14.5 billion.
But their incomes also climbed, particularly from insurance companies. In that time, hospitals' annual margins rose threefold, from $417 million to $1.2 billion.
The rise wasn't solely due to treating more patients, because discharges only increased by 14 percent. Rather, insurers bore an increasingly large share of the costs, leaving hospitals with increasingly generous bottom lines, the report found.
For example, Medicare and Medicaid covered 69 cents for every $1 spent on its patients in 2017, while insurers paid $1.66 for every dollar incurred by its customers, the report said.
The hospital association blamed those poor Medicaid and Medicare reimbursement rates, which hit a deficit of $2.4 billion in 2017, for pushing hospitals to lean more heavily on insurers to cover costs. That, along with chaos in the hospital market due to uncertainty at the state and federal levels, forced hospitals to "save for a rainy day" and to "manage limited resources conservatively." The operating margins of rural hospitals are particularly precarious, it said.
State officials, however, are concerned about an "arms race" in hospital construction.
Colorado has the nation's second-highest construction costs per adjusted discharge, which includes inpatient and outpatient care, the report said. Only Alaska has higher construction costs.
This month, Memorial Hospital North plans to complete a $129 million expansion, with several new operating rooms and emergency treatment "bays." Next door, Children's Hospital Colorado plans to open a $165 million hospital this year.
On Wednesday, St. Francis Medical Center plans to open its expanded 48-bed emergency room. It's one of the final touches of a $102 million expansion that included adding two floors and several operating rooms and enlarging the neonatal intensive care unit.
A spokeswoman for Penrose-St. Francis' CEO, Dr. Brian Erling, referred questions about the state's report to the hospital association.
St. Francis Medical Center's leader, Calvin Eisenach, defended the project, especially the expanded emergency room.
"We were busting at the seams," he said. "We didn't have a place to put a lot of our patients who came in for visits."
In a statement, UCHealth Memorial Hospital agreed, stressing that it has experienced "record patient demand." Colorado Springs has fewer hospital beds than elsewhere in the state, averaging 1.31 beds per 1,000 patients, compared with state and national averages of 1.98 and 2.76, respectively.
Memorial also provided $102 million in uncompensated care to uninsured and underinsured patients during the fiscal year that ended June 30, the hospital system said.
State officials say hospitals can do better.
The Colorado Department of Health Care Policy and Financing is seeking to change how the hospital provider fee is allocated by incentivizing hospitals to convert some facilities the agency deems unnecessary — such as freestanding emergency rooms — into more-needed behavioral health units, for example.
"Before that next cancer or orthopedic wing is built, where there's already capacity, did the community health needs assessment say I needed more mental health beds?" Bimestefer asked. "We have a significant shortfall in (the) mental health provider community, and there is an opportunity for hospitals to step up and begin to address that gap."
That need is especially important, she said, considering that so many hospitals are nonprofits that must reinvest that money into the community.
"It's a not-for-profit," Bimestefer said. "The objective is to meet the needs of the community."