With the large military presence in Colorado Springs, it might seem surprising that many public schools are holding classes on Veterans Day.
The region's three largest school districts — Academy D-20, Colorado Springs D-11 and School District 49 — have school on Monday's federal holiday.
"It's a learning opportunity day," D-20 spokeswoman Allison Cortez said of the decision.
Nevertheless, the national holiday, which falls on the anniversary of the end of World War I and honors U.S. veterans and casualties, is one of the most celebrated days in D-20, she said.
Schools this year are hosting more than 40 separate events, including parades, assemblies, book reviews, arts events, musical performances, letter writing, breakfasts and lunches with local veterans and special speakers.
The district's history is linked to the military, Cortez said, with schools needing to be built for military families when the Air Force Academy was established in the late 1950s.
Today, one in five of D-20's nearly 26,700 students is connected to a military family, and a high school is on the academy.
"This relationship continues to thrive and makes an important day even more momentous in our district," Cortez said.
The two school districts that are geographically nearest to Fort Carson, Fountain-Fort Carson D-8 and Widefield D-3, traditionally do not hold classes on Veterans Day.
D-8 — where nearly three of every four students are from a military family — operates four elementary schools and one middle school on the Army post.
With D-8 schools closed Monday, students at Carson Middle School recognized veterans in the community at an annual celebration Friday morning.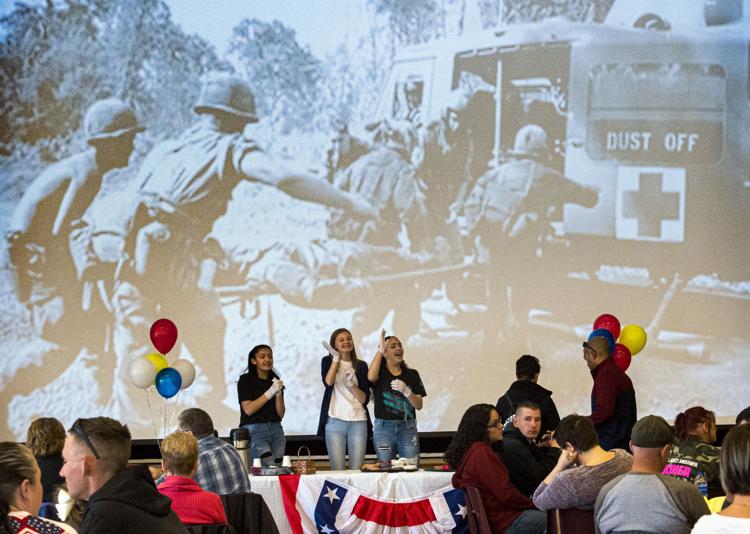 "The school does this event every year, in part due to their close connection and tie to military families and children, being located on Fort Carson," said D-8 spokeswoman Christy McGee. "They want to show appreciation to all those who serve and have served in our military and honor veterans."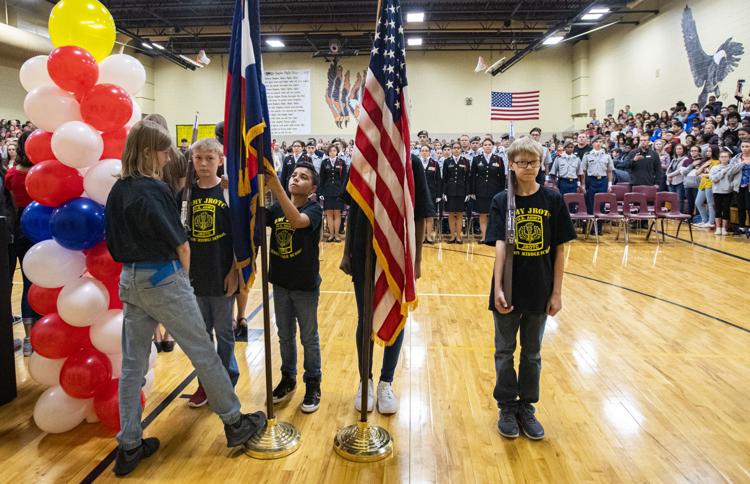 While Veterans Day is a holiday for students in D-3, said spokeswoman Samantha Briggs, for staff, Nov. 11 is a professional-development day.
"Historically, we've had a large military population in the district and we've given students the day to spend with their families," she said.
Typically, about one in four D-3 students are from an active-duty family, Briggs said.
Students at Lewis-Palmer D-38 in Monument also have Monday off, while teachers report for a professional-learning work day.
"It's something our calendar committee, which has parents, administrators and principals, determines after looking at all of the holidays," said spokeswoman Julie Stephen. "I think the community prefers to have those days off, but sometimes it's a juggling act to have the most reasonable finish time.
"It's not as simple as yes, we always get these holidays off."
D-38 students participated in a variety of Veterans Day activities on Friday, she said.
Four school districts in eastern El Paso County with four-day class weeks also are off for Veterans Day because the holiday this year happens to fall on a Monday — the weekday that's skipped.
Colorado Springs School District 11 used to shut down for Veterans Day but, in 2014, the Board of Education voted to keep the doors open. Most D-11 schools now have special events on Nov. 11 to show appreciation for veterans and teach students about the sacrifices they made for the country.
Veterans visit classrooms and talk to students about their military service, attend breakfasts, lunches and assemblies, listen to students perform patriotic songs, gather around the flagpole for ceremonies and join in other activities.
Woodland Park High School's annual Veterans Day assembly, which will begin at 9:30 a.m. Monday in the gym, is something the community looks forward to, said Woodland Park RE-2 spokeswoman Stacy Schubloom.
"Our students have a large part in the assembly, with high school students giving speeches and children from the elementary schools performing," she said.
"We decided to keep going with this tradition every year because it's such a great community event for all ages and gives students an opportunity to meet veterans and learn why we do honor them."