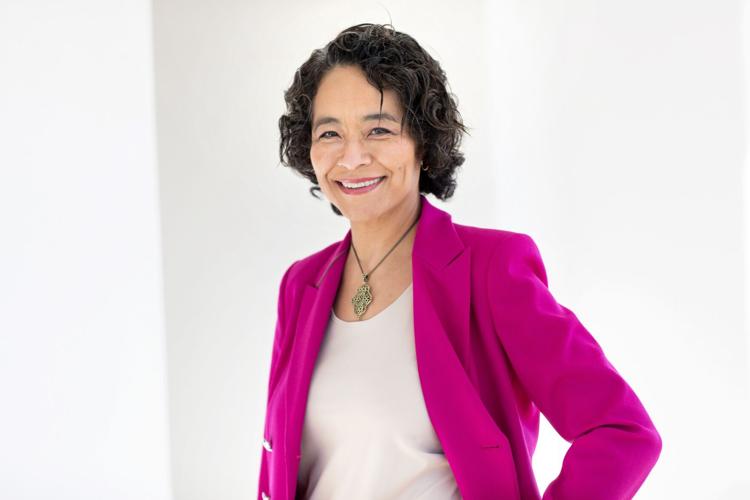 This week's news reports that Colorado College has a new president, L. Song Richardson, buried the lead, as we say in the business. The headline should have read: Army brat is CC's next president.
Richardson's dad was stationed at Fort Carson once upon a time, after all.
"I feel like I'm coming home," CC's 14th president told me Friday.
Richardson, who's also CC's first president of color, had been happily entrenched as the dean and chancellor's professor of law at the University of California-Irvine School of Law. But when CC came calling, "I feel like it was meant to be," she said. "I don't know why."
Sometimes, it's all about timing, and the times. 
As she started to learn more about Colorado College, "despite my desire not to be at all intrigued or interested because I didn't want to move — I love Southern California — my heart rate started to go up because I got incredibly excited. And the reason is, I'm someone who, with every job I've ever had, I only am attracted to places that fit my own values and beliefs."
She said she was drawn to CC's creativity, its innovation, its focus on the student-centered block plan. And the beautiful setting of Colorado Springs. 
She said she was captivated by CC's "desire to think about how we create future leaders who will be able to navigate this quickly changing world. How do we make our students resilient, open to new ideas, open to taking risks and failing and then picking themselves up again, open to putting themselves in difficult positions and having incredibly difficult conversations with people."
The Black and Korean former civil rights lawyer also appreciates CC's commitment to "diversity, equity and inclusion."  
For example, during the search for a new president, Mike Edmonds, the acting co-president, became the first person of color to serve in the presidential role at CC.
Richardson is a leader well-matched to the challenges of the moment. With an undergrad degree from Harvard and law degree from Yale, she's a barrier breaker: At the time of her appointment to UC-Irvine, she was the only woman of color to lead a top 30 law school. She specializes in addressing racial and gender disparities, and she's also a national expert on bias in the criminal justice system.
She also happens to be a classically trained pianist who performed twice with the Boston Symphony Orchestra, and, lest we overlook it, Orange Coast magazine once named her one of "35 Kickass Women in Orange County."
Jeff Keller, chair of the presidential search committee, said the Board of Trustees voted unanimously for Richardson.
More than 100 students, faculty and staff participated in virtual meetings with the search committee, and hundreds of CC alums and families of CC students provided input through an online survey.
"The findings of the results from the feedback gathered made it clear that CC's next president must be committed to maintaining and advancing the college's sustained academic rigor and distinctive educational approach, broad creativity and innovation and an unfaltering commitment to diversity, equity and inclusion and antiracism initiatives," Keller said.
Richardson thinks CC can be one of the nation's leaders in equity and inclusion and educational access.
Her hope is to make CC students comfortable with being uncomfortable.
"I'm actually working on a book right now, and 'Uncomfortable' is the title," she told me. "And the reason I use that title is we are uncomfortable right now, and that is when change happens. And we're uncomfortable because we feel the need to, or the freedom to say how we feel, instead of keeping it inside. When you keep it inside, nothing ever changes because you say one thing, but you really mean another. And I would much rather have these difficult conversations. And we are having them right now."
She thinks 2020 and its racial reckoning has been good for CC and for the country in general, a sign we're making progress toward a more perfect Union.
"I actually feel optimistic about where we are in ways I haven't felt optimistic in the past. And the reason for that is, finally, it's out in the open and we can talk about it in ways that we couldn't before."
Richardson, having helmed a progressive law school in the heart of Orange County, has some practice with uncomfortable conversations, like those that sometimes crop up between a liberal college like CC and a conservative city like Colorado Springs.
"There are many members of the community I have brought into the law school where we disagree fundamentally on very important issues," she said. "And yet, we can have those conversations with each other. And that is what I think makes a school great. Because if we all think the same, we don't challenge each other. We're not open to different ways of viewing things. Then we won't grow and we won't be creative and we won't find great results. And I've been able to do that here in Orange County."
She believes adversity and challenge make things better.
"It accelerates innovation. Some people say to me, 'Why are you going to CC now'" in the middle of the COVID pandemic? "'This is the worst possible time to be going to a new place.' And my answer to that is, 'No it's not if it's the right place.' And everything about CC is about resilience, innovation, creativity, trying new things, charting our own path. This to me is the perfect time because we have learned lessons from the entire year that has just passed. We like to innovate. We like to think outside the box. Now is the time to really innovate because everything is up in the air. 
"Now, everyone's thinking, 'What should we be doing?'"
Because of its innovative block plan, where students (like I once did) take one class at a time, CC has an explorer spirit, she believes. It is good with shoulds and oughts and what ifs, a community of changemakers. So it's not a bad place to invent the future.
"I'm excited to be joining CC at exactly this moment, because I cannot imagine a school that is better equipped to address all of these challenges and take advantage of all the opportunities these challenges will permit."
"So yeah," she concludes, "it's a perfect time."