Yosef Camire feared that roughly 50 of his chickens would freeze to death after snow blew into a coop Wednesday on his Peyton farm and buried the birds.
In whiteout, he and other employees at Ahavah Farm dug out the chickens and three alpacas that were stuck between a fence and a 7-foot snowdrift.
They saved the animals, but six greenhouses and other parts of the farm were lost to the storm. Camire estimates that the damage could amount to a quarter million dollars.
"We've gotten completely destroyed," said Camire, owner of the farm, which offers a community sponsored agriculture program and other environmental education initiatives. "I've never seen anything like this, that's for sure."
Ahavah was one of several local farms that were wiped out by the snow and hurricane-force winds that shut down schools, businesses, government offices and highways along the Front Range and eastern plains.
The 2,000-square-foot greenhouses, now mangled frames stripped of their covers, housed much of the spring crop that Ahavah was set to start distributing this month when its spring farm share began.
But that start date is likely to be delayed now, and the more than 200 members could be getting lighter shares this spring, said Camire.
"We're not sure what's going to happen. We're definitely going to rebuild. It's just going to be really hard to do so," he said. "It's going to take a lot of money. It's going to take a lot of time, it's going to take a lot of man hours."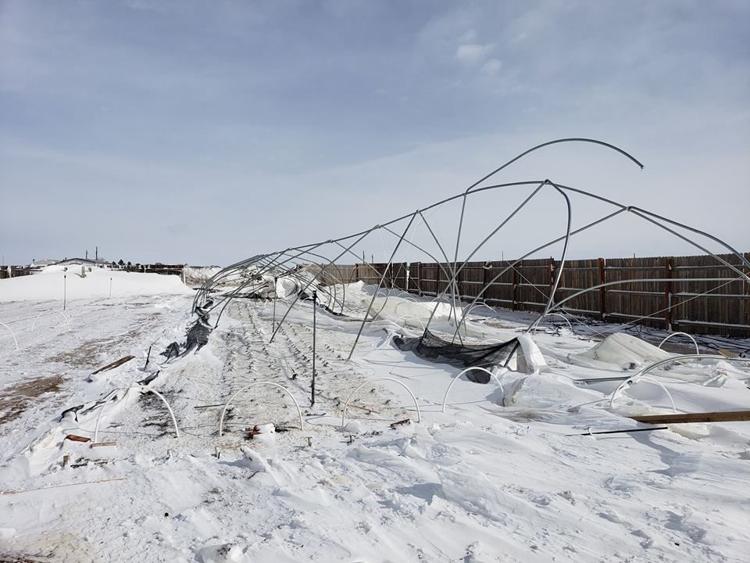 This isn't the first time the farm, which produces more than 75,000 pounds of food annually, has faced this. It was badly damaged by hail in 2016, but recovered with the held of donations from community members who also volunteered to help save the farm, Camire said.
"Hopefully we'll learn for this, we'll rebuild from this, and we'll come out stronger than we were before," he said.
The farm's nonprofit arm, the Ahavah Community Initiative, is raising money for the reconstruction. Those who wish to donate can visit Ahavah Farm's Facebook page.
The blizzard also put a hitch in Garza Farms' plan to expand into the CBD oil industry after it knocked down the Calhan pickle producer's new greenhouse, which was destined to become a nursery for hemp crop, said farm owner Chris Garza.
"I looked out at 8 o'clock in the morning and everything was still there," Garza recalled. "I looked out at 1 o'clock in the afternoon, and there was no greenhouse."
He also lost three, 3,000-gallon water tanks that were delivered this week, he said. He had tied down the heavy-duty plastic tanks, each weighing about 500 pounds empty, but the wind tore them away, he said.
The damage is likely to cost him $7,000 — $8,000 and set back operations a month or two, he said.
Donna LaChey, owner of Hillbilly Farms in Hanover, is likely out $6,000 to $10,000 after the wind ripped a door frame from one of her greenhouses and blew out the walls of another. A winter crop of herbs and greens — including mint and broccoli rabe — fell victim to frost.
"Those will be things that don't make it to the store this week," said LaChey, who sells the produce to Mountain Naturals Community Market in Woodland Park.
A few dozen chicken eggs froze, too. She and others at the farm braved subfreezing temperatures to bottle-feed the resident baby goats.
"When you're farming, you just have to expect things like this. But it's never fun when it happens," she said with a laugh.