Jashawn Hilliard is learning more at his new gig than he did as a shopping-cart pusher at Walmart or a bell-ringer for the Salvation Army.
The 22-year-old Colorado Springs resident, who is developmentally delayed, spends his shifts at Blank Canvas Cafe baking cookies, making pesto and serving up other food for hungry customers — all skills that he'll need if he's going to reach his goal of attending culinary arts school.
"That's been a dream that I've had since I was a little kid," he said. "Me working here helps me get to that point of pursuing that career."
Nearly a dozen other people with intellectual or developmental disabilities work at the cafe, which opened in 2015 as part of Ariel Clinical Services. Tucked behind the eatery at 103 S. Wahsatch Ave. is an art studio, where adults with similar conditions make painted wall-hangings, wooden shelves and other crafts that are displayed in the cafe for customers to buy.
With the help of job coaches and a few other staff members, the cafe's employees learn nearly every aspect of the operation, from cleaning and busing tables to stocking the pastry showcase with crowd favorites such as "Avalanche Bars," a marshmallow Rice Krispies bar decked with peanut butter and white and dark chocolate.
Patrons are encouraged to walk into the kitchen to see them in action, said cafe manager Ivette Fernandez.
"They're cooking, they're chopping, they're making coffee, they're learning not only how to do things at home but for a job elsewhere," Fernandez said. "It just gives them the confidence they need to be able to go out into the world."
Her employees, many of whom have autism, work one to four days a week making minimum wage.
Those who work in the studio receive commission for the pieces they sell.
"It just feels good," said 34-year-old David Gregory, a studio employee who sold a decorative sign he made over the holidays. "You take the time making it from beginning to end, and then you can see your projects sell. I enjoy it because I know if I take my time, next time, it could come out even better."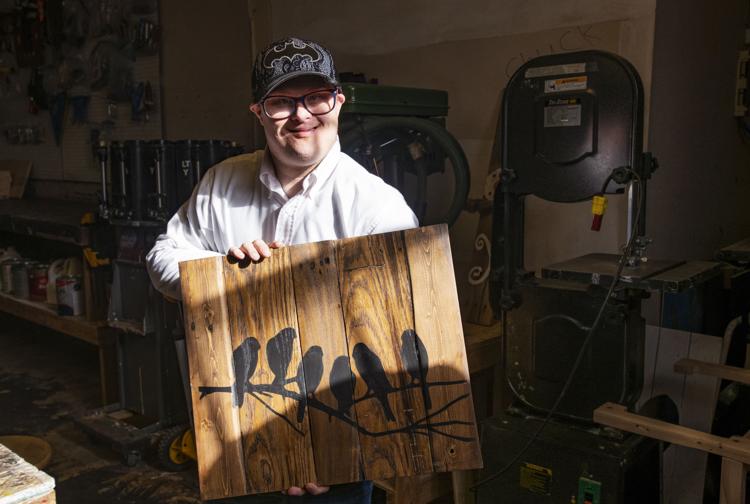 Gregory, who also works part time at a Dollar Tree store, said he likes the freedom he's given in the studio.
He and other artists can find a project online or pick one from a binder full of ideas. With the help of supervisors, they measure, cut and sand wooden shapes, often using paint or stencils to decorate them.
"I don't see it as a job," he said last week while painting burgundy wooden pieces that will soon be assembled into a birdhouse-shaped shelf. "I find it more relaxing over here."
The cafe's furnishings — from the cabinets in the kitchen to the front counter adorned with river rocks — were all made by people working in the studio, Fernandez said. For a $25 donation, patrons can decorate a tile to add to the colorful tessellation on the ceiling.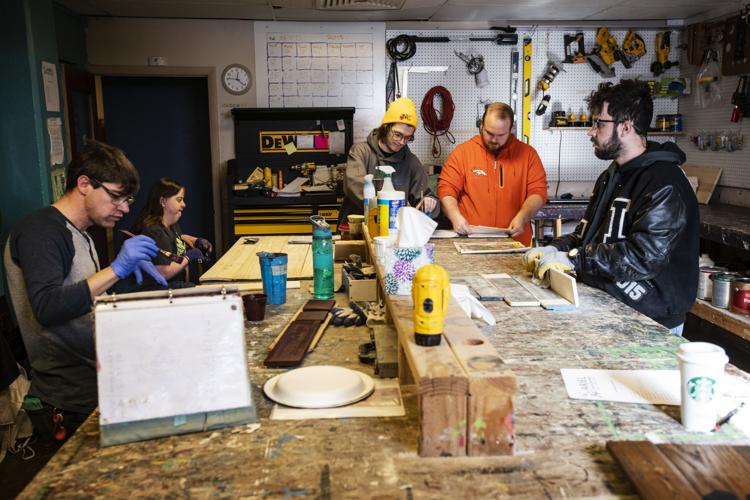 Fernandez, who became the cafe's manager in 2016, worked for a company in Pennsylvania that ran a day program for people with mental disabilities. Often, her clients there were assigned simple tasks — bagging screws or shredding paper — for paychecks amounting to pennies.
When she discovered the cafe and studio, she was amazed. Along with a range of real responsibilities, the employees also benefit from vocational training — opportunities that might be difficult for them to find elsewhere.
Some of the cafe's employees have moved on to other employers, she said. One now works as an administrative assistant at a local dentist's office, and another has a job in a kitchen.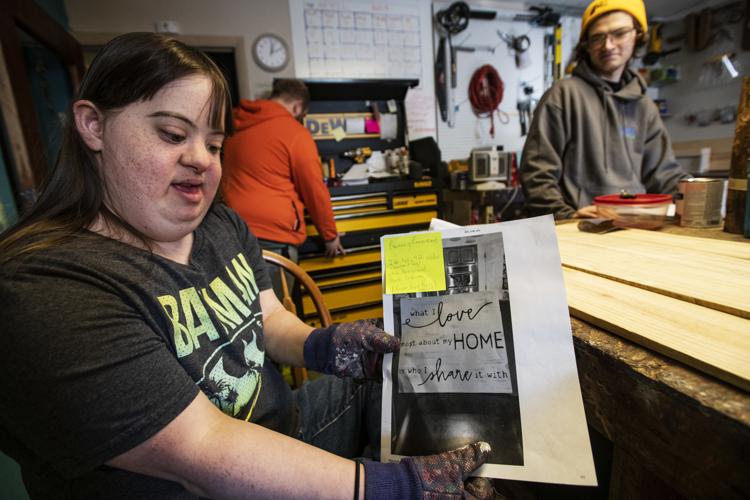 The possibilities are comforting to Fernandez, who's 13-year-old son is autistic.
"You want them to grow up and be successful," she said. "He's high functioning, but to know that there's stuff like this for them means a whole lot."
The cafe is funded, in part, by the nonprofit. Ariel Clinical Services, which has locations across the state, is a foster care agency that also provides services for people with disabilities, such as job coaching and supported employment.