Ron Stallworth still carries his 1979 Knights of the Ku Klux Klan membership card in his wallet.
"Bam!" said the "Black Klansman" author, removing the worn red card from his wallet to show more than 600 people gathered Thursday at Pikes Peak Community College for Stallworth's first appearance here since the film "BlacKkKlansman" was released Aug. 10.
The red card is proof that Stallworth, the first black detective in the Colorado Springs Police Department, investigated the KKK in southern Colorado in 1977.
He kept the tale of that investigation to himself until 2013, when he started writing "Black Klansman," now a New York Times best-seller. His book led to the Spike Lee-directed film "BlacKkKlansman," which still is playing at local theaters, including Kimball's Peak Three, and has grossed $65 million.
Now retired from a 32-year career in law enforcement in Colorado, Arizona, Wyoming and Utah, Stallworth proudly recalled serving in the CSPD from 1972 to 1980.
"It's a very progressive department. Colorado Springs Police Department is one of the finest I worked with and for. Be proud of your department," he said.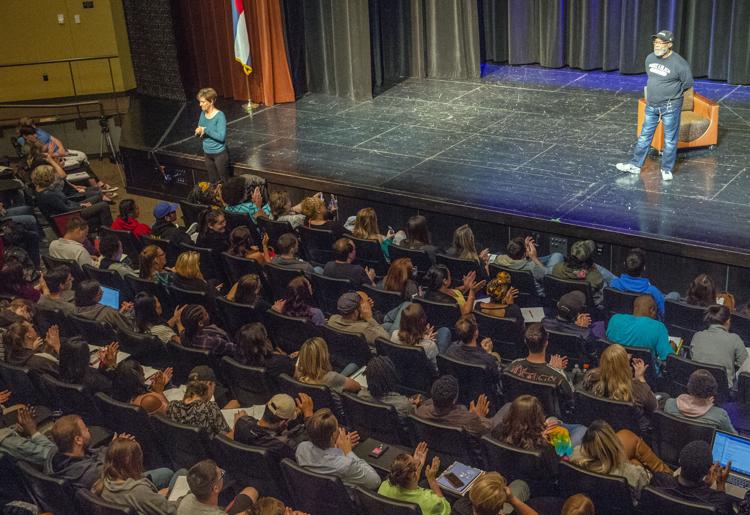 The department remains largely white. Two years ago, more than 81 percent of the 510 CSPD officers were white. That left 93 minorities, including 25 blacks, 52 Hispanics, 13 Asians and three Native Americans. That year, more than 1,300 people applied for the police academy, including 126 blacks.
Asked if the number of black officers is "healthy for the community," Stallworth said the question is: "Why aren't blacks flocking to join? Do they have a negative culture toward minorities? I don't know. I do know the opportunity is there."
When a PPCC student asked about the current state of policing in America, Stallworth said it's "overall good."
But as an example of abuse of authority, he cited a 2015 case in South Carolina in which an unarmed black man, Walter Scott, was fatally shot by a white police officer who allegedly then placed a taser on Scott's body to suggest the victim had a weapon.
"I am a police officer. I will defend my brothers in blue to the death," Stallworth said. "But when there's a dirty cop, I will call out that dirty cop. I will stand up for Black Lives Matter and commend all others doing the same."
Stallworth praised Fletcher Howard Jr., who was a rookie cop when Stallworth left CSPD and in 2008 became the first black commander, the third-highest rank in the department. Howard retired in 2016 after 38 years with CSPD.
"The community is more diverse now, and the Police Department has grown and has more black officers. It says a lot about the direction the city has gone," said Stallworth, who lives in El Paso, Texas.
"I've always loved it here. The only thing I didn't like is the damn weather. It's too cold!"
His wife, Patsy, to whom he dedicated his book, sat in the first row at PPCC's Centennial Campus with his sister Nanci Lorenia Stallworth, a Colorado Springs resident. She told The Gazette she's "very proud" of "Ronnie," whom she said called their mother every day and visited monthly until she died in 2009.
During a Q&A, his sister asked where he learned self-respect, to which he replied, "From our mother." Their mother, Betty, "didn't play," he said. "She told me if anyone called me a (racist epithet), 'You better hit 'em, you better teach them to call you the right way. You are not a (n----); you are a young black man.' That was in the '60s. America was different, our society was different.
"I got kicked out of school three times because of that. Mom simply said, 'Did you whup his ass?' each time. I lied twice and said yes, but I'm happy to say they never called me the N-word again."
Stallworth said it's a "disgusting, disgraceful term that should never be used … by blacks or whites or anyone else for that matter, including Donald Trump."
Although ordered by his chief at the time to destroy evidence of his KKK investigation, Stallworth said, he held onto his Ku Klux Klan membership card and a couple of notebooks.
"It was morally and ethically wrong, and I knew it at the time I did it … But I also knew that no would would believe that I, a black man, was a member of the KKK. I knew no one would believe that story without proof.
"By the way, David Duke endorsed my story and said he liked and respected me," Stallworth said, referring to the former Grand Dragon of the KKK, whom he duped by phone during the investigation, posing as a white KKK member.
The local KKK at the time took a unanimous vote to make Stallworth a leader. "They were not the brightest light bulbs," he said with a chuckle.
"How many in here have bought my book?" Stallworth asked the crowd filling the 391-seat theater, with the talk broadcast to three overflow rooms. "And how many have seen the movie?" he followed up. More raised their hands for the latter.
"The movie has taken some liberties with my story, but I can live with what they did," he said. "Ninety percent of the book is in the movie. I've seen it 16 times, being on tour. Each time I see it, it never fails to move me at the end. ... It's just by the grace of God my story was so unique that Hollywood came calling."
Stallworth moved with his mother and siblings to Colorado Springs from Chicago in July 1972 to be closer to his aunt, who was married to a soldier at Fort Carson. That year he became the city's first black police cadet, then first black patrolman, and then first black detective.
"Whenever you're the first black anything in this country, there's a ton of pressure on you," he said. "We should be way past recording that as an accomplishment. I should've been just another cop on another assignment."
Stallworth became an officer to help pay for college. He attended El Paso Community College, which in 1978 became PPCC, for a few semesters with the intention of becoming a high school P.E. teacher. He stayed with the police force because he was having "so much damn fun."
"It took me 36 years from my high school graduation in '71 to get my degree," said Stallworth who ultimately earned associate's and bachelor's degrees in criminal science from Missouri's Columbia College program in Salt Lake City. "Don't make the mistakes I did. Get your education, and get it while you're young."
Asked how he feels when people say he "sounds white," which is how he fooled Duke and the KKK, Stallworth said he takes offense.
"What do I sound like to you?" he asked the crowd. "I can get into the jive routine and act like a fool. I did it when I worked on Colorado Avenue. ... but I know how to sound like a person who knows how to speak."
After his presentation, Keith Barnes, PPCC's executive director of the Diversity, Equity and Inclusion Department, presented him with "The Crystal Trophy" distinguished service award. Stallworth went on to sign 60 books purchased by that department.
"We really wanted to give (the books) to the students, a lot of whom are low-income, first-generation college students," Barnes said.
"We knew the college bookstore had sold out of their copies of the book."
Nicole Shirley, a sophomore studying criminal justice, waited in a line of dozens to get a book signed after Stallworth's talk. "I did really relate to what he was saying," she said.
Tiffany Ferriman, an Ellicott High School student in the Career Start program, which allows high school students to take college classes and earn credit, said her criminal justice class attended the talk.
"I just think it's so interesting, being in the criminal justice field, how he overcame discrimination and how his investigation skills helped him overcome that discrimination."
Maria Wright, a PPCC freshman also studying criminal justice, said she was in line because she "just really wanted to shake his hand."
Stallworth participated in a panel discussion at PPCC later in the afternoon and was to speak at Colorado College at a private evening event. The two colleges partnered to bring Stallworth to Colorado Springs.
Contact the writer, 476-1602.