Colorado may have a four-star ally in the battle to keep its big role in the military space business.
Gen. David Goldfein, the Air Force's top general, visited Colorado last week and had nothing but praise for the home of five of his service's installations and its top command for space.
"I don't think there is a state where the Air Force has a bigger footprint," Goldfein told The Gazette. "My biggest message is to just thank the community."
The Air Force under Goldfein's leadership is helping to craft a new Space Force at the urging of President Donald Trump. In a White House ceremony last week, Trump signed a directive that would put the space service under the Air Force at first, with a future transition into a separate military department.
Trump's plan needs approval from Congress and faces skepticism, especially in the Democratic-majority House, where lawmakers have balked at what they see as ballooning budgets and burgeoning bureaucracy that would accompany a separate Space Force.
Goldfein didn't address the politics or the specifics of the emerging Space Force plans. But he heaped praise on the Pikes Peak region, which is home to the bulk of Air Force satellite troops.
"I say, first and foremost, Colorado is the home of our Air Force Space Command," Goldfein said. "If anything, I think it is a very healthy future for Colorado and our space community."
The Pentagon is readying to reprise U.S. Space Command, which was shuttered in 2003 in favor of U.S. Northern Command. The old command, a Pentagon-wide version of Air Force Space Command at Peterson Air Force Base, was in Colorado Springs.
But the new version, which the Pentagon sees as a key component of the new Space Force, already has several states in addition to Colorado battling to house it, including most notably Florida and Alabama.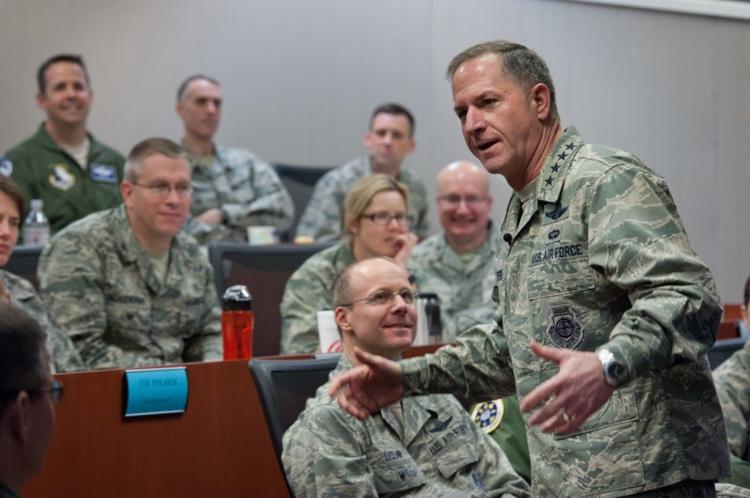 Goldfein said a formal process to evaluate homes for the command is planned. But it certainly doesn't hurt Colorado Springs to have the top airman's affection.
A 1983 Air Force Academy graduate, Goldfein came through town to address the school's National Character and Leadership Symposium.
The general shared stories about his rocky start as a cadet — he dropped out at one point to bicycle across America — and challenges he has faced in uniform, including getting shot down over Serbia in 1999.
A fighter pilot by trade, Goldfein was appointed to the top Air Force post by President Barack Obama in 2016. He has used the position to push the service toward "multi-domain" warfare, that values computer attacks and space systems as much as it does fighters and bombers.
"Have we embraced space superiority with the same passion we have embraced air superiority?" he asked a crowd of cadets who filled an academy auditorium to hear him speak Friday morning.
While space systems involve a relatively small contingent of the Air Force's 322,000 troops, the service has an outsize presence in the field compared with the rest of the Defense Department. The service controls systems for missile warning, communications, intelligence and navigation.
"As a service, we are responsible for 90 percent of the space architecture," he told cadets.
Changing that architecture has been a top priority for the service, with leaders envisioning an agile fleet of smaller satellites that are easier to defend from enemy attacks and cost a fraction of the school bus-sized satellites in use today.
In Congress this year, Goldfein is arguing for increasing the Air Force's fleet of planes while boosting space spending and embarking on a program to modernize the Air Force's nuclear weapons, which is the most controversial item on the agenda.
The Air Force holds two corners of the military's nuclear triad, with intercontinental ballistic missiles and atomic weapons launched or dropped from planes.
But the newest pieces of the Air Force's nuclear arsenal were built in the Reagan era, and some of them date back to the presidency of Richard Nixon.
The nuclear push has proved unpopular with House Democrats.
Washington Democratic Rep. Adam Smith, who took over last month as chairman of the House Armed Services Committee, came out in opposition to nuclear development plans last fall.
"We already have a nuclear deterrent that is more than adequate to achieve our national security goals," Smith wrote on Twitter.
Goldfein said he's ready to make the case for new weapons.
"I think we are going to have a robust debate," he said.
Goldfein has also used his post to push for more women and minorities in the Air Force and said he's pleased with progress he has seen at the academy, which will bring in a freshman class this summer that's one-third female.
"I'm one who believes that increased diversity is a joint warfighting imperative in the Air Force," he said.
But away from policy and looming congressional fights, Goldfein says his big message to Colorado is one of gratitude. The general says he wants to repay the courtesy he was shown here as a cadet.
"I remember how well I was taken care of by the Colorado Springs community," he said.
--
Contact Tom Roeder: 636-0240
Twitter: @xroederx
Contact Tom Roeder: 636-0240 Twitter: @xroederx