State crews blasted mountain slopes along heavily traveled sections of Interstate 70 Friday to reduce avalanche danger ahead of a winter storm barreling into Colorado this holiday weekend.
Avalanche danger had been building in the past week as a storm Wednesday and Thursday added to the deep snowpack in the high country.
In the San Juan Mountains in southwest Colorado, Silverton got 27 inches, Purgatory got 22 inches and Wolf Creek got 16 inches in 48 hours, Colorado Ski Country reported. Steamboat reported 17 inches, while mountains in Summit County saw between 7 and 12 inches.
The storm predicted to move into Colorado on Friday night had dropped more than 3 feet of snow in California's Sierra Nevadas.
"A low-pressure trough, currently off the coast of the Pacific Northwest, moves ashore (Friday) evening and marches east overnight," wrote Colorado Avalanche Information Center forecaster Jason Konigsberg. Snow should start around midnight and drop 3 to 10 inches in the mountains.
Snow is expected to begin falling in the Pikes Peak region Sunday and last into Monday, with 2 to 4 inches possible in Colorado Springs, said Brad Carlberg, a meteorologist with the National Weather Service in Pueblo.
Wednesday and Thursday's snow ratcheted up avalanche danger throughout the state, triggering a slide that closed U.S. 50 on Monarch Pass for about five hours Friday. No cars were caught in the avalanche, said trooper Gary Cutler of the Colorado State Patrol.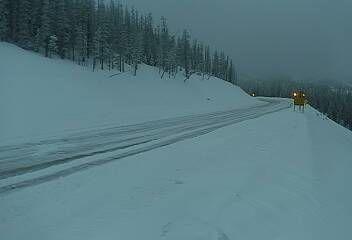 That area — the Sawatch range — as well as the Gunnison and San Juan zones were rated by the Colorado Avalanche Information Center as high for avalanche danger Friday morning.
Risk is expected to decrease to considerable by Saturday morning in those areas, canceling an avalanche warning issued by the Colorado Avalanche Information Center on Friday.
A special avalanche advisory was issued for the Steamboat, Front Range, Vail and Summit, Aspen, Grand Mesa and Sangre de Cristo zones, all of which are predicted to see considerable avalanche danger.
"Periods of intense snowfall and strong winds have created dangerous avalanche conditions," CAIC wrote in its advisory. "Backcountry travelers can trigger large and destructive avalanches. Expect avalanches to break across terrain features and run long distances."
CAIC warned skiers, snowmobilers and others traveling in the backcountry to plan cautious routes, carefully evaluate snowpack and terrain, and make conservative decisions.
Over the past decade, February has been "the single most dangerous month for avalanches in Colorado," CAIC said on its website. "Over a quarter of the fatal avalanche accidents happened during this month."
Colorado Department of Transportation crews intentionally set off slides on Vail and Loveland passes Friday morning during a window of sunny, dry weather Friday morning. Vail Pass was closed during the work, while Loveland Pass opened intermittently between blasts and cleanup.
CDOT tries to avoid "superfluous avalanche control" during holiday weekends regardless of the weather, said spokesman Andrew Hogle. In 2017, CDOT recorded 177,000 cars passing through the Eisenhower Tunnel during the Presidents Day holiday weekend, up from 172,000 in 2016 and 159,000 in 2015.
"As most people know, it can get a little ugly with this many people and with snow," he said. "We do our best to keep the lanes moving and the roads as clear as possible."
Hogle said the express lane on eastbound I-70 between Empire and Idaho Springs will be open Saturday through Monday to ease congestion.
The avalanche risk comes with a reward, especially for snowpack and alleviating drought. After one of the driest years on record, Colorado's snowpack was at 114 percent of normal Friday.
Ninety-one percent of the state is considered to be in drought, but less than a quarter is rated as extreme or exceptional compared with more than a third three months ago.