San Luis • Huberto Maestas is known for his 15 dramatic bronze sculptures making up the Stations of the Cross Shrine in Colorado's oldest town, San Luis.
The casting molds for those sculptures, along with Maestas' works in progress and artworks by family members who shared his studio and foundry, were destroyed in a Dec. 4 fire.
Costilla County and Alamosa firefighters responded to the 7:45 p.m. call, battling the blaze until about 2 a.m., said Chris Rodriguez, the county's emergency management coordinator.
Flames fully engulfed the nearly century-old building at 405 Main St., he said.
"It's probably the most destructive fire that we've had in this area, other than the wildfires," Rodriguez said. "That no one was seriously injured is a blessing."
The fire's cause had not been determined.
The structure that housed Huberto's Sculpture Studio was built in the 1920s and served as the county shop, the Alamosa Valley Courier reported.
A GoFundMe page set up to help the Maestas family had raised more than $15,200 by Dec. 12 toward a goal of $50,000.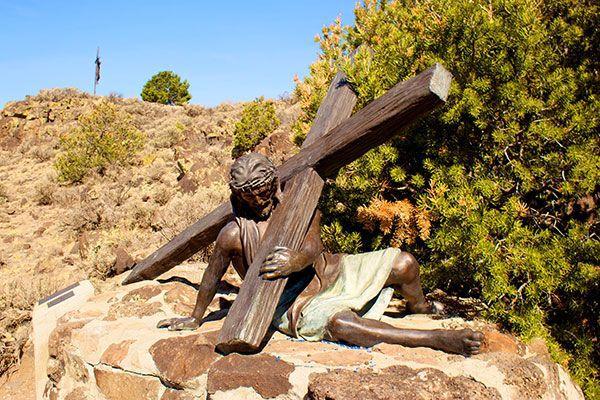 The GoFundMe page states: "The Maestas family has lost the past 30 years worth of tools, equipment, materials, and many other valuable items involved in the business. One of a kind art pieces were lost in the fire and most importantly, the Maestas family sculpture molds. … "
Maestas was commissioned by the Rev. Patrick Valdez of the Sangre de Cristo Parish in 1987 to sculpt the Stations of the Cross. He completed them in the early 1990s, and thousands of people visit the shrine yearly.
The artist personally presented a set of miniatures of the stations to Pope John Paul II in 1991, the Pueblo Chieftain reported. They reside in the Vatican Museums.
Maestas, a native of the San Luis Valley and former Colorado Springs resident, could not be reached for comment.