Long hours, low pay and afternoon weekday meetings make a seat on the Colorado Springs City Council a difficult aspiration for many, especially anyone with a full-time job.
But Dennis Spiker isn't intimidated. The Army veteran, who has worked in restaurants and human resources, says he's fortunate to have the financial means to run for an at-large council seat, and at 28, he has a younger perspective to share.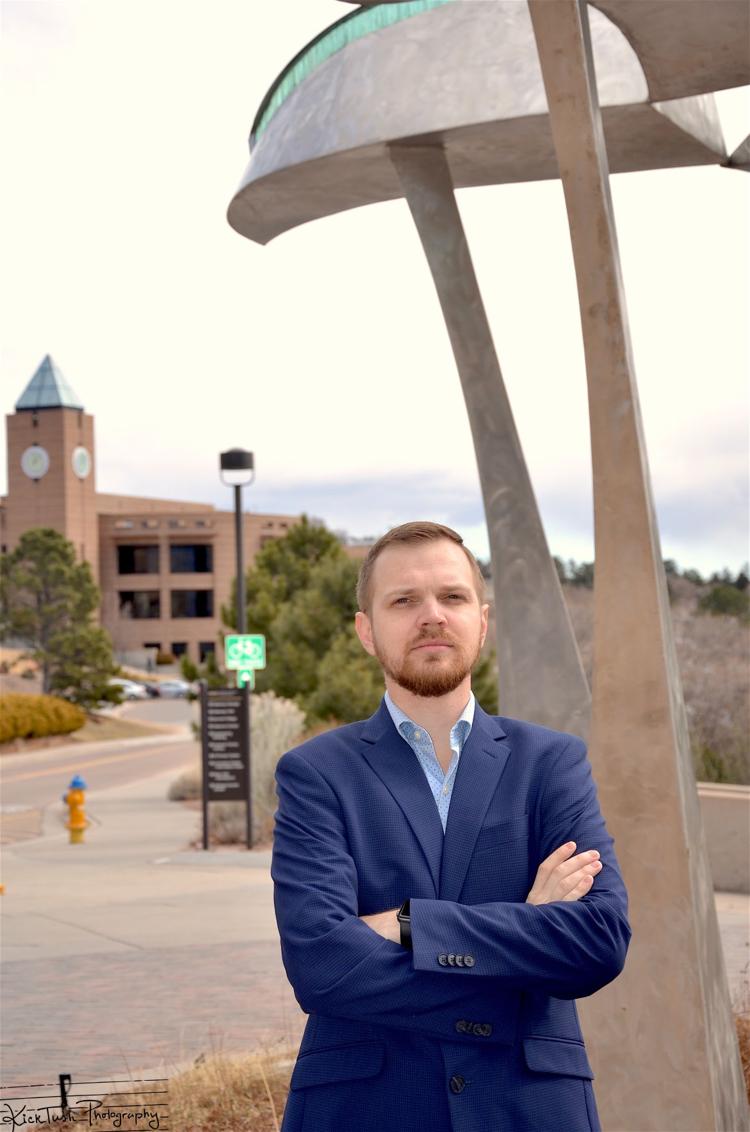 "Our big focus, we're not just worried about the next 10 years," Spiker said. "We're worried about the next 20 or 30 years and how we can set up our next generation better than what we're walking into."
Spiker said he's running a grassroots campaign, largely with the help of fellow students at the University of Colorado at Colorado Springs, where he's studying political science with hopes to attend law school.
The campaign began at UCCS, Spiker said, where he asked a professor how to address decrepit city parks, and she encouraged him to run for the council.
The Florida native said he's been living in the Pikes Peak region since 2013, when he was stationed at Fort Carson. He's lived in Woodland Park, downtown Colorado Springs and now lives on the city's north side. In that time, Spiker said, he's an abundance of partisan politics and rubber- stamping by the council, moving projects forward without all the necessary information.
"There are times you can disagree. Like the City Council and the mayor are going to have two different visions at some point," he said. "And I'm not going to be that person that just stands there and votes with him just because he's the mayor."
One of the first things to consider about serving on the council is the annual salary of $6,250, Spiker said.
"It's full time, but it's part-time pay. That's the fault of the city and previous council members, who haven't explained to people why they need the extra pay. It brings diversity. Minorities are historically left out because they can't afford to get into the race."
Diverse representation is needed not only on the council, but also citywide, he said.
For example, the City for Champions project to build a new visitor center for the Air Force Academy could be completed without annexing land, he said, but instead could wind up being built near Interquest Parkway.
"There's already the Great Wolf Lodge, a beautiful hotel up there, plenty of restaurants. It's a better location, and it's on the transportation route there. We don't need all of the extra development around there. Let's spread it around the city. Let's put it in the southeast (quadrant)."
Similarly, the city's tax incentives used to bring new businesses to town are being misused, Spiker said.
The council recently approved a $16 million incentive to lure Scheels All Sports, but that money could have been divided among hundreds of local businesses, he said.
"Small businesses pay better than most corporations, they treat their employees better and they offer more benefits," he said. "We could have helped more people and saved our small businesses."
These and other changes on the council could boost residents' quality of life, Spiker said.
"The biggest part of our population that's growing is the millennials, and there's nothing wrong with that. But the current residents need to be the focus," he said. "Let's diversify our economy; let's bring different kinds of jobs. I would love to see this city focus heavier on our schools, offer more skills programs. That's what we're going to need."
At-large Councilmen Tom Strand and Bill Murray are seeking re-election in the April 2 municipal election, and other candidates for the three at-large seats are Regina English; Army veteran Tony Gioia, a former El Paso County planning commissioner; former state Rep. Gordon Klingenschmitt; Terry Martinez, former principal at Will Rogers Elementary School; Athena Roe; former at-large Councilman Val Snider, who served from 2011-15; Randy Tuck; and former Secretary of State Wayne Williams.