Two apartments appeared heavily damaged and residents had to be rescued and evacuated, but a worse catastrophe was averted when a fire broke out Friday on the upper floors of an 11-story senior living apartment building in southwest Colorado Springs.
The four-alarm blaze started about 11:30 a.m. on the 10th floor of the Regency Tower Apartments at 921 Green Star Drive, the Fire Department said. Within minutes, smoke was reported on both sides of the high-rise, with a plume rising into the sky from the roof. Firefighters took five people down by ladder and evacuated the rest of the residents on the upper three floors.
Working Fire 921 Green Star Cr. 2nd alarm 10 th floor fire. Multiple rescues in progress. All media stage east of event near 7/11 convenience store. pic.twitter.com/TcGukTx9vB

— CSFD PIO (@CSFDPIO) May 24, 2019
Two people were taken to hospitals for smoke inhalation, and four more were treated on site, city officials said. No firefighters were injured.
The building's 123 residents will have to find somewhere else to stay for at least 24 hours, primarily because of smoke damage and the necessity to turn off utilities, the Fire Department said. The American Red Cross set up a reunification center and evacuation shelter at Cheyenne Mountain High School, 1200 Cresta Road.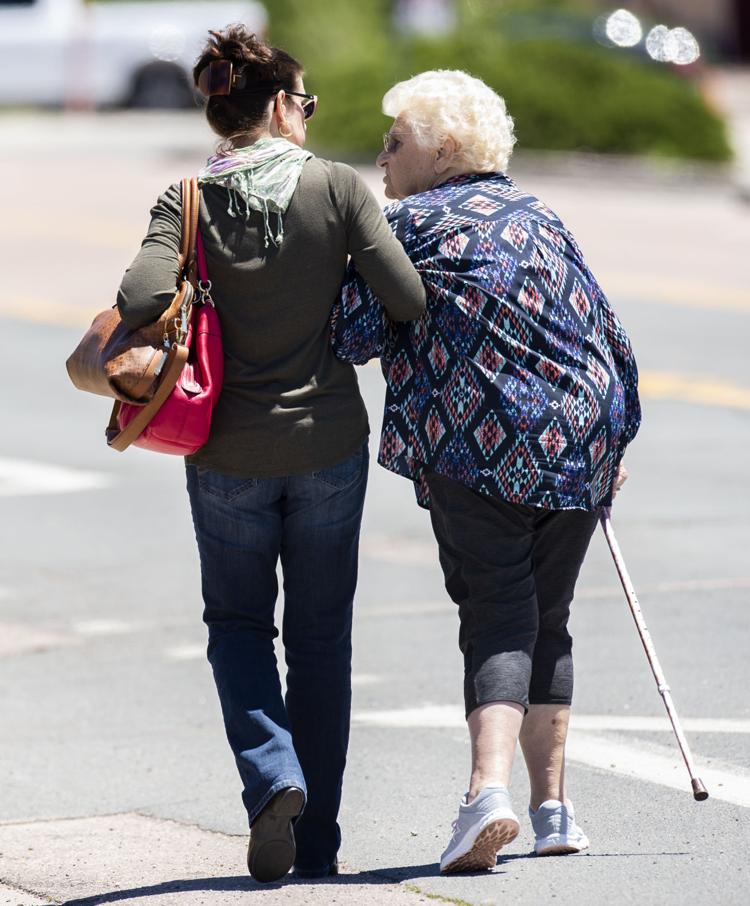 "My whole world is in my apartment," said one resident, who was trying to get into the building when she found out about the fire.
An injured cat was taken out of the building and carried by a paramedic to a veterinary office on nearby 8th Street.
The cause of the fire hasn't been determined, but fourth-floor resident Linda Linden said she was told the fire broke out in apartment 1006.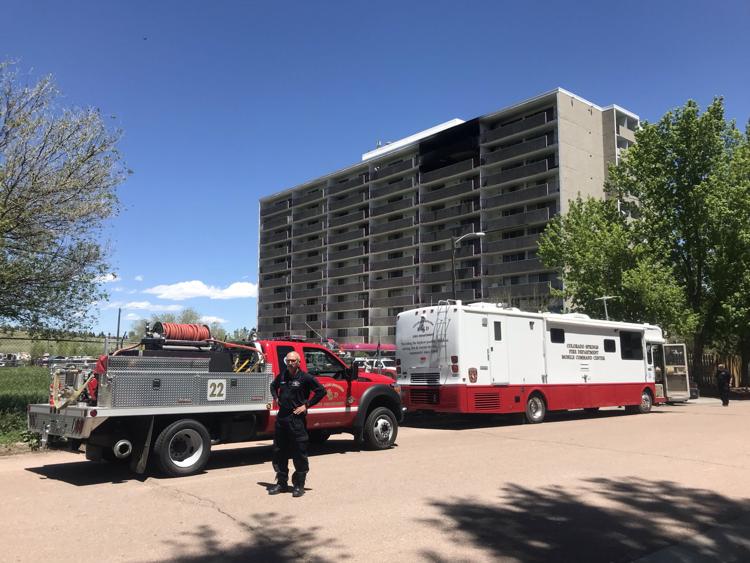 "I heard the alarm," she said. "I told my sister, 'We need to get dressed and get out of here.'"
Linden didn't smell the smoke until she was outside, she said.
Trudy Cristiana, a 10th-floor resident, was out shopping when she received a call from her friend, who told her the building was on fire.
"We raced home," she said.
Cristiana said her apartment might have some smoke damage, but the flames were on the opposite side of the building.
"It's a scary thing, I tell you, because we have so many older people there."
Holly Oliver, who lives at the assisted living facility across the street, said many of the Regency Tower residents are elderly and have health issues.
Before firefighters declared the blaze brought the blaze under control at 12:43 p.m., Oliver said she hadn't heard from a friend who lives in the tower.
"Her name's Crystal, and I'm really worried about her," Oliver said.
With so many seniors living in the building, "that elevates our concerns, even in the dispatch information," said Fire Lt. Don Watkins.
"Everybody coming to this fire knows what kind of building this is, so we're contacting local hospitals, we're trying to arrange for more ambulances.
"Our command presence is trying to think how they're going to be able to keep people in this building and protect them in place, because it's not only labor intensive, it's somewhat dangerous to get everybody out of these buildings."
When the fire broke out, people began calling 911, saying, "I'm trapped on this floor," he said. "Almost automatically, once you know your resources are going to be dedicated to that, you need to get another alarm. We had multiple phone calls coming in, saying, 'I'm trapped in my room,' so we knew we were going to have to get the resources heading this way."
Watkins credited several factors with firefighters' success in extinguishing the flames quickly and getting everyone out of the building safely.
The initial response was aided by Fire Station 13 being less than a mile away at 1475 Cresta Road. Frequent training for high-rise fires also prepared firefighters for getting into the building and up to the floors where the fire was burning.
"I just think training on our high-rises is what allowed us to get up to that floor quickly and suppress the fire," Watkins said.
Regency Towers, which has 124 one- and two-bedroom apartments, was built in 1965, and Watkins said its design prevented the fire from spreading rapidly.
"That's what we would call a precast concrete building, so the big danger is more to the room and contents," he said. "It's not going to do that horizontal lateral spread like a wood frame."
Nevertheless, Watkins said he was relieved that more people weren't injured.
"I don't know how many of you saw this building from a ways away — lots and lots of smoke," he said. "And knowing that (senior) occupancy, the fact that we haven't had any civilian fatalities, no serious civilian injuries, and obviously our firefighters — I worry about our firefighters every time I see them going into these buildings, up on those ladders. That's part of our job, I understand it, but the fact that right now, we didn't have any serious injuries? We had a really good hit on that fire.
"The best thing we can do is prevent them, but that doesn't always happen."
Silver Key, a local nonprofit that serves seniors, put out a call for donations Friday afternoon: "We are calling on our community to help us get the seniors affected by this fire the resources they need in a timely fashion."