Some northeastern Colorado Springs residents say they're baffled by the swastikas and other "white pride" propaganda a vandal spray-painted on a fence near Vista Ridge High School.
Neighbors began seeing hate symbols in green paint Sunday evening, but police didn't receive a report until about 8:15 p.m. Tuesday.
The graffiti was removed by 7 a.m. Wednesday, and police are investigating the incident as criminal mischief. They declined to comment on whether they have suspects and said it's unclear if it will be classified as a hate crime.
The Anti-Defamation League has recorded seven incidents of white supremacist propaganda in El Paso County this year, with flyers and stickers of white supremacist propaganda continuing a trend of hate that goes back years.
In August 2018, neo-Nazi stickers touting a white supremacist group were plastered on light poles along North Academy Boulevard. A year earlier, Temple Beit Torah, a reform synagogue in Colorado Springs, was spray-painted with a swastika and other anti-Semitic messages. Nearby cars, homes and buildings also were vandalized.
Maria Benson, 55, often walks her dog along Black Forest Road near Dublin Boulevard, where the graffiti could be seen clearly by passersby.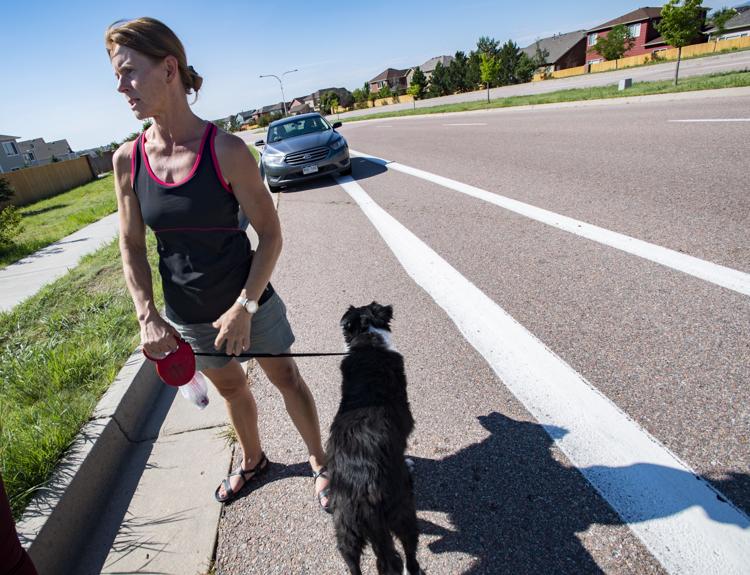 When Benson saw it Sunday, she said, she was confused.
"I don't understand it. What does this mean?" asked Benson, 55, on Wednesday.
Benson said she was raised in then-communist Poland and moved to Germany at age 20 to live with extended family.
She said the vandals likely are "kids with too much time on their hands."
The symbols of hate she witnessed during childhood were typically painted black, not green, she said.
Benson said she fears that the vandals don't understand the full force of Nazi history, in which 6 million Jews were killed during the Holocaust and millions of Gypsies and homosexuals also were murdered.
"They know Hitler, but they don't know the story behind it."
Another neighbor, who asked that her name not be used, said she was frustrated by the vandalism.
"I know it was kids just being disrespectful," she said.
While youthful ignorance may be to blame, she said, the imagery was vile enough to make her avoid Black Forest Road so she and her family didn't have to see the racist graffiti.
The Gazette's Jessica Snouwaert contributed to this story.
636-4809 @leslie_m_james