The newest resident of Cheyenne Mountain Zoo emerged backside first from his crate, on wobbly legs and sporting a baby moose back mohawk, to a chorus of stifled human awwws.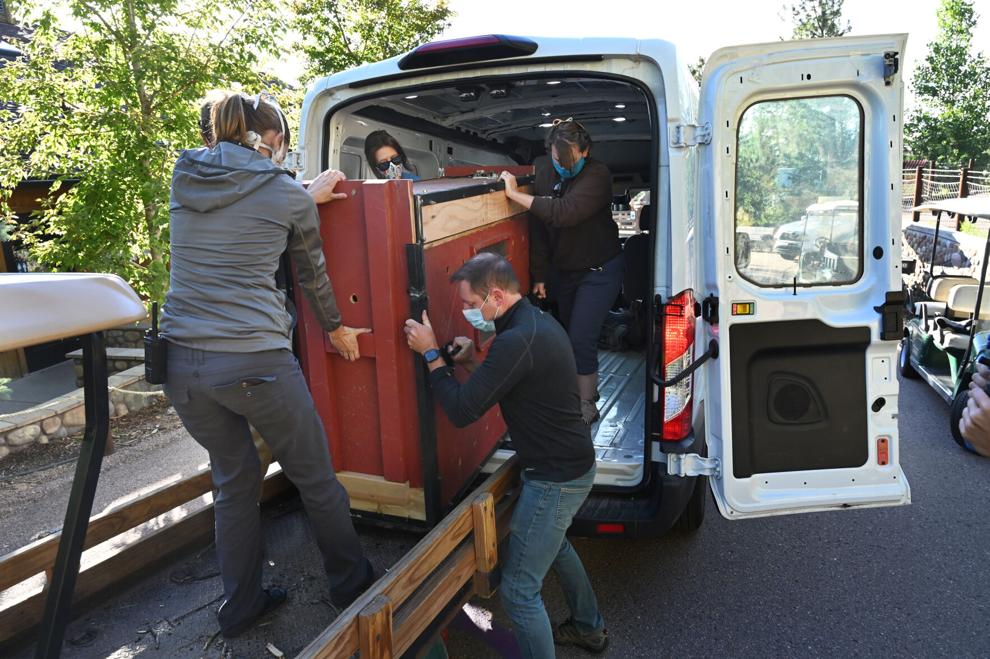 The modest welcome wagon assembled Wednesday for the early morning arrival at the zoo's Rocky Mountain Wild exhibit had been instructed to keep it down. The 8-week-old moose calf, born in the wild and orphaned at six days old, had just traveled more than 3,000 miles, by plane and van, from Anchorage, Alaska.
Give him a few minutes, please, to settle in.
So he did, for several hours, defying keepers' expectations by snubbing the giant baby bottle of milk to gangle-clop around the enclosure — sniffing fragrant corners, the big empty trough, the cowbell hanging by the door, which responded with an unexpected clang that made him jolt back in knock-kneed surprise.
In nature, things with the ability to protest tend to do so before you nuzzle them with your big adorable snout.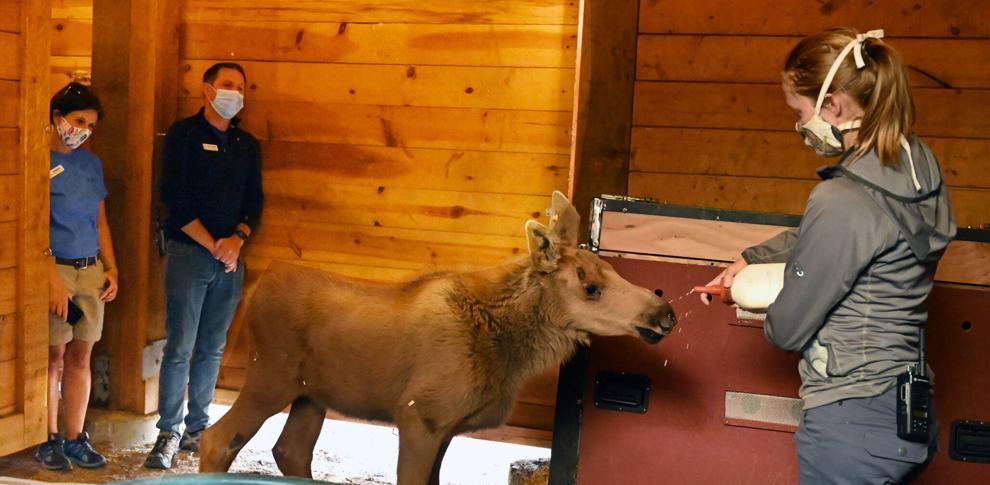 "He's checking the place out," said Rachel Wright, the zoo's public relations and social media manager, here to capture the moment on video. "And I'm sure he's smelling Tahoma."
The enclosure's previous resident, Cheyenne Mountain's beloved Canada moose — the oldest in human care in the U.S., at almost 13 — had to be euthanized in May, during the shutdown, because of worsening chronic health issues.
"Everyone is still really sad about losing Tahoma, who was an amazing animal ambassador and a fan favorite … but it's why we have room for this little guy," Wright said. "Tahoma passed away about eight weeks ago, and this little baby was born about eight weeks ago. Do whatever your heart wants to do with that, but it made me cry."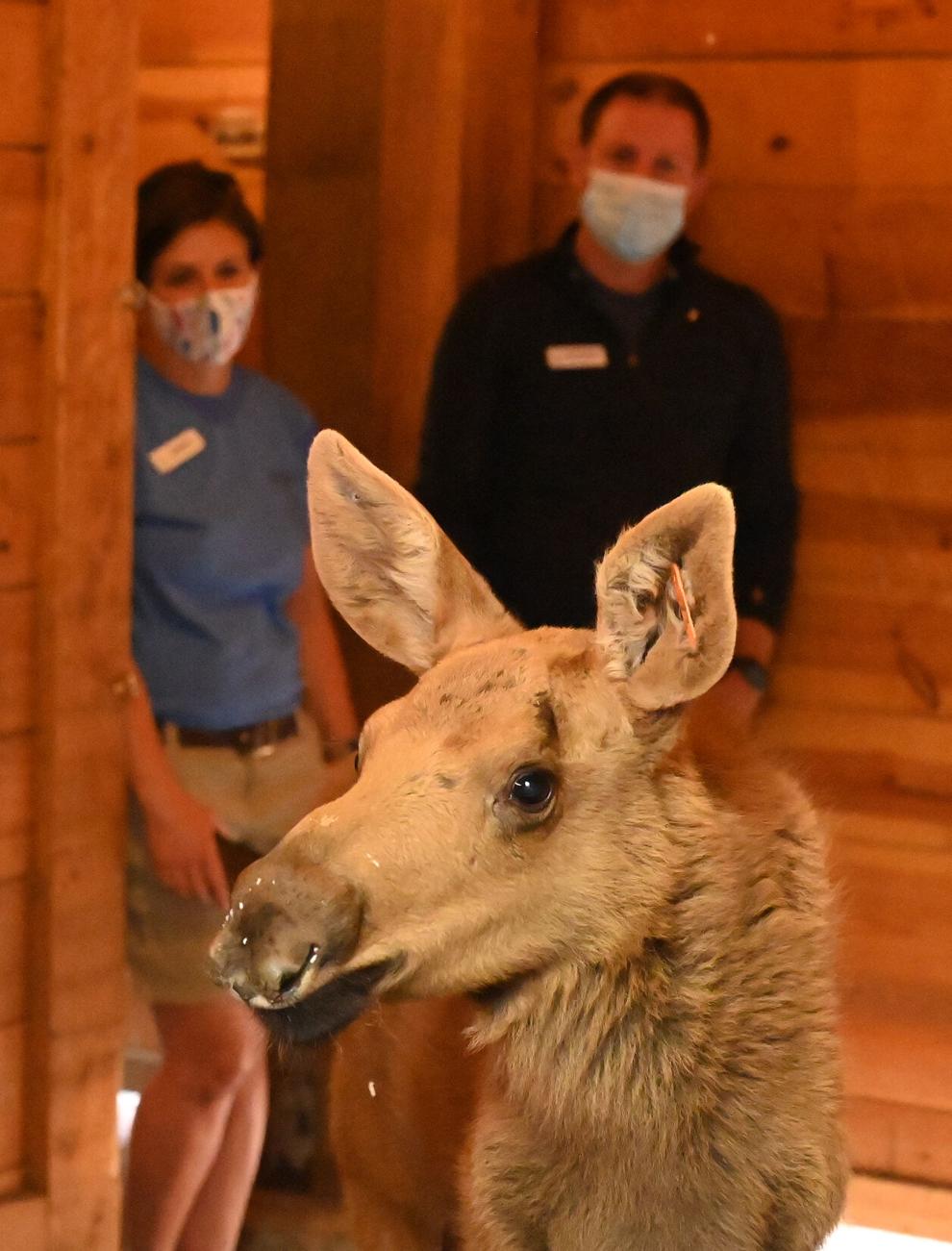 The next part of the story might make you cry, too. But in the annals of human-wildlife conflicts, it's a Cinderella tale.
The incident that brought the moose calf from Alaska to Colorado could have been a tragic accident of an altogether different kind.
In May, a hiker in an Anchorage park rounded a bend in a trail and surprised a moose cow and her newborn calf. The mother moose instinctively acted to protect her offspring; the hiker, who was carrying a firearm, to protect his life.
"Encounters with wildlife are not uncommon here, especially in the urban areas. We have a lot of moose in the state of Alaska, and our population is very outdoorsy," said Rick Green, special assistant to the commissioner of the Alaska Department of Fish and Game.
Alces alces gigas, the Alaska Yukon, or Canada, moose is up to a third larger than the subspecies found in Colorado, and adult males can weigh a ton. There are about 250,000 spread across a state the size of Texas and Oklahoma combined, and the 300,000 residents of Alaska's largest city, Anchorage, share a municipality with as many as 1,500 in the winter.
"I used to run quite a bit. As I'm running down the street, someone will usually stop and say, you got a moose half a block ahead of you, be aware. They're massive animals, but what the moose is doing is sitting in a yard, chewing on a tree," Green said. "Moose in general are pretty docile, until you hit their trigger. I would rather run into a grizzly bear in the wild than a moose, if they're being aggressive."
When Alaska Fish & Game is alerted to the death of a moose, or any wild animal, believed to have been nursing, investigators in the field search for missing young, which usually aren't hard to find, said Green. For the first few months of its life, a baby moose lacks an enzyme that allows it to digest food, so relies on its mother's milk. Even in the absence of other threats, it can't survive without her.
If biologists have reason to believe the mother moose may return, they allow a few days for a reunion. If that doesn't happen, sometimes another cow will accept the calf in a kind of wildlife foster scenario.
"Our policy is to have moose calves raised by moose mamas. That's what we try to do," Green said.
It's policy, if not ethical mandate, in most states — including Colorado. Orphaned, but otherwise healthy animals here, such as the bear cubs rescued last week after their mother acted aggressively toward several people in Manitou Springs and was euthanized, are sent to a rehabilitation facility, with hopes they can be released back into the wild someday.
"There are some circumstances in Colorado where animals are transferred to captivity … but they are fairly uncommon," said Colorado Parks and Wildlife's area wildlife manager for Colorado Springs, Frank McGee.
In Alaska, that is an option, and it often has a waiting list.
Moose are solitary in the wild, and at Cheyenne Mountain Zoo. About 18 months ago, the Springs zoo began talking with Alaska Fish and Game about finding a successor for Tahoma, its sole, aging Canada moose ambassador.
Green said his department gets and fulfills such requests for wild animals through the year, mostly for moose and bears, and works with the Alaska Zoo to re-home orphaned wildlife.
That's what happened with the healthy moose calf collected in May, after a hiker dispatched its mother.
The Alaska Zoo in Anchorage is a fairly small facility, with about 100 animals on 25 acres, but if you're a U.S. or Canadian zoo in need of a baby moose or grizzly bear, this is where you turn.
"I want to say last summer, we transported up to three moose, and the summer before that was four or five. We've had summers before where it was six … and last spring, we actually had the availability and the space to keep one of the orphaned moose that came to us," said Jill Myer, the Alaska Zoo's development director.
But there also are summers when a lack of space means the zoo is not able to care for orphans, or coordinate transport to other facilities, and animals must be humanely put down. Second chances are a matter of available resources.
This year, the zoo had space, an orphaned moose and a Colorado zoo in need.
"Cheyenne Mountain had room for a moose. We had a baby moose. We can make this work," Myer said.
Judging by his size and weight, the moose calf was about a week old when he came to Alaska Zoo in late May. Keepers hand fed him leaves and milk from a bottle, on round-the-clock shifts, up to the moment he entered his crate Tuesday and began the journey to Cheyenne Mountain, under the care of two Colorado Springs zoo employees.
That farewell, said Myer, was a bittersweet mission accomplished. It always is.
"Our keepers, I don't know how they do it, again and again and again. I know they fall head over heels for every baby animal … but it's really one of the cornerstones of what we do. We take so much pride in the bears and the moose that we can rescue and can provide to other zoos for homes, " Myer said. "A moose, they connect with humans. You can see the recognition. When people go to a zoo and see that and can make that connection with these animals, they have a whole new level of empathy for animals and now their habitat, and now a whole new reason to want to save that habitat and vote for policies and raise money to save the environment.
"That's why zoos exist, so we can learn from these animals."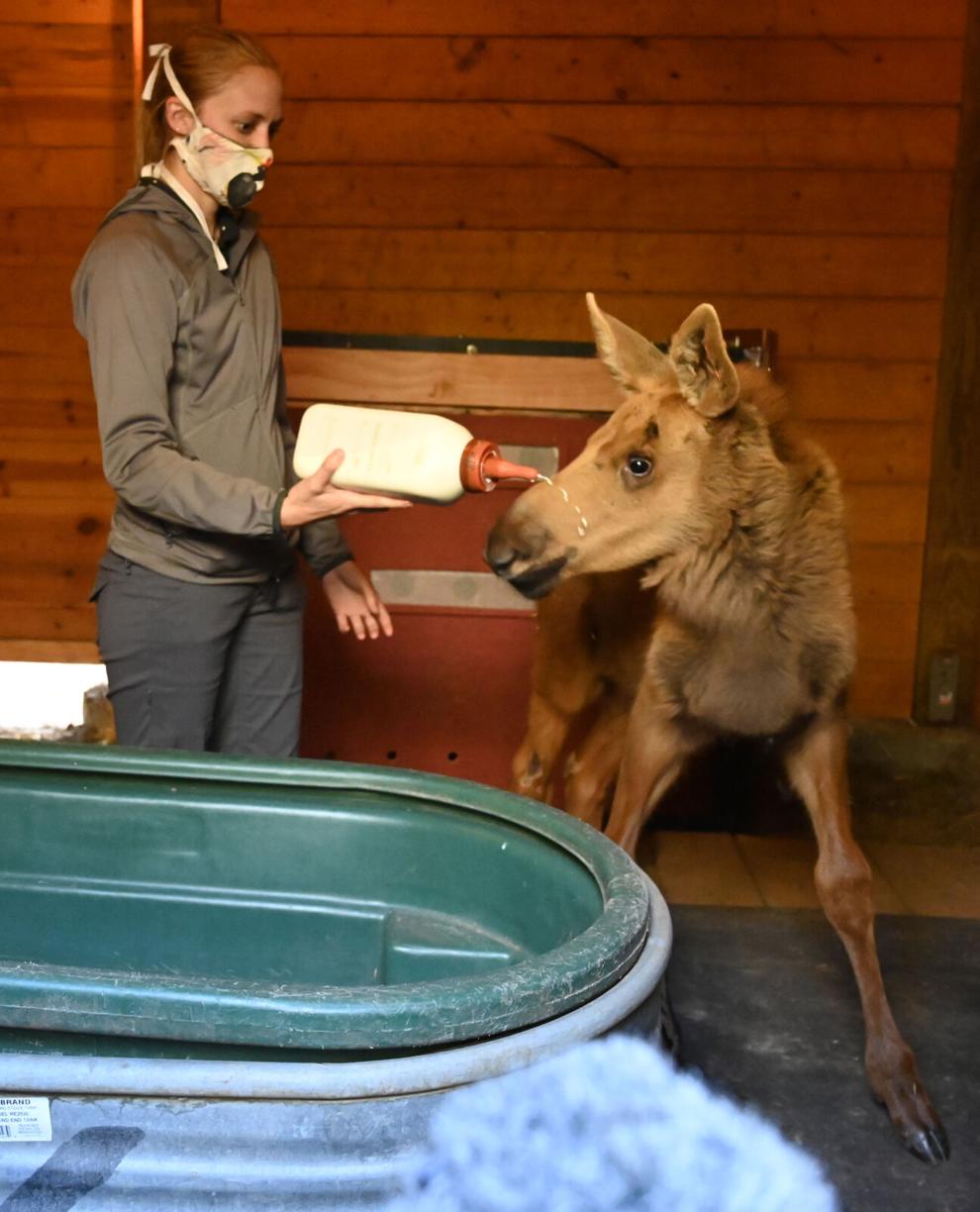 Just 3% of the animals at Cheyenne Mountain Zoo were born wild, and almost all of them can be found in Rocky Mountain Wild, an exhibit devoted to native and primarily nonendangered species — including the grizzly bears, who came from a sanctuary in Montana, where they landed after being labeled "nuisance" bears, and the mountain lions, who arrived as orphaned kittens from Washington.
After two FedEx cargo flights, a stop in Indianapolis, and a convoy down from the Denver airport, the Canada moose calf joined the neighborhood, moving into an enclosure baby-proofed with horse panels to keep him from areas he's not yet nimble or mature enough to negotiate.
Animal care manager Rebecca Zwicker said she opted not to wear mascara to work that day. She knew she'd be crying.
Zwicker worked with Tahoma for 10 years, and said the gentle bull moose gifted her — and the industry — with a wealth of information about moose, and moose care, in captivity.
She's confident his successor, in species and spirit, will do the same.
"It's been kind of like a missing piece having this exhibit empty," said Zwicker, her eyes misting up. "And today we finally filled that space."