Portions of Gold Hill Mesa sank more than 3 inches over a six-year period, state geologists reported to Colorado Springs planners this April.
That land movement, tracked by stacking more than 150 satellite images captured during that time, is enough to crack homes and buildings atop the century-old mine tailings pile, wrote Jonathan Lovekin, a senior engineering geologist at the Colorado Geological Survey in a report to city staff.
Lovekin filed his report at the request of city planners who asked that he examine a planned expansion of 32 homes at Gold Hill Mesa. The report was reviewed and approved by the survey's director, Karen Berry, and sent on her letterhead.
Citing evidence of significant sinking — or subsidence — of the land under homes elsewhere at Gold Hill Mesa and the lack of sufficient data characterizing land under the planned expansion (dubbed Filing 11), "CGS cannot recommend approval of Filing No. 11 until" further testing is completed to resolve unanswered questions, Lovekin wrote.
An exploratory study submitted by the developer is incomplete, and neither the developer nor city planners fully understand soils throughout the site, Lovekin wrote. In addition, a nearby development long held as a beacon of stability is no longer an acceptable model for what might happen at Gold Hill Mesa, he said.
Reports of sinking, heaving and flooding are scattered throughout the development of about 200 acres south of U.S. 24 and east of 21st Street, according to accounts from some residents, public documents, claims made in three lawsuits by residents, and inspection reports.
Representatives of the developer, Gold Hill Mesa, and others flatly deny that there has been an inordinate amount of sinking or subsidence of land there, and they attribute any reported cracking and damage to homes to construction defects.
Bill Hoffmann, the senior principal engineer for CTL Thompson, an engineering firm hired by the developer, said the land at Gold Hill Mesa is stable and safe. The site has been tested multiple times by "a number of skilled and qualified geotechnical firms," including CTL Thompson, since 2004, he wrote in an email to The Gazette.
"Conditions found were considered to be suitable for a residential development," he wrote.
Despite pushback from Hoffmann and Gold Hill Mesa, state geologists are holding firm. Lovekin reiterated his call for additional testing in August and rebutted Hoffmann's response to the survey's first report in April. City planners are now awaiting another response from Hoffmann.
But one veteran home inspector with experience in the neighborhood, Walter Clemens, says much of the reported damage is symptomatic of sinking and heaving soils. In two homes there, Clemens said he found cracked and sinking concrete and evidence of land movement.
In light of the impasse between state geologists and the developer, Colorado Springs planners and engineers have, for now, prevented work from beginning on the newest phase (Filing 11) of the development. Construction continues for the already approved phases.
Lovekin has said state geologists didn't voice their concerns on those past phases because city planners didn't ask for their input. A city ordinance enacted in 2017 requires city planners and engineers to consult with the Geological Survey before approving development, and that is why Filing 11 has been reviewed by CGS.
The delay endangers the successful redevelopment of the site, wrote Stephanie Edwards, executive vice president of the developer, to city planners.
Nearly 500 homes sit atop the site, and Lovekin acknowledged in another report that the development is largely built out. But still he wrote, "We contend that this is not a reason to expose additional homes and the public to largely unknown risks from ground subsidence."
Without new tests to ensure the land is safe and stable, Lovekin said, he can't condone more construction, especially considering the sinking elsewhere in the Gold Mesa neighborhood tracked by satellite images.
The new proposed expansion should be tested for settlement risks, he said. And the entire site should be tested for its potential for liquefaction, destabilization that could be set off by seismic activity from nearby faults.
Independent geological experts from the Colorado School of Mines, the University of Northern Colorado and the New Mexico Bureau of Geology and Mineral Resources that the Gazette asked to review the CGS report stand behind Lovekin's recommendations and push them a step further. The recorded sinking should prompt more settlement tests throughout the developed portions of Gold Hill Mesa, they say.
Reports of damage might be sporadic now, but more problems might show up in the future, those experts say.
Satellite analysis
Already, at least three lawsuits alleging structural problems at the site have been settled out of court.
To investigate the concerns at Gold Hill Mesa, Lovekin said the Colorado Geological Survey commissioned an independent analysis of satellite images to determine whether the land was moving and, if so, by how much.
The satellite study was performed by experts at the University of Rome in Italy, which offered the potentially expensive analysis for free, Lovekin said. It stacked 162 images of Gold Hill Mesa captured by satellite cameras between June 2011 and October 2017, tracking the movement of buildings and infrastructure.
They found that portions of the site sank more than 3 inches, Lovekin wrote.
"Three-inches of movement can result in cracking of walls, floors, and hard finishes such as tile or rock," Lovekin wrote. "Doors and windows can stop operating properly and floors can become uneven."
The satellites were unable to track movement in plots without surfaces like buildings or infrastructure on which they could focus, Lovekin wrote, which is why settlement wasn't measured in Filing 11. But developed portions of Gold Hill Mesa showed a trend of subsidence.
That area with the most subsidence matches the "deep, largely uncharacterized mill-tailing slime pit," which was the focus of one lawsuit, Lovekin wrote.
"Differential ground movement in Gold Hill is clearly indicated," he wrote.
Hoffmann, the developer's engineer, took issue with those findings, saying they're based on an emerging and unreliable technology.
"The data does not consider site grading, landscaping or other manmade activities," Hoffmann wrote. "It is important to note the areas measured were in an area of newly constructed homes and landscaping activities were likely ongoing affecting the measurements."
Lovekin shot back that Colorado Springs relied on such satellite technology to map and track separate, slow-moving landslides on the city's west side, which began damaging homes in 2015.
In addition, the technology is used by the Colorado Department of Transportation and other organizations throughout the United States and Europe, he said.
But Hoffmann still argued that the data falls short.
"I have not seen evidence of excessive settlement of structures, roadway improvements or utilities, or been advised by city officials that excessive settlement has occurred at Gold Hill Mesa," he later wrote to The Gazette.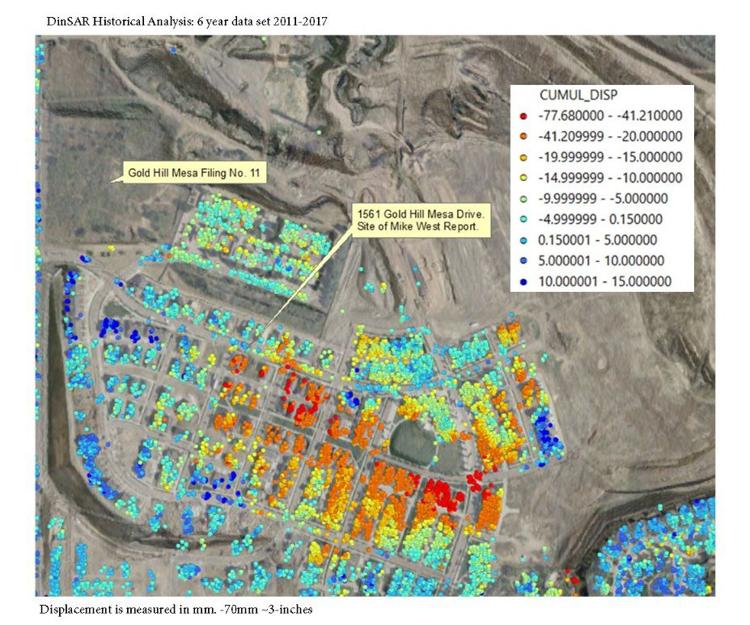 Conventional "on-the-ground surveys conducted at the site" suggest a normal amount of land movement for a residential development, Hoffmann said.
The survey data, provided to The Gazette by Gold Hill Mesa, tracked movement at different points in the development. Although he cited the data, Hoffmann did not reply when asked whether the ground surveys disproved the satellite analysis. Nor did he reply when asked whether the conventional data points are representative of the entire development.
Instead, Hoffmann directed additional questions about the ground survey to the Woodland Park company behind the work, Rampart Surveys, representatives of which did not respond to a request for comment.
Lovekin encouraged city staff to compare the two data sets.
Questions remain about the satellite analysis, said Wendy Zhou, dean of graduate studies and professor of geology and geological engineering at the Colorado School of Mines. Extraneous details such as grass or snow could have affected the results, she said.
But, Zhou said, the Italian experts behind that analysis could have already accounted for those details.
Indeed, those experts do try to account for such details, Lovekin said. In addition, outliers in the data are generally quite visible and can be discounted.
"Grass and snow and landscaping could impact results, but these guys are looking at the corners of rooftops and other hard targets," Lovekin told The Gazette. "If a building's being built, it'd show really aggressive movement and it's off the charts, it's an anomaly."
What's left, Lovekin said, is a pattern of subsidence that appears to coincide with the mill tailings pile under the development."
Gold Hill Mesa sits on the former site of the Golden Cycle Mill, which refined ores mined in Cripple Creek from the early 1900s to 1949. Portions of the development sit atop an old decant pond full of tailings leftover from that refining process. That old pond reaches 130 feet deep in places, many estimate. Instability has been a chief concern for the site since its inception. Mine tailings are notorious for their instability and settlement potential.
At least 35 images are needed for such a study, said Zhou, who was the keynote speaker at the 4th International Conference on GIS and Remote Sensing last year in Berlin. The study of Gold Hill Mesa used more than four times that number.
"I trust CGS," Zhou said. "They're very thorough."
The findings should be enough to launch a review of the development, Zhou said. Tracking pre-existing damage could be difficult, but the data still indicate a "defamation" or "landslide movement," she said. And it raises concerns for the future of homes there.
"If I were CGS or any party involved, I would strongly recommend to verify (the study) by a totally different method… and also even go through the houses to see if there are observations of subsidence," Zhou said. "I always believe you have to prove with multiple methods."
Three inches of settlement is substantial, said William Hoyt, a certified professional geologist and recently retired professor of geography and oceanography at the University of Northern Colorado. And that much movement in six years is quite fast, he said.
Risk for damage is most pronounced in areas where the ground is heaving or sinking at uneven rates, Hoyt said. This is called differential settlement — "That is those zones where you've got 3 inches down and maybe an inch up" he said.
Those descriptions and others, "show all the telltale signs of foundation problems and differential settlement," Hoyt said.
Homes near areas with detected sinking and heaving should be examined first, Zhou said.
Indeed, other areas in Colorado Springs have land movement, Lovekin told The Gazette.
About the same time that damage was reported in Gold Hill Mesa homes, slow-moving landslides fractured dozens of other homes on the city's west side.
But outside those two areas, movement elsewhere in town would be relatively minor, Lovekin said.
"If we did a satellite study of the entire city of Colorado Springs, I'm not sure what it would look like because we've got mining subsidence and poor fill, but that's nothing like the bull's-eye at Gold Hill Mesa or in the landslide areas," he said.
Recorded damage
Peering through bifocals, Walter Clemens thumbs through an inspection report he penned three years ago for a home on Eclipse Drive, in Gold Hill Mesa.
That report, obtained by The Gazette, contains an itemized list of nearly 50 problems that Clemens, lead inspector for Encompass Home Warranty Inspections, discovered in the home. They include sinking concrete pads, cracked pillars, door and window problems and water damage.
Clemens' inspection was not related to lawsuits filed by residents at Gold Hill Mesa.
Clemens said he has inspected thousands of homes in El Paso, Douglas, Jefferson and Arapahoe counties as well as in California and Kansas. He said he has also worked as a code enforcement officer in Kansas and inspected properties for the U.S. Department of Housing and Urban Development and the Federal Emergency Management Agency.
Not only was the damage substantial in that Eclipse Drive home, but also areas showed evidence of previous repairs, indicating the builder was aware of several problems, Clemens said.
"Something's shifting here," he said. "Everything points to one thing: shifting, cracking. I mean everything. The windows, the doors… even the porches, the concrete. It's a big problem."
In his home inspection report, Clemens warned that the sinking areas should be monitored.
"I'm trying to tell the homeowner that it's going to move more," he said. "This sucker was moving."
Clemens said he found no foundation problems at another house on Eclipse Drive but noticed movement in the yard. A fence gate didn't open properly, he said.
"This shows shifting of the fencing" he said. "When they installed it, the gate worked. It opened and closed. So the ground now settled or heaved."
Evidence of builder errors — unrelated to ground movement — was also found in each inspection, Clemens said. Several obvious problems were apparently missed by regional building inspectors, he said.
Reports of failed perimeter drains throughout the development could also indicate ground movement, Clemens said. Often such movement can break or disconnect piping.
"(Developers and builders) have got to know that the PVC piping around there is moving or breaking," he said. "And it's backing up the water. And then if you get more runoff from other areas, that causes a lot of blockages."
An Old Colorado City engineering firm that also inspected the first home on Eclipse Drive declined to comment. A representative said, "That would be like a doctor going against the hospital."
But Clemens rejected that analogy.
"I work for the homeowner," he said.
Hoffmann wrote in an email that home inspectors are unqualified to assess structural damage unless they are also registered professional engineers with structural backgrounds. All buildings and foundations move, he wrote.
"I am unaware of any verifiable, structural damage to any existing home at Gold Hill Mesa or any other reports that assert that claim," he wrote.
When asked about reports of sinking concrete, cracked pillars, porches and foundations and water damage, Hoffmann replied: "Cosmetic damage (drywall cracking) can occur due to a number of factors unrelated to excessive foundation movement."
"Architectural and framing details can contribute to cosmetic cracking," Hoffmann continued. "Cosmetic cracking does not imply structural damage."
The bellwether
Peace of mind at Gold Hill Mesa lies in considering the experience of the Villa de Mesa development, just a stone's throw away, Hoffmann has repeatedly said, in person and in his reports.
The homes at Villa de Mesa have stood strong for decades and indicate that no problems should be expected at Gold Hill Mesa, Hoffman said.
But nothing indicates that Villa de Mesa sits atop the same type of materials as Gold Hill Mesa, Lovekin told The Gazette.
"What (past engineers) did was: they drilled to bedrock, they burned holes" in Villa de Mesa, Lovekin said. "They didn't sample, they didn't test, they didn't do blow counts. There's no way to know what type of material that is."
It's unclear why Villa de Mesa hasn't settled and portions of Gold Hill Mesa have, Lovekin wrote to city planners.
"We no longer accept (Villa de Mesa) as a valid substitution for sampling, testing for settlement or collapse, calculating estimates of long-term settlement, or as a reason to approve development where such an investigation and evaluation has not taken place," he wrote.
When asked by The Gazette, Hoffmann did not respond to Lovekin's statement about Villa de Mesa.
Geologists call for more testing
Sinking and heaving in Gold Hill Mesa is likely to continue, said Hoyt, the certified professional geologist, after he reviewed Lovekin's report on the satellite analysis.
"For how long, that's another geological engineering question," he said. "We have to know a lot more than we currently know to get that level of confidence."
That's true, said Virginia McLemore, principal senior economic geologist at the New Mexico Bureau of Geology and Mineral Resources, who was also asked by the Gazette to review the state geologists' report. She called for more testing for settlement or liquefaction potential throughout the site after also reviewing Lovekin's report.
Water shifting in the soil at Gold Hill Mesa likely is causing the sinking and heaving, she hypothesized.
The tailings pile under the development is estimated to be 130 feet deep in places.
"I suspect the solutions are that you've got to control water getting in," McLemore said. "You don't want any more water getting into that pile, and you don't want any water getting out of it."
Weather also comes into play, however, Hoyt said.
"We're always going through these cycles of wet and dry. We're in a wet period now, and that would make me even more nervous to (continue construction) without additional borings to show what's going on down there," he said."
But the developer and many Gold Hill Mesa residents push back strongly against the notion that sinking has occurred in the area.
"Common sense suggests that if there were issues with the community itself, one would expect challenges with homes to become apparent over entire areas, such that neighboring homes would exhibit similar symptoms," Stephanie Edwards, executive vice president of the corporation, wrote to residents in response to coverage by The Gazette.
"In this case, however, a handful of distinct homes, separated geographically out of a community of more nearly 500 homes, with occurrences spanning over a decade, confirms that these were isolated cases of construction challenges — and not any inherent issues with the land itself," she wrote.
---
Editor's note: On Aug. 29, Gold Hill Mesa released this statement to its residents in response to Gazette reporting on the development. 
---
Senior Principal Engineer Hoffman's response to CGS' satellite data echoed that sentiment: "If that degree of movement was occurring over the wide area depicted in the figure in the CGS letter, we would expect numerous litigation proceedings in progress that the geotechnical community within Colorado Springs would be well aware. No such information is known," he wrote.
Pushback from area residents is natural and understandable, agreed Zhou, Hoyt and McLemore.
"Most people don't want to know what's going on… they don't want to know because it's going to impact the value of the houses," Zhou said.
But the information is essential, McLemore said, so residents can mitigate risks if a larger problem is found and homebuilders can move forward safely.
"There may be things that homeowners can do," she said. "Simple things that are inconvenient but alleviate the situation so you can continue living there."
But without sufficient testing, it's unclear what settlement and liquefaction potential exists and whether those extra steps are needed," McLemore said.
Seismic activity has been recorded relatively recently in and around Colorado Springs. And Lovekin said understanding the liquefaction risk is pertinent for current and future residents.
"A liquefaction study for the entire Gold Hill Mesa is essential because if any portion of it should liquefy, it could impact (the plot in question)," he told The Gazette.
Hoffmann said his firm is drilling and testing more at the plot in question (Filing 11), though the results are not yet available.
"When that work is completed and a formal report prepared, it will be submitted to City Planning for their use in the administrative approval process," he wrote.
But past tests conducted "by a number of skilled and qualified geotechnical firms" which include CTL Thompson, indicate conditions at the site were "suitable for a residential development," Hoffmann wrote.
City Councilman Bill Murray expressed concern that the developer's engineer, rather than an independently contracted firm, was conducting those additional tests. He and other council members have called for the entire site to be tested, but that decision rests with city planners and engineers.
Representatives of the Colorado Geological Survey and Gold Hill Mesa remain in discussions about an appropriate approach to more testing at the site, city spokeswoman Jamie Fabos said.
"We expect further input from both entities," Fabos said by email. "At that time, it's possible that CTL will have met CGS's (sic) recommendations, or that CGS will file additional recommendations that the city will weigh in the interest of public safety."
Email: conrad.swanson@gazette.com Twitter: @conrad_swanson