SPRINGFIELD, Ill. • On a Thursday afternoon in a grim and bloody American April, Noyes W. Miner consoled his friend and former neighbor, Abraham Lincoln.
Miner, a Baptist minister, traveled to Washington, D.C., in 1862 to counsel Lincoln after the February death of 10-year-old Willie Lincoln, lost to typhoid. Miner arrived a few days after the Battle of Shiloh, where 65,085 Union soldiers battled 44,968 Confederate rebels near the Tennessee River. At least 3,482 were killed with 16,420 wounded.
Miner listened as Lincoln poured out his agony. The president had lost his son while leading a war that left tens of thousands of American sons shot to death on battlefields.
"I am sometimes astonished at the part I am acting in this terrible drama," Lincoln said as the men rode in a coach behind a horse. "I can hardly believe I am the same man I was a few months ago when I was living in my humble way with you in Springfield. I often ask myself the question, 'When shall I awake and find it all a dream?'"
Lincoln told Miner he yearned to return to Springfield, where he lived in peace on South Eighth Street.
And he did return three years later.
In an elaborate casket.
Lincoln was, and is, a puzzle. So much of his heart remained a mystery. Miner wondered, along with much of Lincoln's circle, if the president believed in Jesus Christ. "If Mr. Lincoln was not a Christian he was acting like one," Miner wrote.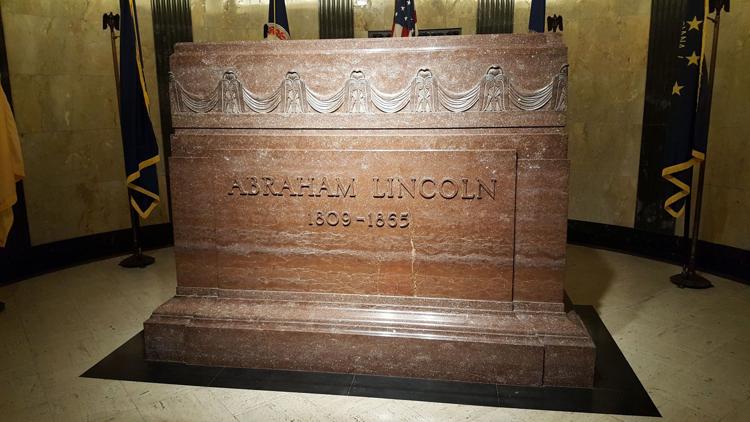 Part of the puzzle was this contradiction: Lincoln was a man of stony conviction, but he was ever-evolving. He became more idealistic and bold in his years in the White House, more aware of America's contradictions. He at first was hesitant to lead the charge to end slavery but grew into a courageous leader of the cause. Lincoln slowly grew to embrace Thomas Jefferson's proclamation that "all men are created equal."
He refused to get stuck in one place. He changed his heart in ways it needed to be changed, and he wouldn't budge when he shouldn't budge. We need his intelligent fluidity today.
No one will accuse Springfield of underplaying its Lincoln connection. A strange 31-foot, 37,000-pound statue of Lincoln, shown discussing the Gettysburg Address with a man in an ugly white sweater, dominates downtown. Banners with Lincoln quotes decorate street corners. The statehouse library where he composed his magnificent "House Divided" speech still beckons visitors.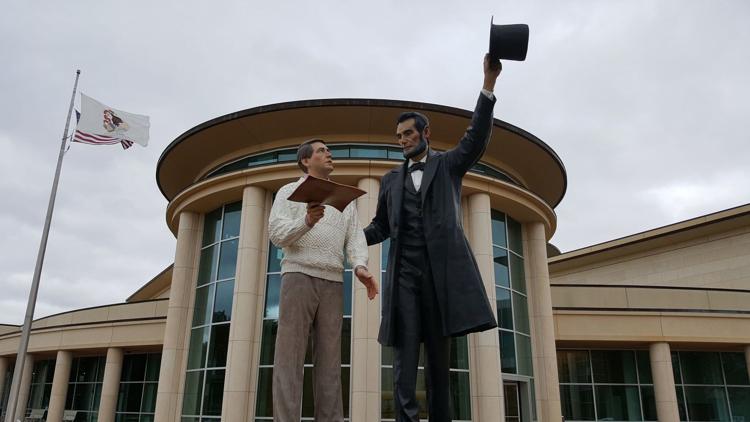 A visit to Springfield in 2019 is a depressing and uplifting return to yesterday.
A return to the years, from 1837 to 1860, when Lincoln walked its streets as a lawyer when only his wife, the complicated and brilliant Mary, believed he could become president.
A return to the outpouring of joy by throngs in the city square April 9, 1865, when Confederate Gen. Robert E. Lee surrendered to U.S. Grant, ending a Civil War that killed 620,000 Americans.
A return to the stunned and lingering agony by the same throngs in the same square April 14, 1865, after Confederate fanatic John Wilkes Booth shot Lincoln point-blank in the head as the president sat next to Mary at a Washington, D.C., play.
Seventeen days after his death, Lincoln's corpse returned by train to his favorite city. He eventually was buried in a massive tomb two miles from downtown.
Standing in that tomb means diving into the family's immense pain. There's Abraham's tombstone with Willie and Tad, who died at 3 months, resting a few feet away. Mary is buried there, too. Her final years were spent in confused agony, never recovering from the night she watched her husband die.
In the Lincoln Museum, not far from the towering Lincoln statue, there's a panoramic recreated scene from the Ford Theater tragedy. Wax figures of Abraham and Mary watch "An American Cousin." Mary later said it had been the happiest day of Abraham's life. He was so relieved the war had ended and so hopeful for his country's future. He talked of visiting Jerusalem after he left the White House.
In the corner of the scene, the sinister-looking wax figure of Booth opens the door to the box. In an instant, Lincoln will become yet another casualty of the Civil War.
At the end of his life, Lincoln understood America's promise of equality for all. This promise was unsettling and radical in 1865. It remains radical and unsettling today. Booth was stuck in the past. He had written five years earlier that Southern slave owners had a right to keep their property. Slavery, he believed, provided "happiness" to the enslaved.
Booth slaughtered America's best hope for the future and sent Andrew Johnson, the vice president who doubled as a racist, to the White House. The nation descended into sadness and chaos from this attack on its highest ideals.
It's 154 years later. Have we ever truly recovered?