CALHAN • Distance and transportation issues make internships difficult for students in Calhan School District RJ-1, so Superintendent David Slothower came up with another idea. Instead of trying to place kids in businesses, how about starting a business for students to run?
EduCar, an independent used-car dealership, opened in the former district administration building in January. Students have helped sell 120 cars to date.
"We're busier than we ever thought we'd be," said Mike Thurman, EduCar partnership director and business teacher.
Call it "teaching way outside the box," he said this week to 30 state lawmakers and business leaders from around the state, who toured the new Entrepreneur Education center.
The car sales program is housed in the district's alternative high school for students who have been expelled, been in trouble for truancy or are at-risk for either.
"This is something that's unique coming out of El Paso County, out of Calhan, for kids that otherwise may have fallen through the cracks, and it's working," said state Rep. Tim Geitner, a Republican who represents northern and eastern El Paso County, including Calhan. "I've been blown away."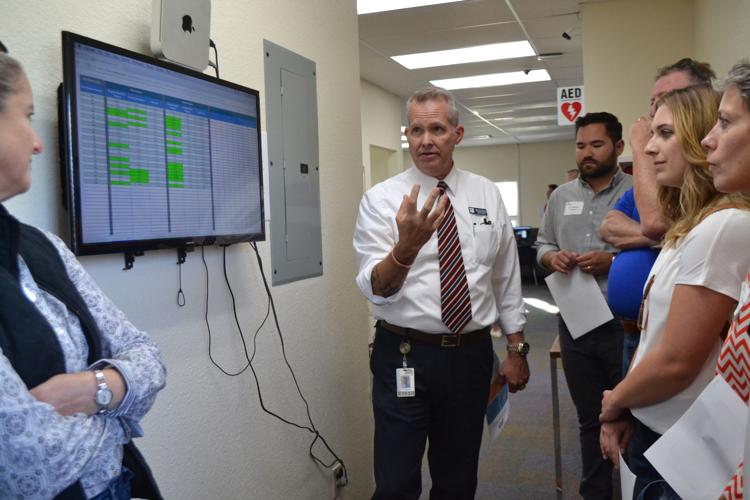 Twenty-seven students are enrolled this semester in the Eastern Plains Career Accelerator, Calhan's alternative high school, which grew out of a $239,000 Expelled and At-Risk Student Services grant overseen by the Colorado Department of Education.
At the beginning of the third year of the four-year grant, 100 kids have been in the alternative education program, which draws from Calhan and five nearby school districts: Peyton 23-JT, Miami-Yoder JT-60, Ellicott D-22, Big Sandy 100-J and Elbert D-200.
As part of this school year's curriculum, students work for academic credit in the new auto-sales enterprise, either in sales and marketing, accounting and bookkeeping or mechanics and detailing.
The jobs match students' skills and interests.
Senior Theo Brooks, whose self-given title is Head Honcho of Mechanics, has been interested in cars since he was a young boy watching his dad work on his trucks.
Now Theo and his peers fix vehicles that the procurement team gets from independent sellers and public car auctions.
Students do minor repairs to the cars, such as replacing starters, ignitions and door panels, to prepare them for the sales lot. Major work gets contracted out to a local repair shop.
Twenty-four cars shine in the dirt lot in front of the school, with a few others being prepped in a garage behind the school.
Junior Aiden Love, "Greek god of detailing" per his business card, said he enjoys spiffing up the vehicles so they look new.
"It's easy and quick and pays off when you get to see a car clean," he said.
EDUCar has attracted buyers from around the Pikes Peak region, who have embraced and supported the new way to teach high school students about the workplace.
"This is the most hands-on program," Theo said. "I can learn the trade and how to start my own business."
That's his plan after graduation, a goal Theo never thought he'd attain.
"This is a great program," he said. "I like that I can do work at home. I'm caught up again. If I were to go back to my home school, I'd drop out immediately."
A computerized chart hanging on a wall in the school logs students' daily progress on schoolwork, some of which can be done at home.
Students learn at their own pace, which senior Christian Maples, director of procurement for EduCar, also likes.
"This fits me better," he said while scanning the internet for prospective vehicles students can buy, recondition and resell.
Christian was failing his classes. Now he's looking toward the future as a computer programmer or coder, perhaps.
"I don't know of other schools that offer something like this," he said.
Statistics are trending in the right direction: 90% of seniors have graduated, and 95% of graduates are either employed, enrolled in some type of college or in the military, said EduCar teacher Terry Harfert.
Attendance also is high, 80% or above, he said, compared with 40-50% for at-risk kids in a traditional school setting.
Slothower said the model is replicable, particularly for rural districts, where it's challenging to have students experience working at a company.
"Some students that struggle academically, the reason is not their inability to learn or their lack of desire to learn but other problems, such as social-emotional," he said. "We have a full-time counselor in this building and low student-teacher ratios.
"If your only approach is to teach harder, nothing's going to get done."
A used-car operation is a good business for students, said EduCar partner and teacher Jeff Alexander, who owns several companies, including auto dealerships.
It's got everything, he said, from finances to dealing with people to using social media for business purposes. And profits from car sales go back into the program, creating a way to help sustain the alternative school and its enterprise after the grant ends.
"This has taken off so much more quickly than we anticipated," Thurman said. "We take a lot of the drama out of buying a car, and it gives kids the work experience they need."
Contact the writer: 719-476-1656.