You might say Jacob Mannering panhandles for kindness.
You've probably seen him in his black leather "Good, Bad and Ugly" cowboy hat on on the southwest corner of Acacia Park, hoisting a homemade sign asking passersby to smile. He doesn't mind a few bucks for food, of course, but says whatever people want to share is a blessing.
"Well, I feel like if I'm gonna do something, I should do something that's positive," explains Mannering. "Something that's going to possibly help the community, something that's going to put a smile on somebody's face, make somebody feel better, instead of saying 'Homeless, anything helps.'"
Thanks to reporter Conrad Swanson's recent story in The Gazette, Jacob just received a double dose of the kindness he's been keen to inspire.
For the last five years, Jacob's family didn't know where he was. Marcie, his mom, has Googled his name day in and day out, half certain she would one day find her son's obituary. Instead, last December, her husband's regular web search for "Jacob Mannering" turned up an article by Swanson, who had quoted Jacob for a story about panhandling.
Marcie called Conrad, asking if he could help her contact her son. Conrad enlisted the help of the City's Homelessness Prevention and Response Coordinator, Andrew Phelps. Andrew recognized the name and found Jacob staying at the Springs Rescue Mission.
"Well I called 'em up that day," Jacob told me from his corner perch. "I sure did. They were so thrilled to hear from me, and I was so thrilled to hear from them, because I had believed something that wasn't true for a long time."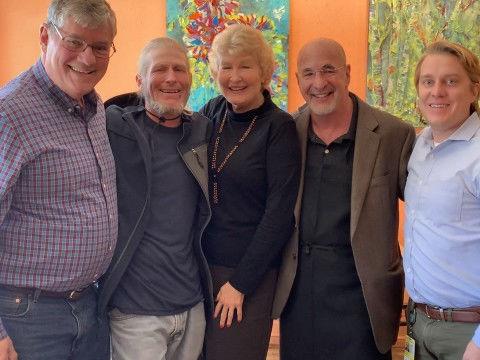 Jacob told Conrad he left Alabama for Colorado in a meth-induced state of paranoia. He was convinced his mother and stepfather were planning to put him in a mental hospital and left the state fearing for his safety.
"The drugs had taken a toll on my mind," he said, adding, after a beatific pause, "It was very good to talk to them."
Over the next several months, Jacob's mom and stepdad sent care packages with a backpack, warm, clean clothes, hand-warmers, gift cards, and Rice Krispie Treats. Andrew delivered them to Jacob.
Then Jacob and his parents started talking on the phone each week.
"Yes sir, I call 'em every Monday now," Jacob said.
"The next thing I know, she and her husband are flying out West to reunite with Jacob," Conrad said.
After five years, mom and prodigal son reunited on the corner where he flies his smile sign.
"My mom got out of the car, and we just hugged," Jacob said. He recognized her instantly, like it was yesterday.
"It was just a blessing to be reunited and be put back together. I thought I had lost that. All these years, I thought they didn't want anything to do with me forever again. That was the deception the drugs had put in my mind."
Conrad got together with reunited mom and son in a small Old Colorado City coffee shop, an experience he called humbling. "They kept glancing and smiling at each other, now knowing they're on the same team, regardless of distance or differences."
Jacob's story is a reminder that though journalism may be watchdog, it's also a comfort animal. According to an old saw, there are two sides to a newspaper's mission: afflict the comfortable, but comfort the afflicted, too. In its daily mission to tell a city's myriad and million stories, a newspaper can still be the place where a tapestry of souls truly comes together, and a city can see who it really is. A newspaper might just be the last, great connector of the high and the low, the young and the old, the homeless and the powerful.
"I want to say this is why we do what we do, but this isn't a possibility that had ever played out in my mind," said Conrad. "The odds were just too slim. I'll call it a happy coincidence."
"Cynicism can run rampant in this line of work," Conrad added. "It's easy to take a story, policy, law or person at face value. It's easy to assume someone fits into a stereotype. It's easy to gloss over the details. It's difficult to look deeper, empathize and understand," Conrad said.
"But therein lies the power of journalism. We have the privilege of meeting folks from all walks of life. Each of them comes from somewhere, has unique motivations or challenges. When we dive past the surface and tap into those qualities, wonderful and unlikely things can happen."
After smiles, hugs, and lots of catching up, city homelessness coordinator Phelps brought the family information to help connect Jacob to housing programs, disability benefits, and resources in the City's Continuum of Care.
"I'm thrilled because Jacob has got some next steps moving forward," Phelps said. "I've got Jacob connected with an outreach worker with Homeward Pikes Peak. We're going to do a housing survey to try to get him housing somewhere here in town. And we're going to try to get him help applying for disability as well. " Jacob suffers from epilepsy, a learning disability and the effects of a bad car accident at age 21 that may have left him with brain damage.
The housing survey, also known as the Vulnerability Index & Service Prioritization Decision Assistance Tool (or VI-SPDAT), measures the vulnerability of people in need of housing. "We prioritize people for housing assistance based on vulnerability," Phelps said. "I'm pretty confident that Jacob's going to score as being pretty vulnerable," because he's been on the streets, on and off, for five years.
"I am ready to get off the streets," Jacob echoed.
"One thing I'm optimistic with Jacob is that, once he can get stably housed somewhere, I'm confident that Jacob can find some meaningful employment," Phelps added. "What we couldn't provide him with were family connections. Now he has that again."
Even though he has reconnected with family in Alabama, Jacob doesn't think it would be wise to go back there. He's placing his bets on Colorado Springs.
"When I was in Alabama, I made very bad decisions. I made a choice to make friends that were drug dealers, and very hard-core drug users, and I believe it would be more of a danger to me to be there."
Jacob believes the shelters and services and people of Colorado Springs have saved his life, helped him get off drugs, and prepared the way for him to get his life back on track. That's why he stands on the corner and asks the people of Colorado Springs to smile.
"I feel like smiling is a way of partly showing my thanks back to the community for everything they do, for all the shelters that we have, the Marian House, EMS (Ecumenical Social Ministries). It's helped out, it's helped out a lot.
"I don't know anywhere I could have gotten shelter, I don't know anywhere I could have gotten clothing, I don't know anywhere I could have gotten food as easily as in this town. I've been to California, to Georgia, they have help in other places, but it's nothing compared to what they have right here."
Jacob's story left a permanent mark on Conrad, the storyteller, too. "The experience with Jacob and Marcie has reminded me to eschew cynicism and embrace sincerity, to focus on people rather than policies," Conrad told me.
"It might seem overly sentimental, but since meeting with the family a Hemingway quote's been running through my mind: 'The world is a fine place and worth fighting for and I hate very much to leave it.'"