Saturday night was a relatively quiet night at Club Q, something Joshua Thurman said was unusual since DJ T-Beatz was playing at the nightclub. 
"When DJ T-Beatz is spinning she can pack a club," Thurman said.  
Thurman, who was at Club Q Saturday celebrating his birthday, recalled that there were only about 30 people at the club that night, scattered across the dance floor, seating area, bar and watching the drag show taking place. Thurman was on the dance floor when he realized something was wrong. 
Thurman heard a series of loud popping sounds, but initially didn't think anything of it. 
"I just thought it was part of the music to be honest," Thurman said. 
The second round of pops is when he realized something was wrong.
"I turned around and saw the flash from the muzzle," Thurman said. "And I just started running." 
"(The shooter) walked in and didn't say anything," Tiara Latrice Kelley told The Gazette the day after the assault on the club shooting. "… just started shooting."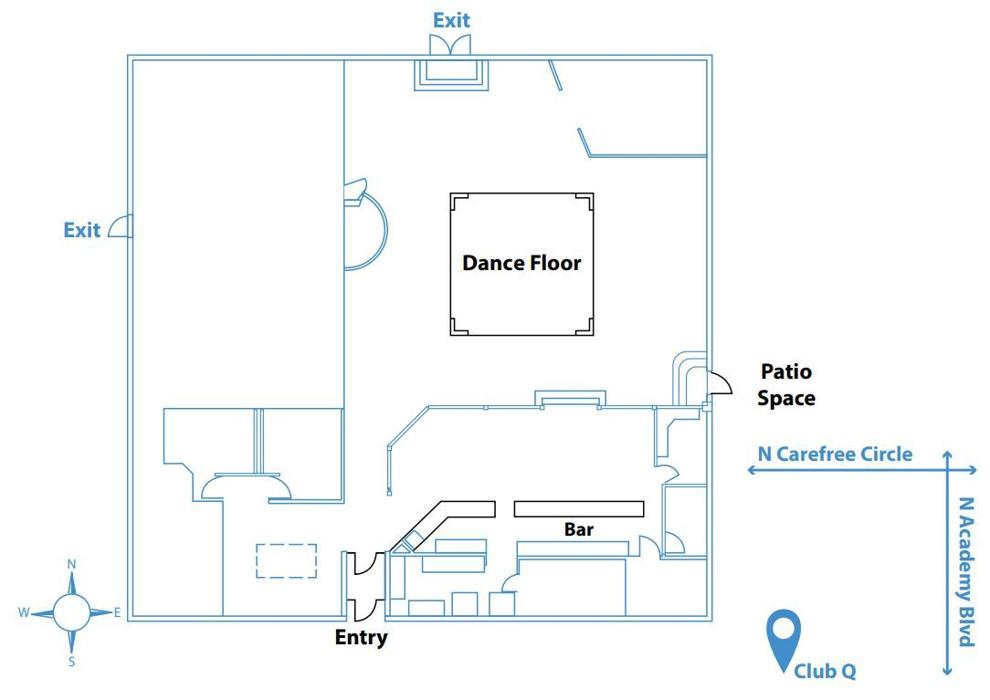 Colorado Springs Police Chief Adrian Vazquez said the shooter "immediately started shooting at people, as he moved farther inside."
Thurman said he and a few other patrons of the nightclub sprinted to hide in the area where the drag queens get ready for their performances, located behind a curtain, and locked the door. 
Barrett Hudson, who was shot nine times and lived, recalled seeing the shooter standing near the front of the nightclub with an AR-15, something he said on a Facebook live stream that he knew because he owns one himself. 
Hudson, who was there with a friend for the drag show, said he knew he was shot, but also knew he had "to get out of there," and sprinted for the back exit door, and jumped a fence to clear the area.  
Not everyone was able to hide, or to flee. 
Ed Sanders told The Associated Press that he was at the bar, located close to the entrance of the club, when he was shot in the back, between the should blades. 
"I fell. And everybody fell," Sanders said in video statements released Tuesday by UCHealth Memorial Hospital Center. "It was very traumatic. I shielded another woman with my coat … there was a lot of chaos."
James Slaugh, who also spoke to AP, said he, his boyfriend and his sister were all shot inside the nightclub and were able to do nothing but wait for the carnage to be over. 
Six minutes of shooting
The first call for help from Club Q came just a few minutes before midnight at 11:56 p.m. on Saturday night, according to CSPD. 
Richard Fierro, a veteran and former Army officer, who was at the club to see a show with his family, recalls seeing the shooter's muzzle flash, and initially diving for cover with his friend. Then instinct kicked in. 
"I wasn't thinking. I just ran over there, got him," he said, recalling the thoughts that were pounding in his head: "I got to get this guy. He's going to kill my kid. He's going to kill my wife."
Fierro and another club attendee, Thomas James, took down the shooter, took away his gun, and beat him with his own pistol until police arrived. 
The damage Fierro and James caused to the alleged shooter, Anderson Aldrich, was clear in Aldrich's first court appearance. 
During Aldrich's video advisement on Wednesday morning, the alleged shooter could be seen with a heavily bruised face, slumped over in what appeared to be a wheel chair. 
Fierro and James are being described as "heroes" by CSPD and city officials for their actions. 
Police said following the shooting that its first cruiser was on the scene by midnight, just four minutes after the first 911 call was made and that the suspect was in custody at 12:02 a.m. 
The shooting lasted approximately six minutes. 
Around midnight, the same time CSPD arrived at Club Q, the Colorado Springs fire/EMS emergency radio recording's sporadic roll call of traffic accidents was interrupted, when a dispatcher announced: "This will be a command four, active shooter, Bravo 34, Engine 14, Engine 8, Battalion 2 … to 3430 North Academy Boulevard, Club Q. Active shooter. All units respond."
Within the next two minutes several units can be heard over the radio responding, with an ambulance unit reporting that they are staging at the incident two minutes after the dispatch announcement. 
At around 12:05 a.m. units on scene inform dispatch of the initial estimate of injured patrons of the club. 
"We're getting reports of four to seven possibility injured. … Still getting further details," the responding unit said to dispatch. 
Slightly before 12:10 p.m. a unit comes on the radio informing others of the situation. 
"Reports of 10 people shot. Looks like there's a mass causality," the unit states over the radio. 
Less than a minute after the radio updating the number of victims dispatch asks to assign every available squad to the incident. 
Three minutes after reporting four victims the same AMR unit comes back on the radio to inform command that they now are treating nine victims at their location. 
Only a few minutes after reporting nine victims, at approximately 12:15 p.m. the AMR unit comes on the radio for a third time to update the estimated victim total from his location.
"Twelve victims, obviously tentative at this time, we do have multiple critical," the unit said. 
'A load and go'
The hectic scene is also conveyed by an emergency response unit located at a 7-Eleven near Club Q, who before 12:10 a.m. reported finding one victim at the convenience store. 
"We're getting flagged down to this 7-Eleven where we have one victim down. One victim down at 7-Eleven," the unit on scene said over the radio. "We're going to need an ambulance at the 7-Eleven location as well."
Four minutes after initially finding a victim at 7-Eleven the same responding unit radios again asking if an ambulance is coming.  
"We're at 7-Eleven at 3502 with a patient who has been shot seven times, do I have an AMR coming my way dispatch to 7-Eleven?" the responder asked. 
The man found at that 7-Eleven who survived the shooting was Hudson, who talked on Facebook Live about his escape from Club Q. 
Hudson said that after he ran out the back doors of the club and climbed up on a table to scale the back fence he made it to a nearby 7-Eleven, where people helped him. 
"When they told me I had seven bullet holes in my back I thought I was dead," Hudson recalled.
Hudson stated on a more recent Facebook live stream that he had actually been shot nine times, not seven. 
At around 12:20 p.m. Hudson was loaded into an ambulance and taken to the hospital. 
"This will be a load and go," the man on the radio can be heard saying from 7-Eleven. 
Around that same time several AMR units begin to report in that they were en route to different hospitals in the area, including UCHealth Memorial Hospital Central and UCHealth Memorial Hospital North. 
Calls confirming their progress to the hospitals continue for over 10 minutes until around 12:35 p.m. when command is informed that there are no more patients needing medical attention, and states that any other rigs coming in are no longer needed. 
A total of just over 35 minutes elapsed from the first reports of an active shooter to the final call from command to cancel all other units on their way. 
'The heart of Club Q'
Thurman said that he hid in the dressing room for around 20 minutes, afraid to come out until he knew it was safe, but when he left the dressing room he was confronted by the devastation inside the club. 
Thurman said when he left the backroom the house lights for the club were on, and he saw tarps on top of bodies covered in blood scattered across the club. 
When Thurman exited the club he remembered an even more chaotic scene with police and emergency response units scattered across the property. 
"I was just so worried about my friends, and if they were OK," Thurman remembered thinking during that moment. 
Chief Vazquez stated that a total of 39 police officers responded to the scene and Colorado Springs Fire Department spokesperson Mike Smaldino said 34 firefighters and 11 ambulances responded to assist, as well. 
CSPD reported at a press conference Monday afternoon that five people died and 17 others sustained gunshot wounds as a result of the six minutes of shooting. 
The shooter, alleged to be 22-year-old Aldrich, wreaked devastation in those six minutes. . 
"People were panic screaming, running out of the club and surrounding the cars," said Leia-Jhene Seals, a drag performer and frequent visitor to Club Q. 
Two bartenders at the nightclub, Daniel Aston and Derrick Rump, were among those killed Saturday night.
Aston was a transgender man who had completed his transition in June and was described by Seals as energetic, lively and helpful. 
"He was sweet, loving and caring. He had an open heart and he just loved everybody," Aston's friend and Club Q regular Alex Gallagher said Tuesday afternoon to The Gazette.
Rump was described in previous reporting by The Gazette as a "star bartender" and an out-and-proud gay man.
"I really believe he was the star bartender in Colorado Springs," said Greg Resha, a former club DJ. "But more than that, we thought of Derrick as the heart of Club Q."
Three others who had gone to Club Q for a Saturday night of fun with their friends and family were killed. One of those was 35-year-old Ashley Paugh who was visiting from La Junta and went to the club with a friend to see a comedian perform, according to her sister, Stephanie Clark. 
"She was an amazing sister, mom, daughter, wife, aunt and cousin," Clark told The Gazette by phone Monday in a tearful and emotional interview. "That coward took her away and I just want her back."
Kelly Loving was also visiting Club Q from out of town. She was a 40-year-old trans woman from Denver who was visiting Club Q with a friend, according to reporting from The New York Times.
Loving's friend Natalee Skye Bingham told the Times that Loving was a close friend and was like  a "trans mother" to her.
Fierro's daughter's boyfriend, Raymond Green Vance, was also a victim of the Saturday night shooting. 
"Raymond was a kind, selfless young adult with his entire life ahead of him," the family said in a statement Monday. "His closest friend describes him as gifted, one-of-a-kind, and willing to go out of his way to help anyone."
Aldrich is currently being detained at El Paso County jail, and is facing 10 arrest-only charges — five counts of first-degree murder and five counts of bias-motivated crimes causing bodily injury. 
Fourth Judicial District Attorney Michael Allen said during Monday's press conference that these charges are  preliminary and subject to change. 
According to court records filed by Aldrich's attorney, Aldrich identifies as nonbinary.