Wednesday was a typical weekday afternoon at the spacious Smith house in Black Forest.
Twenty of Kelli and Tom Smith's 22 children were busy with schoolwork, screen time, eating at the long dining room table or the kitchen island or just hanging out.
The big kids helped the little kids, as needed.
Kelli doled out copious hugs, wiped noses, adjusted weakened bodies, asked how activities were going and generally kept the atmosphere humming.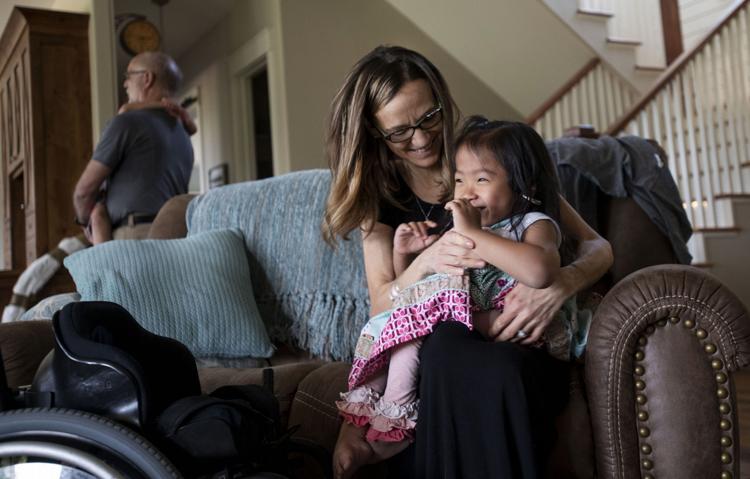 Tom figured out what was wrong with one of the children's motorized wheelchairs, comforted an 8-year-old blind daughter and helped teens with electronic devices.
Unlike what many might envision of such a large family, the noise level was low, and the mood relaxed.
"People think it's going to be loud and crazy," Kelli said. "It's calm because they all get along. We have routines, but we're flexible."
There were a few spills in the kitchen.
"That's why we have a wood floor," Tom said.
There was some confusion.
"Where's T.J.?"
Outside walking around.
All in a day's life for the supersized family.
"It's pretty fun," Tom said, grinning. "It keeps you busy."
All but four of the Smiths' children were adopted from the U.S. or from China, Africa or Kyrgyzstan. Three of the brood are the couple's biological children. And Kelli and Tom are legal guardians for one child from Africa.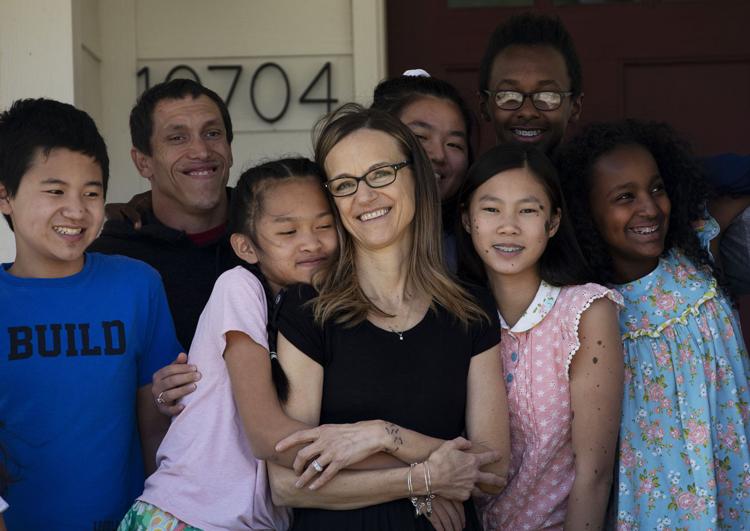 Several of the children have special needs that span the gamut: spinal muscular atrophy, muscular dystrophy, epilepsy, cerebral palsy, spina bifida, traumatic brain disorder, autism, blindness, deafness and speech disorders.
The youngest are 5-year-old twin boys with spinal muscular atrophy, a debilitating disease.
"They require a lot of care; they can't do anything for themselves," Kelli says. "They are really smart, they talk and communicate, but their little bodies just don't work."
Six children are in wheelchairs. A few need ventilators or feeding tubes. Some wear diapers, though they are not infants or toddlers.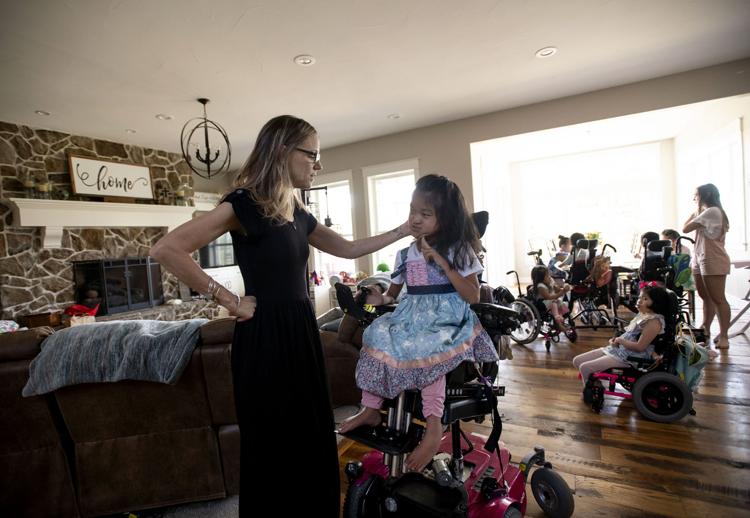 But each has a place in the scheme of the family, and each — like a puzzle piece — helps complete the big picture.
"Adopting special-needs kids can be scary but really rewarding," Kelli said, "and you can see how they all fit together."
Kelli didn't intend to have a gigantic family.
"I'd never even thought about it," she said. "I don't remember coming across any families with adopted kids when I was growing up."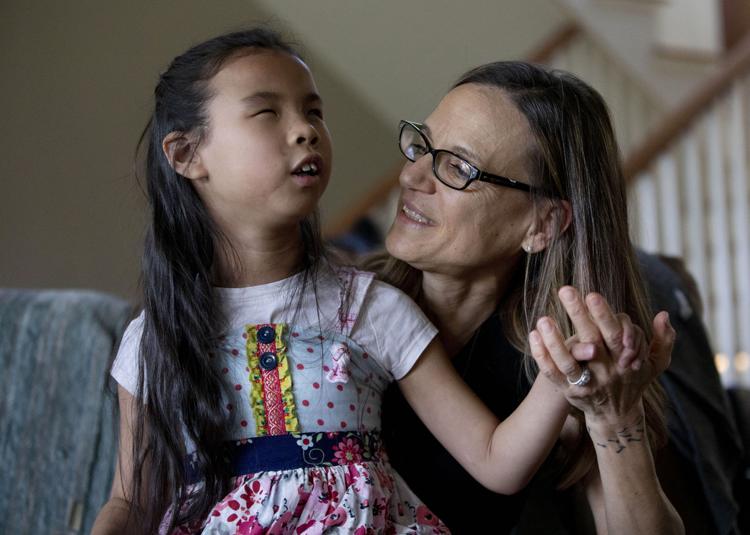 Kelli met Tom while she was a nursing student in Portland, Ore., and he worked as a nurse at a hospital. Both specialized in infant and pediatric care.
Tom decided to adopt one of his patients, T.J., who has cerebral palsy and today, at 33 years old, still requires "constant care."
The couple married 26 years ago and had three children of their own. But Kelli experienced difficult pregnancies, and doctors told her she should not have any more after the third baby.
The first child they adopted together, Kennedy, was from Kyrgyzstan. She's now 23 years old and lives on her own.
Seeing that Central Asian orphanage altered Kelli's life.
"Something changed in me," she said. "The children had their basic needs met but were so lonely. There was no love."
There also were no toys; they hung on display on the walls.
Their biological daughter Hayden, a 19-year-old nursing student in Denver, was a little over a year old when Kennedy joined the family. The next adoption was Reese from Ethiopia, when Hayden was 10. Subsequent adoptions quickly followed.
"Having a big family has been a normal part of my life," Hayden said. "I can't imagine being in a small family. I'm so used to having a bunch of people around. I love it."
'I love them all'
Talk about tired. Kelli, 51, knows the rock-bottom depth of the word. Cameras are on the children's beds, and some nights seem endless.
But her face lights up when she talks about how happy she is with her chosen path.
"I love them all," she said. "It's not like your heart doesn't have enough to give."
The hardest part, Kelli said, is being very busy tending to her children's various physical, emotional, social, academic and spiritual needs and worrying a lot about whether they are all getting what they need. 
To anyone who criticizes the number of children the Smiths have, Kelli replies, "Who would you want me to give back?"
"We're not trying to do anything heroic," she said. "We just love kids. I love watching them interact. I love listening to them laugh."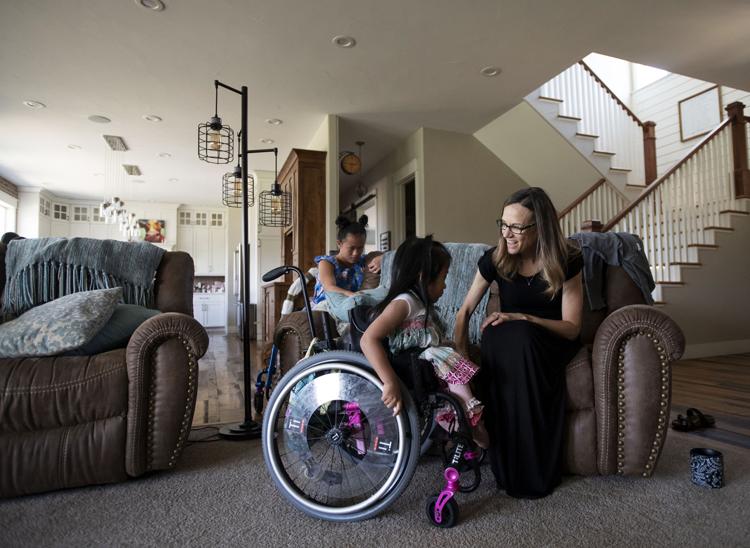 She also enjoys teaching her children to care for one another, have household responsibilities and contribute to the greater good of the family.
"I think God ultimately places them in ways that they come into our family," Kelli said. "I just feel blessed."
Kelli and Tom are paid through a nursing agency to care for five of the children. They apply for grants and other assistance to keep the household running.
Middle school children are learning to cook. College-age children are interested in the health care field and assist with the most distressed children.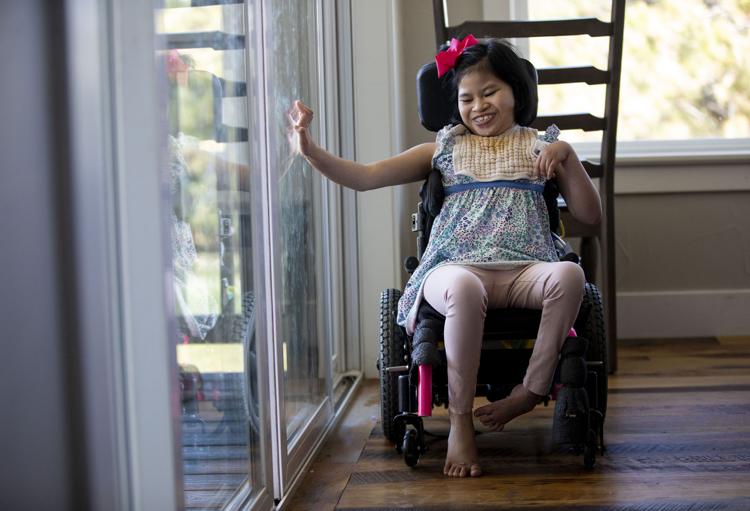 Humor is as necessary as baths. One child who has obsessive-compulsive disorder has a thing for laundry, Tom said, so she collects dirty clothes and keeps the washer and dryer going daily.
Triple-decker bunk beds in some of the seven bedrooms and an apartment over the garage house everyone.
Extra-wide hallways accommodate wheelchairs. Tom plans to install an elevator soon, so he doesn't have to carry wheelchair-bound children upstairs to bed every night.
It's tough for the family to go anywhere as a unit, Kelli said, but an airport-like shuttle van transports the younger children, nine of whom attend Legacy Peak Elementary in Academy School District 20. Most of the time, two vehicles are needed for travel.
Five children attend Chinook Trail Middle School, a few are at Air Academy High and some are home-schooled. Able-bodied students play sports, such as soccer, which Kelli and Tom love to watch.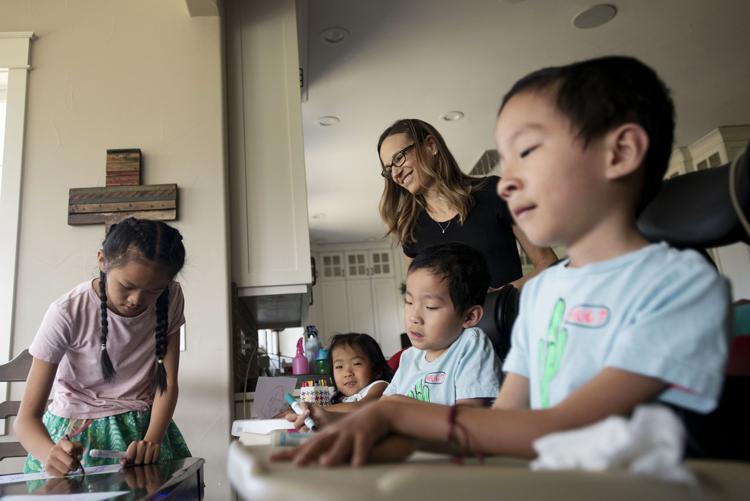 With both parents being nurses, there aren't as many doctor appointments as one would think, but physical therapy is a requirement.
"It's been a unique way of using our nursing skills," Kelli said, "and both of us love to teach."
Kelli is looking forward to a relaxing Mother's Day with perhaps a rare nap. Lots of homemade cards and gifts that are "sweet" and "cute" also will brighten her day.
Tom will barbecue. The downstairs theater room with a screen as large as their family might get some use.
"These kids are our life," Kelli said. "All we want to do is take care of them."
What do the kids think of having Kelli as their mom?
"She's really loving and supportive in all we do and really helps us out," Hayden said. "She has a big heart for bringing all of these kids into our family and home, despite whatever issues they might have."
She's a superwoman, said son Max.
Kelli is thoughtful, said daughter Reese. And very kindhearted, added Harrison.
"She's the best mom ever because she helps us a lot," said Everleigh.