The Air Force Thunderbirds will honor Colorado's healthcare workers, first responders and military members with a series of Colorado flyovers following the Air Force Academy's graduation flyover this weekend.
A formation of eight F-16 Fighting Falcons out of Nellis Air Force Base in Nevada will salute the graduates before flying over a number of Colorado cities along the Front Range this Saturday. 
Vice President Mike Pence is scheduled to attend the graduation ceremony that's set to start at 11 a.m.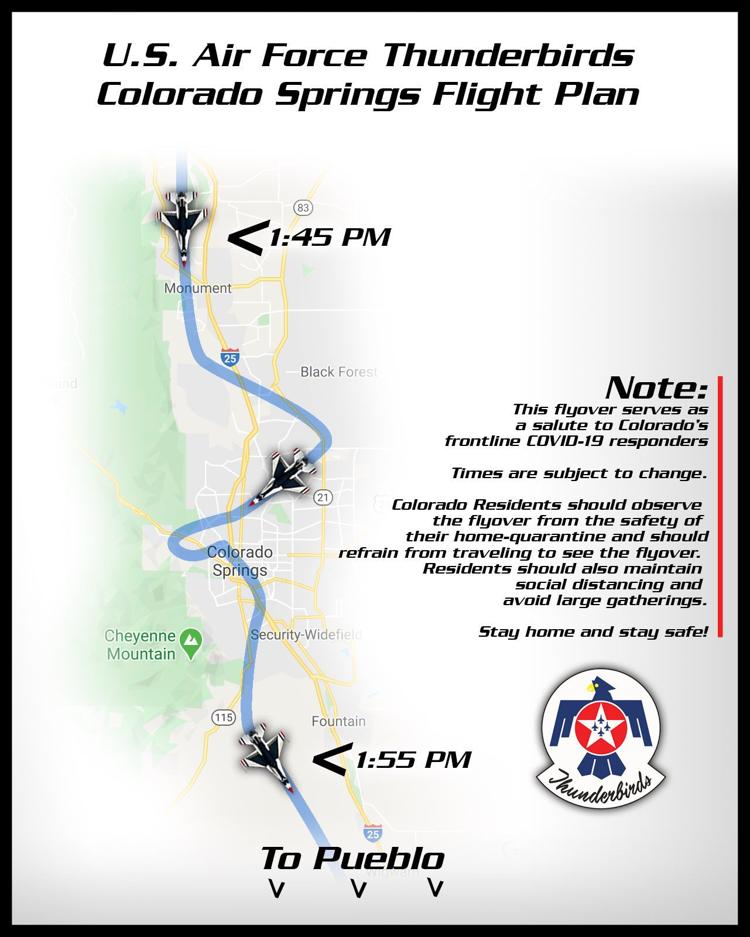 The Thunderbirds' flight path will bring them over Greeley, Windsor, Fort Collins, Loveland, Longmont, Boulder, the Denver metro area, Buckley Air Force Base, Colorado Springs, Fort Carson and Pueblo.
The details of the flight path should be released sometime Friday. Flyovers will start at approximately 12:50 MDT and last 60 minutes.
---
RELATED: 
- Thunderbirds fly over Colorado Springs, preparing for early Air Force Academy graduation.
- Paul Klee: Let's all watch the Air Force Academy's graduation Saturday. Deal?
---
"The Thunderbirds are thrilled to continue on a tradition of culminating the Air Force Academy graduation and welcoming our newest second lieutenants into our Air Force," said Lt. Col. John Caldwell, Thunderbirds commander and leader in a news release Thursday. 
"While the coronavirus pandemic has curtailed many of the celebrations that graduating cadets usually enjoy, we are proud to provide this one defining moment for these young American's lives as they become officers in the world's greatest Air Force."