Slicing through the sky in a fighter jet designed to establish air superiority and wipe out enemy threats requires a level of training and commitment impossible to fathom for those who've never done it.
The pilots who go on to fly such planes beyond sonic-boom beelines, through air arabesques and gut-flipping feats that push the limits of human tech, moxie and endurance, are the rarest of a rarefied breed.
Thirty-three-year-old Maj. Kristin "Beo" Wolfe is one of them.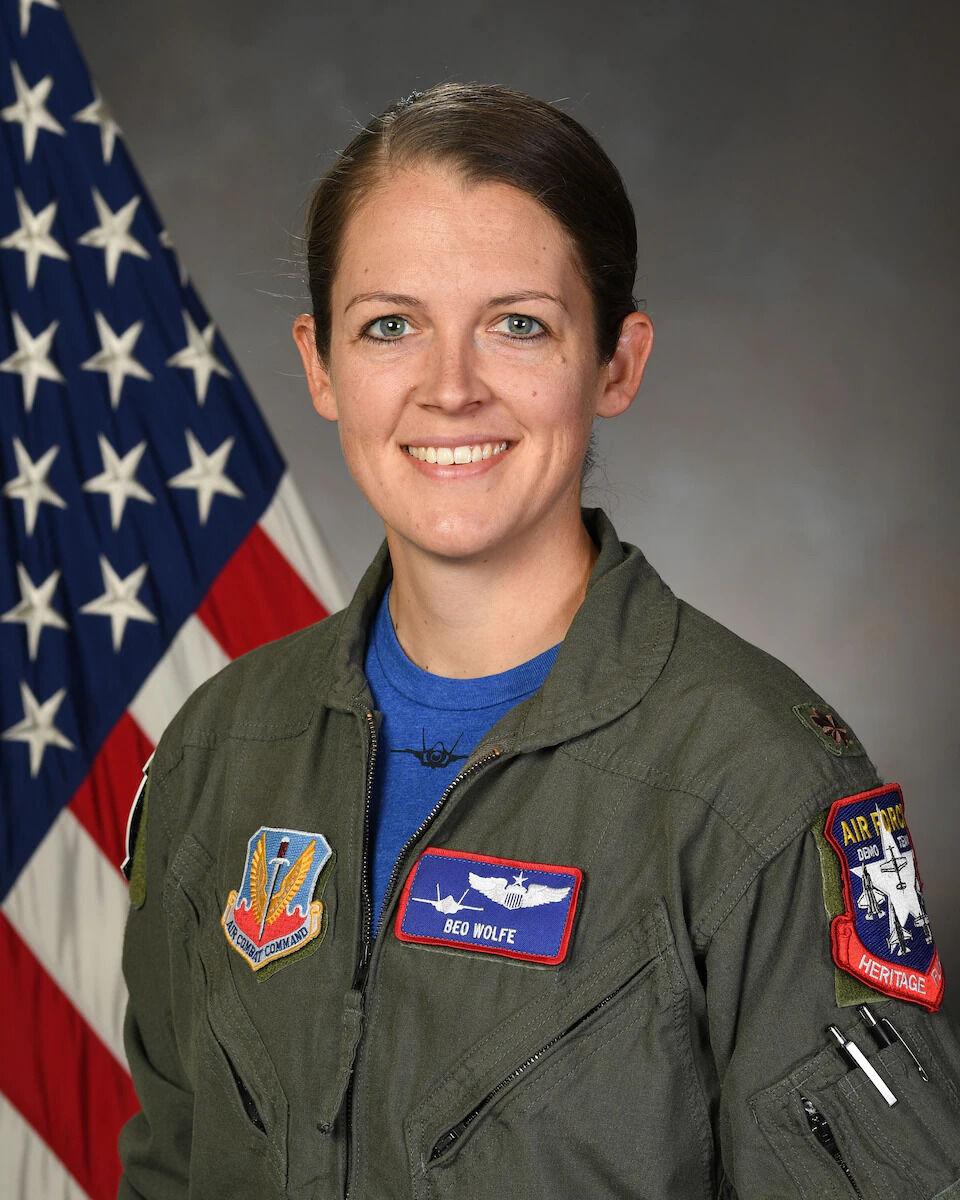 "Sometimes when I'm flying, I look outside and think how cool it is, and how nobody else really gets to do this," said Wolfe, an Alabama native and the first female commander of the U.S. Air Force F-35A Lightning II Demo Team. "Learning to fly the airplane in a combat scenario, learning all the tactics — how to drop bombs, shoot missiles — is night-and-day different from what we do at air shows."
What she and her team do when spectacle's the mission, and what attendees will see when the Pikes Peak Regional Airshow returns to the Colorado Springs Airport this weekend, is like dressage for champion racehorses. Spins, loops, rolls and buzzes, the kind of the hot-dogging stunts Maverick might pull in a cinematic "Top Gun" world. The kind of stunts that, in real life, are taught and learned by just a handful of pilots across all branches of the military.
"We show .95 Mach, about 700 mph, and we show how the airplane can get really slow as well — about 115 miles an hour," Wolfe said. "We try to show off some of the combat capabilities of the airplane, but really it's to perform for the audience and let 'em see what the F-35 can do, (including) fly low and close to the ground, which is not something we do every day at all as combat pilots."
Wolfe's is just one of more than 40 modern and historic warbirds on display, at rest and in gravity-defying action, at an air show established both to awe and to raise awareness and money for three local military history museums that focus on educating future generations about America's military heritage, The Fort Carson 4th Infantry Museum, The Peterson Air and Space Museum and The National Museum of WWII Aviation.
This weekend's show will be the fourth iteration since the event's debut in 2014 and the first since 2019 and a new partnership with Colorado Springs Sports Corp., a nonprofit established in 1979 to promote sports and community events in "Olympic City USA."
The air show also will feature the U.S. Navy's EA-18G Growler demonstration team and, for those who thought slapstick only worked on the ground, barnstorming exhibition pilot Kyle Franklin and his "Ben Whabnoski" comedy flight. A "KidZone" brings experiential activities focused on flight and aimed at inspiring interest in STEM education.
This weekend's event will be Wolfe's first in Colorado Springs, and likely among her last with Lightning II. Members usually do a two- to three-year rotation with the elite — and physically demanding — team, which accepts only the best of the best after an exhaustive interview and tryout process.
"It's pretty aggressive flying and can be pretty rigorous on the body. The airplane pulls up to nine times the force of gravity. It's an exhausting … (and) emotional event," said Wolfe, who's been an Air Force pilot for 11 years.
Leaving it behind will be an emotional event, too.
A military demo pilot's job is focused on "staying safe, keeping the airplane safe and making the show good for the crowd." But the job perks are kind of hard to beat.
"I love it. It's the best job in the Air Force, I think. I get to travel around the country, sometimes the world, with a small group of people. I get to meet people who may have never seen an airplane fly or who say, 'I want to do your job someday,' which is the whole goal and mission of our team," Wolf said.
"And at the end of the day, it's a lot of fun flying."