Colorado now has the largest contingent of military installations named for the new space service branch after a renaming ceremony Monday at Peterson Space Force Base.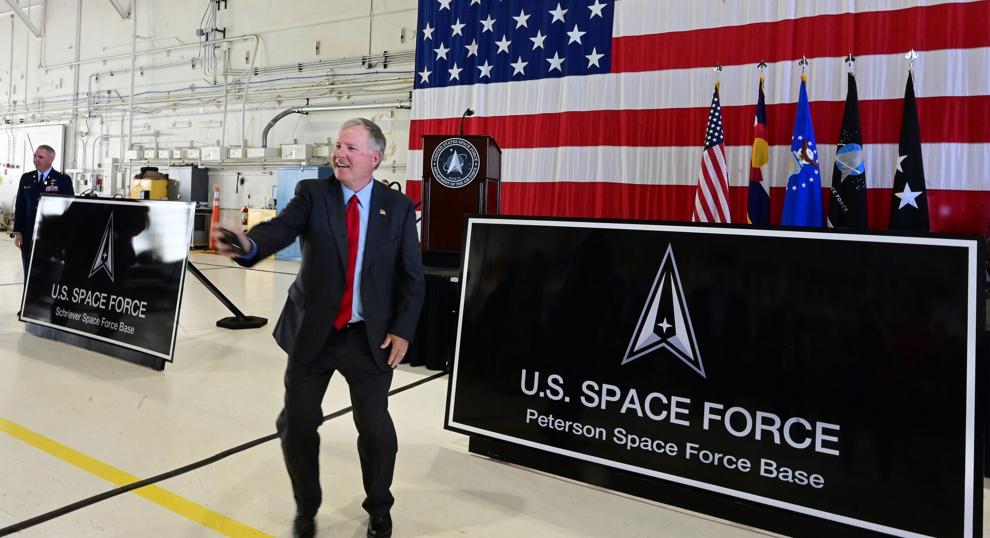 A crowd of mostly Air and Space Force personnel gathered in a hangar with an oversized American flag draped behind the stage to witness the official change to Peterson Space Force Base, Schriever Space Force Base and Cheyenne Mountain Space Force Station.
"Those of us who are guardians and the airmen assigned to U.S. Space Force are fortunate to be living through this historic moment in our nation's history, when we … grow, mold and shape the Space Force," said Lt. Gen. Stephen Whiting, commander of Space Operations Command at Peterson Space Force Base. "We are a new service for a new era, and I can't wait to see what the next several decades bring for our service and our nation in space."
Space Force is the sixth and newest branch of the Armed Forces. It was established in December 2019.
It's the third name change for Peterson, which has been known as Peterson Field and Colorado Springs Army Air Base. It's the second new name for Schriever, which began as Falcon Air Force Base before getting named for Gen. Bernard Schriever, father of military space.
Colorado Springs Republican U.S. Rep. Doug Lamborn said he missed votes Monday in Washington D.C. to attend the "once in a lifetime event."
"It is a big day for Colorado Springs … for our national defense and for Space Force. When word gets out on what has happened here today, people from all over the country will realize that this is where Space Force is concentrated."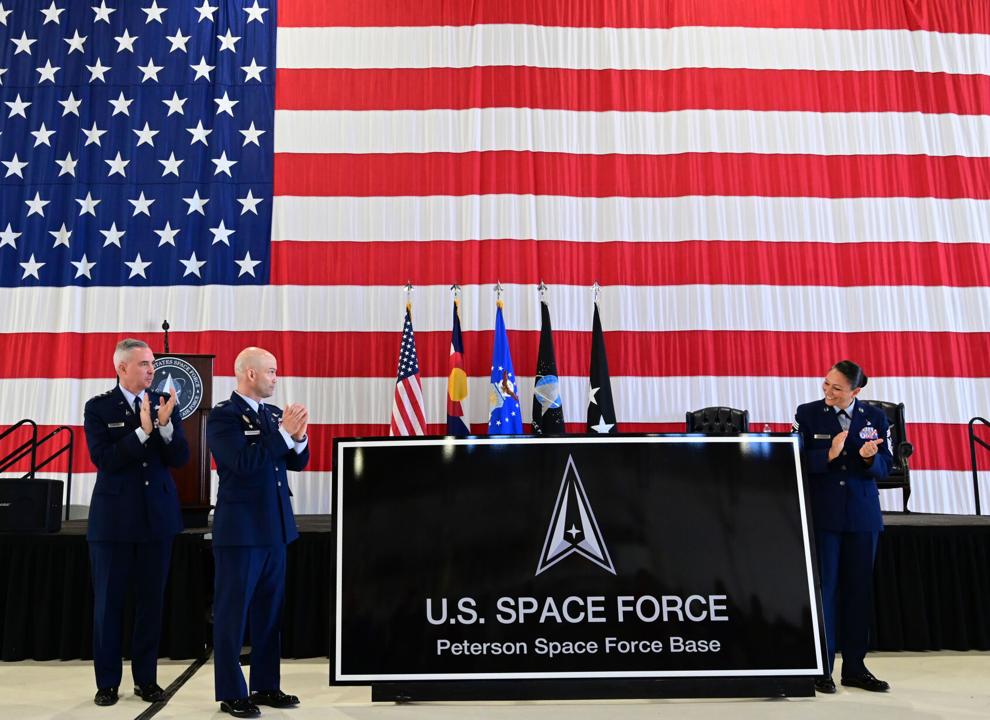 With U.S. Space Command, U.S. Northern Command, Army Space and Missile Defense Command and the North American Aerospace Defense Command, no place in the United States can claim more strategic importance than Colorado Springs.
Colorado has the largest contingent of bases named for the new space service. It is also home to Buckley Space Force Base in Aurora, Space Operations Command and the bulk of the Space Force's 13,000 troops.
Colorado Springs is the provisional home of U.S. Space Command — which oversees all military missions in orbit — through 2026. Former President Donald Trump announced in January that U.S. Space Command would be uprooted and moved to Huntsville, Ala., after 2026. But the federal Government Accountability Office and the Pentagon's Inspector General are reviewing the decision and Congress could reverse it.
Lt. Col. Brian Dea, commander of the 4th Space Operations Squadron, which operates the military satellite communication system, at Schriever Space Force Base, said the name changes were "incredibly significant.
"We still have the same high level of responsibility now, but to get the name caught up to the direction the Space Force is going is incredibly important. It represents all the hard work that America's sons and daughters are doing 24 hours a day, seven days week."
Col. Roy Rockwell, commander of Space Delta 6 at Peterson Space Force Base, said the name change was huge.
"It establishes a culture and our own individual part of the Space Force," Rockwell said.
Space Delta 6 is responsible for cyberspace operations and for assuring space access through a $6.8 billion satellite control network.
Peterson history
Peterson traces its origins back to World War II and May 1942, when Colorado Springs Army Air Base (Peterson) was established as an air support base, for, then, Camp Carson.
In August 1942, 1st Lt. Edward Peterson, operations officer with 14th Photographic Recognizance Squadron, crashed while flying a P-38 reconnaissance mission and later died of his injuries.
The base was renamed Peterson Army Air Base in his honor a few months following his death.
Schriever history
Schriever began in September 1979 when officials approved plans for the development of an installation to house an operations support center for NASA's space shuttle and backup control for satellite missions.
Groundbreaking for Falcon Air Force Station, named for the unincorporated community to the north, was May 17, 1983. The base was renamed Falcon Air Force Base on June 13, 1988.
In 1998, the base was renamed in honor of Gen. Bernard Adolph Schriever, marking the first time an Air Force installation was renamed to honor a living individual.
Cheyenne Mountain history
Construction at Cheyenne Mountain began May 18, 1961, and it was fully operational in 1966. Its origins date back to 1956, when a commander suggested building an underground fortress to protect against vulnerable targets at the former Ent Air Force Base. Russians had proved their ability to launch nuclear weapons by launching Sputnik I.