A Pentagon program to stop leaks to the media, including educational materials on information security that were leaked to The Gazette, initially referred to reporters as the military's "adversaries."
The Trump administration has worked for years to tighten up a leaky Pentagon, including ordering the Air Force to shut down its public relations program for retraining after a 2018 Gazette story, authorized by the Air Force, that examined the National Space Defense Center at Schriever Air Force Base.
The newest campaign dropped references calling reporter's adversaries, a term used for enemies on the battlefield, after public outcry. But its aim to stop media leaks is unchanged.
The Pentagon is offering a poster designed to resemble a newspaper's front page.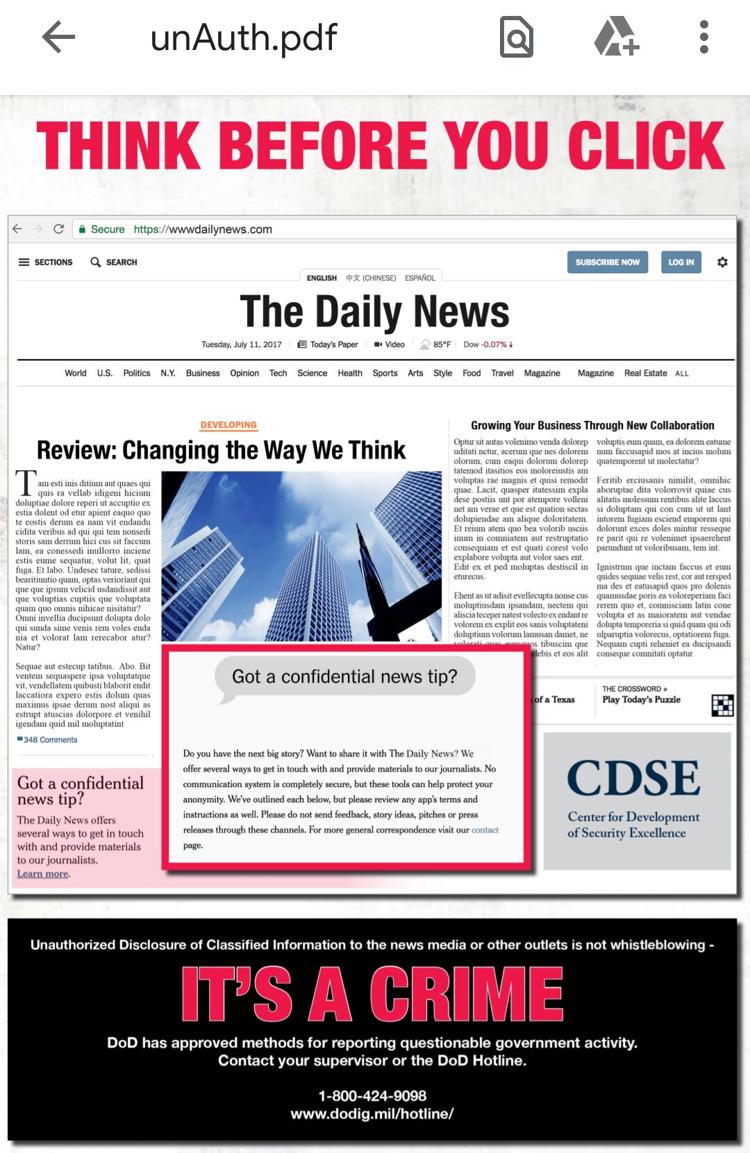 "Unauthorized disclosure of classified Information to the news media or other outlets is not whistleblowing," the poster says. "It's a crime."
The latest push comes after a series of leaks have stung leaders, including a leaked email that divulged conflicts about the handling of a coronavirus outbreak on an aircraft carrier that later  led to the resignation of the Navy secretary, and reports on an alleged Russian intelligence program that offered bounties to insurgents for killing U.S. troops.
Defense Secretary Mark Esper made clear the Pentagon not only wants to protect classified information, but unclassified information, too.
"So we've got to be very careful in what we say and do, and we have to avoid — and certainly any type of release of classified information, or secure information," Esper said in an online forum this month. "But there is also information that is unclassified that can be sensitive as well, that again, can undermine those things that I just spoke about."
So, all information coming from the military now requires the blessing of a public affairs officer, the training program says.
It's a far cry from how the military and the media worked together in the wake of 9/11.
The Pentagon under Donald Rumsfeld worked to connect reporters directly with troops in the field. That put reporters in front-line combat with no public affairs officers in sight. The entire program was accomplished with no pre-publication censorship of news reports, and surprisingly few conflicts over what was reported.
While top civilian leaders are pushing against leaks, the top military brass remains concerned about keeping up relations with reporters.
"On the flip side, we have to balance that against transparency, because we do have a requirement to be transparent with the American people and we want to ensure that we explain ourselves adequately and fully, because we're a very expensive organization — one of the most expensive organizations in the world, if not just the country," Joint Chiefs Chairman Army Gen. Mark Milley said recently .
But the training program rolled out across the Defense Department shows there are few plans to be chatty.
"Free speech doesn't mean careless talk," warns a poster that's part of the program.
Ahead of the training program, Esper told Congress the Pentagon had launched a major investigation of leaks including leaks of unclassified information.
"Any transmission or communication of nonpublic information to the public or an unauthorized recipient is considered an unauthorized disclosure," Esper warned troops in a memo obtained by The Gazette. "Unauthorized disclosures, regardless of purpose or intent, can result in adverse personnel action, including unsatisfactory performance evaluations, records of formal counseling, the loss of security clearances or termination of employment, or even criminal prosecutions."
Within two months, all military troops and civilians are required to undergo training in the military's secrecy policies.
Security, Esper wrote, "must be everyone' s responsibility."